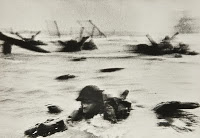 It's a slow climb uphill for Bloomsbury to establish a viable Photographs department, and this sale marked some incremental progress from last year in terms of value on offer, Buy-In rate, and Total Sale Proceeds. The auction still missed the low end of the range by a wide margin and plenty of lots went unsold, but it's a small improvement that can be built on.
The summary statistics are below (all results include the buyer's premium):
Total Lots: 225
Pre Sale Low Total Estimate: £283100
Pre Sale High Total Estimate: £405750
Total Lots Sold: 127
Total Lots Bought In: 98
Buy In %: 43.56%
Total Sale Proceeds: £209858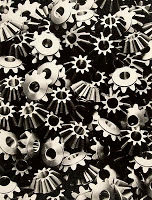 Here is the breakdown (using the Low, Mid, and High definitions from the preview post, here):
Low Total Lots: 207
Low Sold: 89
Low Bought In: 118
Buy In %: 57.00%
Total Low Estimate: £254750
Total Low Sold: £150078
Mid Total Lots: 18
Mid Sold: 9
Mid Bought In: 9
Buy In %: 50.00%
Total Mid Estimate: £151000
Total Mid Sold: £59780
High Total Lots: 0
High Sold: NA
High Bought In: NA
Buy In %: NA
Total High Estimate: £0
Total High Sold: NA
The top lot by High estimate is lot 125, Irving Penn, Five Dahomey Girls, One Standing, 1967/1974, at £10000-15000; it did not sell. The top outcome of the sale was lot 21, PH Delamotte for Negritti & Zambei, The Reception of Napoleon III and Empress Eugenie by Queen Victoria and Prince Albert, 1855, at £10980.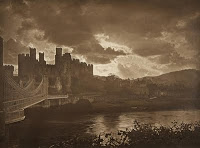 81.10% of the lots that sold had proceeds in or above their estimate. There were a total of 11 surprises in this sale (defined as having proceeds of at least double the high estimate):
Lot 4, Frank Meadow Sutcliffe, With the Wind and Tide, 1880s, at £1159
Lot 13, Fred Judge, Conway Bridge and Castle, c1910, at £3660 (image at right, bottom, via Bloomsbury)
Lot 33, John Edward Sache, Collection of Images of India, 1860s, at £2684
Lot 34, Felice Beato, The Dumi Gate and Emanbarra, Lucknow; Bailey Guard Gate from the Inside, Lucknow, c1858, at £854
Lot 66, Arvid Gutschow, Untitled, c1930s, at £2684 (image at right, middle, via Bloomsbury)
Lot 89, Edouard Boubat, Self Portrait in Mirror, 1951, at £4880
Lot 94, Andre Villers, The Hands of Pablo Picasso, 1960, at £5490
Lot 121, Robert Capa, Omaha Beach, D-Day, 6, June 1944, 1944/before 1955, at £6710 (image at right, top, via Bloomsbury)
Lot 130, Albert Rudomine, Female Nude, 1930s, at £1464
Lot 175, Richard Sadler, Weegee, Coventry, 1963, at £854
Lot 218, Roksana Ciurysek, Butterfly, 2010, at £2684
Complete lot by lot results can be found here.
Bloomsbury Auctions
24 Maddox Street
Mayfair
London WS1 1PP