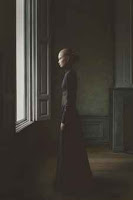 Christie's went 8 for 8 with its High lots in its recent Photographs sale in London, driving the Total Sale Proceeds up above the top end of the estimate range with some room to spare. A failed run of 12 straight passed lots by Don McCullin inflated the Buy-In rate (above 38%), but the rest of sale performed quite solidly otherwise.
The summary statistics are below (all results include the buyer's premium):
Total Lots: 102
Pre Sale Low Total Estimate: £695500
Pre Sale High Total Estimate: £1013000
Total Lots Sold: 63
Total Lots Bought In: 29
Buy In %: 38.24%
Total Sale Proceeds: £1169075
Here is the breakdown (using the Low, Mid, and High definitions from the preview post, here):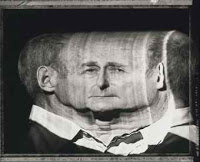 Low Total Lots: 39
Low Sold: 17
Low Bought In: 22
Buy In %: 56.41%
Total Low Estimate: £136000
Total Low Sold: £72000
Mid Total Lots: 55
Mid Sold: 38
Mid Bought In: 17
Buy In %: 30.91%
Total Mid Estimate: £562000
Total Mid Sold: £485875
High Total Lots: 8
High Sold: 8
High Bought In: 0
Buy In %: 0.00%
Total High Estimate: £315000
Total High Sold: £611200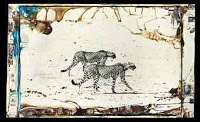 The top lot by High estimate was lot 61, Peter Beard, Hunting Cheetah on the Tarn Desert, 1960/Later, at £50000-70000; it was also the top outcome of the sale at £217250. (Image at right, bottom, via Christie's.)
92.06% of the lots that sold had proceeds in or above their estimate. There were a total of ten surprises in this sale (defined as having proceeds of at least double the high estimate):
Lot 45, Helmut Newton, Portrait of Margaret Thatcher, Anaheim, California, 1991, at £27500
Lot 55, Desiree Dolron, Xteriors VII, 2004, at £103250 (image at right, top, via Christie's)
Lot 58, Guido Mocafico, Dendroaspis Jamesoni Jamesoni, 2003, at £30000
Lot 61, Peter Beard, Hunting Cheetahs on the Tarn Desert, 1960/Later, at £217250 (image at right, bottom, via Christie's)
Lot 73, David Hockney, David and Ann on the Subway, November 18, 1982, at £23750
Lot 78, Helmut Newton, Violetta with Monocle – Big Nude IX, Paris, 1991, at £16250
Lot 80, Helmut Newton, Chez Patou, Paris, French Vogue, 1977, at £12500
Lot 91, Jeanloup Sieff, Nude on a Cube, 1972, at £7500
Lot 97, Irving Penn, Turning Head (B), Self-portrait, 1993/1996, at £27500 (image at right, middle, via Christie's)
Lot 102, David Bailey, Michael Caine, 1965/1989, at £6875
Complete lot by lot results can be found here.
Christie's
8 King Street, St. James's
London SW1Y 6QT