The results of Christie's final various owner Photographs sale of the year generally met expectations, falling right in the heart of the estimate range. Even though the two Penn lots that topped the sale failed to sell, a handful of prints by Peter Beard picked up the slack. The overall Buy-In rate came in just over 25%, ensuring a solid if uneventful outing.
.
The summary statistics are below (all results include the buyer's premium):
Total Lots: 187
Pre Sale Low Total Estimate: $830500
Pre Sale High Total Estimate: $1234000
Total Lots Sold: 139
Total Lots Bought In: 48
Buy In %: 25.67%
Total Sale Proceeds: $920688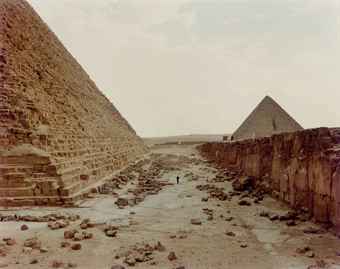 Here is the breakdown (using the Low, Mid, and High definitions from the preview post,
here
):
Low Total Lots: 173
Low Sold: 127
Low Bought In: 46
Buy In %: 26.59%
Total Low Estimate: $951000
Total Low Sold: $716938
Mid Total Lots: 14
Mid Sold: 12
Mid Bought In: 2
Buy In %: 14.29%
Total Mid Estimate: $283000
Total Mid Sold: $203750
High Total Lots: 0
High Sold: NA
High Bought In: NA
Buy In %: NA
Total High Estimate: $0
Total High Sold: NA
The top lot by High estimate was tied between two lots: lot 65, Irving Penn, Cuzco Children, Neg. No 142, Peru, Dec 1948, 1949, and lot 137, Irving Penn, Juliet Auchincloss, 1949, both at $30000-50000; neither of these lots sold. The top outcome of the sale was lot 160, Carrie Mae Weems, Untitled #2450, from Kitchen Table Series, 1990, at $35000 (image at right, top, via Christie's).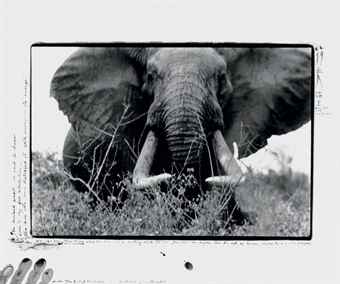 While only 70.50% of the lots that sold had proceeds in or above the estimate range, there were a total of thirteen surprises in this sale (defined as having proceeds of at least double the high estimate):
Lot 23, Richard Misrach, White Man Contemplating Pyramids, 1989/1991, at $13750 (image at right, middle, via Christie's)
Lot 50, Ansel Adams, Jeffrey Pine, Sentinel Dome, 1940/Later, at $7500
Lot 73, Peter Beard, 150-160 Iber, Tsavo North, along Athi–Tiva, in hunting block 33, Feb 1965, Later, at $21250 (image at right, bottom, via Christie's)
Lot 74, Peter Beard, From The End of the Game (Last Word from Paradise), c1965/Later, at $18750
Lot 75, Peter Beard, Bibiana at El Molo Bay, Loiyangalani, Lake Rudolph, 1968/Later, at $26250
Lot 76, Peter Beard, Orphaned Cheetah Cubs at Mweiga National Park headquarters, 1968, at $27500
Lot 88, George Tice, Country Road, Lancaster, Pennsylvania, 1991/1999, at $7500
Lot 107, Leif Erik Nygards, Marilyn Monroe, Bel Air Hotel, June 27th, 1962/Later, at $7500
Lot 110, Henri Cartier-Bresson, La Plaine de la Brie, 1968/1970s, at $20000
Lot 122, Eddie Adams, Symbolism: March on Washington, 1963, at $9375
Lot 135, Ruth Bernhard, Hips Horizontal, 1975, at $16250
Lot 160, Carrie Mae Weems, Untitled #2450, from Kitchen Table Series, 1990, at $35000 (image at right, top, via Christie's)
Lot 179, Elliott Erwitt, New York City, 1953/Later, at $10625
Complete lot by lot results can be found
here
.
.
ADMINISTRATIVE NOTE: Thankfully, this is the last of the auction results posts for the year. After a pair of remaining show reviews at the beginning of next week, we'll head into our massive year end roundups. These will include the 2010 auction summary and top 10 lots at auction in 2010, the top 10 gallery and museum shows of 2010, the top 10 photobooks of 2010 and a sincere plug for our 2010 sponsors. Get ready!