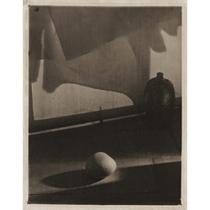 When the top four Edward Weston nudes all failed to sell at the beginning of the recent Photographs sale at Sotheby's in Paris, it probably looked like it was going to be a tough outing. Luckily Josef Sudek rode to the rescue, with all 7 Sudek lots on offer selling above their estimate ranges, a couple of the pigment prints jumping by more than 10X the pre-sale estimates. Needless to say, a new auction record was set for Sudek, and another was set for Manuel Alvarez Bravo. All in, these surprises (and others) helped to cover up the failure of the high priced Westons, and to bring the Total Sale Proceeds into the middle of the range.
The summary statistics are below (all results include the buyer's premium):
Total Lots: 152
Pre Sale Low Total Estimate: 2286800€
Pre Sale High Total Estimate: 3228300€
Total Lots Sold: 101
Total Lots Bought In: 51
Buy In %: 33.55%
Total Sale Proceeds: 2704587€
.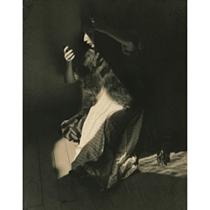 Here is the breakdown (using the Low, Mid, and High definitions from the preview post,
here
):
Low Total Lots: 39
Low Sold: 28
Low Bought In: 11
Buy In %: 28.21%
Total Low Estimate: 223300€
Total Low Sold: 243437€
Mid Total Lots: 98
Mid Sold: 64
Mid Bought In: 34
Buy In %: 34.69%
Total Mid Estimate: 1605000€
Total Mid Sold: 1589200€
High Total Lots: 15
High Sold: 9
High Bought In: 6
Buy In %: 40.00%
Total High Estimate: 1400000€
Total High Sold: 871950€
.
The top lot by High estimate was lot 41, Edward Weston, Nu (Anita Brenner), 1925, at 150000-200000€; it did not sell. The top outcome of the sale was lot 89, Josef Sudek, Sans Titre (Etude de Nature-Morte), 1952, at 300750€, against an estimate of 18000-23000€.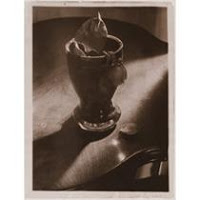 86.14 % of the lots that sold had proceeds in or above the estimate range. There were a total of 16 surprises in this sale (defined as having proceeds of at least double the high estimate):
Lot 11, Eugene Atget, Notre Dame, 1923, at 168750€
Lot 26, Edward Weston, Galvan Shooting, 1924, at 51150€
Lot 55, Manuel Alvarez Bravo, Retrato de la Eterna, Mexico, 1935, at 228750€ (image at right, middle, via Sotheby's)
Lot 68, Heinz Hajek–Halke, Erotik – Ganz Gross! (Erotisme Monumental!), 1928-1932, at 34350€
Lot 74, Heinz Hajek–Halke, Umarmung (Etreinte), 1947-1951, at 17500€
Lot 75, Heinz Hajek–Halke, Musik im Ather (Musique des Ondes), 1947-1950, at 17500€
Lot 83, Josef Sudek, Dans L'Atelier, Etude de Nu, c1952, at 22350€
Lot 85, Josef Sudek, Le Quai Ales, Panorama de Prague, c1955, at 42750€
Lot 86, Josef Sudek, Last Roses (Window of My Studio), 1956/1958, at 48750€
Lot 87, Josef Sudek, Arbre, Vue de L'Ile de Strelecky, 1958, at 39150€
Lot 88, Josef Sudek, Sans Titre (Vase et Rose Morte), 1952, at 228750€ (image at right, bottom, via Sotheby's)
Lot 89, Josef Sudek, Sans Titre (Etude de Nature-Morte), 1952, at 300750€
Lot 92, Henri Cartier-Bresson, Rue Mouffetard, 1954/Later, at 18750€
Lot 126, Russell James, Gisele, Virgin Gorda, 2004, at 16250€
Lot 131, Balthasar Burkhard, Le Zebre, c2000, at 12500€
Lot 135, Marina Abramovic, Balkan Baroque, 1997/1998, at 30750€
Complete lot by lot results can be found
here
.
76, Rue Du Faubourg Saint-Honoré
75008 Paris