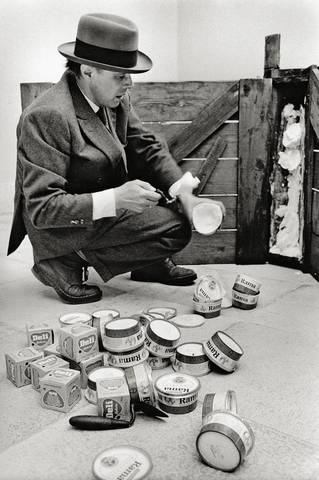 The results of the Photography sale at Villa Grisebach in Berlin last week were solidly average; there were few stand out lots on offer, so there was little chance for an unexpected multiplier to wildly drive up the proceeds. As a result, the buy-in rate came in just under 33% and the Total Sale Proceeds missed the estimate range by a small margin.
The summary statistics are below (all results include the buyer's premium):
.
Total Lots: 182
Pre Sale Low Total Estimate: 494500€
Pre Sale High Total Estimate: 666400€
Total Lots Sold: 122
Total Lots Bought In: 60
Buy In %: 32.97%
Total Sale Proceeds: 452797€
Here is the breakdown (using the Low, Mid, and High definitions from the preview post, here):
Low Total Lots: 167
Low Sold: 113
Low Bought In: 54
Buy In %: 32.34%
Total Low Estimate: 470400€
Total Low Sold: 343317€
Mid Total Lots: 15
Mid Sold: 9
Mid Bought In: 6
Buy In %: 40.00%
Total Mid Estimate: 196000€
Total Mid Sold: 109480€
High Total Lots: 0
High Sold: NA
High Bought In: NA
Buy In %: NA
Total High Estimate: 0€
Total High Sold: NA
The top lot by High estimate was lot 1240, Lotte Jacobi, Die Tanzerin Niura Norskaya, 1929, at 22000-22000€; it did not sell. The top outcome of the sale was Thomas Struth, People on Fuxing Dong Lu, Shanghai, 1997, at 22610€.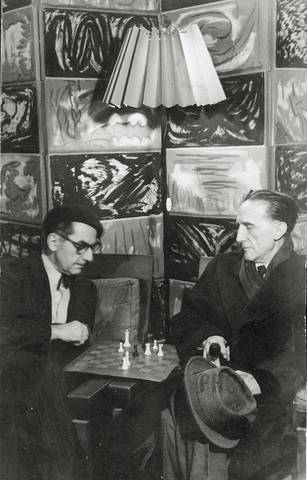 89.34% of the lots that sold had proceeds in or above the estimate. There were a total of 11 surprises in this sale (defined as having proceeds of at least double the high estimate):
Lot 1213, Rene Burri, Ohne Titel (Alberto Giacometti im Atelier), 1960, at 2737€
Lot 1264, Man Ray, Man Ray and Marcel Duchamp Playing Chess in Man Ray's Studio at 2 Bis, Rue Ferou, Paris, 1960, at 10710€ (image at right, via Grisebach)
Lot 1280, Stefan Moses, Joseph Beuys mit Fettecke, 1965-1968/Later, at 2023€ (image at right, top, via Grisebach)
Lot 1289, Beat Presser, Klaus Kinski, Paris, 1977/Later, at 6902€
Lot 1302, Julius Shulman, Case Study House #22, 1960/Later, at 11900€
Lot 1312, Antanas Sutkus, Marathon in the Universitets Street, Vilnus, 1959/Later, at 2737€
Lot 1313, Ufa, Der Regisseur Fritz Lang, 1920s, at 1666€
Lot 1314, Walter Vogel, Pina Bausch, Photoatelier der Folkwangschule, 1966/2010, at 3927€
Lot 1370, Michael Schmidt, "o.T." aus der Serie "Frauen", 1999, at 2380€
Lot 1375, Miroslav Tichy, Ohne Titel, 1970-1980, at 6545€
Lot 1376, Miroslav Tichy, Ohne Titel, 1970-1980, at 8925€
Complete lot by lot results can be found here.
Villa Grisebach Auktionen
Fasanenstraße 25
D-10719 Berlin