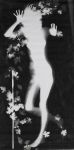 With an overall Buy-In rate over 60%, the results from the two recent photography sales at Van Ham in Cologne were, not surprisingly, far below the pre-sale estimates. 4 out of 5 of the top lots failed to find buyers, and there just weren't enough positive surprises to make up for all the passed lots. (Van Ham does not provide an estimate range in many cases, just a single estimate number, so this figure is used as the High estimate in our calculations).
The summary statistics are below (all results include the buyer's premium):
Total Lots: 443
Pre Sale High Total Estimate: 1120800€
Total Lots Sold: 173
Total Lots Bought In: 270
Buy In %: 60.95%
Total Sale Proceeds: 519952€

Here is the breakdown (using the Low, Mid, and High definitions from the preview post, here):
Low Total Lots: 424
Low Sold: 163
Low Bought In: 261
Buy In %: 61.56%
Total Low Estimate: 804800€
Total Low Sold: 343427€
Mid Total Lots: 17
Mid Sold: 9
Mid Bought In: 8
Buy In %: 47.06%
Total Mid Estimate: 231000€
Total Mid Sold: 128225€
High Total Lots: 2
High Sold: 1
High Bought In: 1
Buy In %: 50.00%
Total High Estimate: 85000€
Total High Sold: 48300€
The top lot by High estimate was lot 1046A, Andreas Gursky, Cairo (General View), 1992, at 35000-45000€; it did not sell. The top outcome of the sale was lot 1415, Edward Steichen, An Apple, a Boulder, a Mountain, 1921, at 48300€.

76.30% of the lots that sold had proceeds in or above the estimate. There were a total of 11 surprises in the sale (defined as having proceeds of at least double the high estimate):
Lot 1080, Siegfried Lauterwasser, Wahltag/Appenzell bei Schneefall, 1951, at 3795€
Lot 1091, Floris Neusüss, Munchen 64 (Nudogram), 1964, at 25300€ (image at right, top, via Van Ham)
Lot 1116, Tata Ronkholz, Trinkhalle Koln–Nippes, Merheimer Str. 294, 1983, at 2990€ (image at right, middle, via Van Ham)
Lot 1122, August Sander, Familienportrait, 1921, at 3220€
Lot 1127, August Sander, Herbstwald, 1938, at 4370€
Lot 1128, August Sander, Der Stadtwald zu Koln verschneit, 1936, at 5290€
Lot 1177, Boris Becker, Salzau im Mai (4 prints), 1993, at 1920€ (image at right, bottom, via Van Ham)
Lot 1181, Sibylle Bergemann, Loret Becker, 1992, at 1440€
Lot 1199, Rosemarie Clausen, Totenmasken grosser Deutscher, n.d., at 840€
Lot 1258, Karl Hugo Schmolz, Open (Riphahn), 1957, at 1680€
Lot 1271, Unbekannt, Gebruder Wright (erster Flug!), 1903, at 1080€
.
Complete lot by lot results can be found here.
Van Ham Kunstauktionen
Schönhauser Straße 10 – 16
D – 50968 Köln