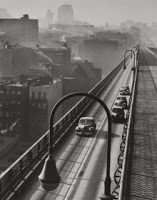 While Heritage is making consistent progress in drawing more higher value photography consigments and slowly raising its total proceeds in each succeeding season, it's hard to call outcomes like this one particularly successful by the normal measures we use. With more than 64% of the lots that sold selling below their estimate ranges and a Buy-In rate over 30%, it isn't much of a surprise that the Total Sale Proceeds missed the estimate range by a wide margin.
The summary statistics are below (all results include the buyer's premium):
Total Lots: 188
Pre Sale Low Total Estimate: $966350
Pre Sale High Total Estimate: $1482000
Total Lots Sold: 130
Total Lots Bought In: 58
Buy In %: 30.85%
Total Sale Proceeds: $695825
Here is the breakdown (using the Low, Mid, and High definitions from the preview post, here):
Low Total Lots: 168
Low Sold: 116
Low Bought In: 52
Buy In %: 30.95%
Total Low Estimate: $631000
Total Low Sold: $294305
Mid Total Lots: 16
Mid Sold: 12
Mid Bought In: 4
Buy In %: 25.00%
Total Mid Estimate: $406000
Total Mid Sold: $219283
.
High Total Lots: 4
High Sold: 2
High Bought In: 2
Buy In %: 50.00%
Total High Estimate: $445000
Total High Sold: $182238
The top lot by High estimate was lot 74083, Irving Penn, Harlequin Dress, Lisa Fonssagrives-Penn, 1950/1979, at $150000-250000; it was also the top outcome of the sale at $131450.
.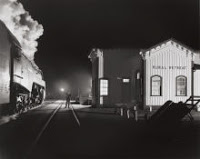 A paltry 35.44% of the lots that sold had proceeds in or above their estimate range. There were only two surprises in this sale (defined as having proceeds of at least double the high estimate):
Lot 74045, Harold Roth, Williamsburg Bridge, 1947/1997 at $3585(image at right, top via Heritage)
Lot 74051, O. Winston Link, Birmingham Special, Rural Retreat, Virginia, 1957/1988, at $13145 (image at right, bottom, via Heritage)
Complete lot by lot results can be found here.
.
Heritage Auctions
The Fletcher-Sinclair Mansion
2 East 79th Street
New York, NY 10075