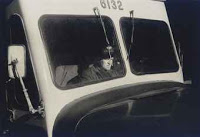 The sale of Part I of the Consolidated Freightways corporate collection at Christie's last week was an all-around success, with better than expected performance at all price points. The overall Buy-In rate was under 15%, there were plenty of positive surprises, and the Total Sale Proceeds covered the High estimate by more than $400K. Once again, all of the top 10 lots found buyers.
.
The summary statistics are below (all results include the buyer's premium):
Total Lots: 130
Pre Sale Low Total Estimate: $973000
Pre Sale High Total Estimate: $1404000
Total Lots Sold: 111
Total Lots Bought In: 19
Buy In %: 14.62%
Total Sale Proceeds: $1838438
.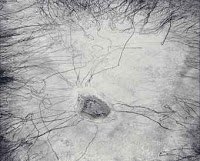 Here is the breakdown (using the Low, Mid, and High definitions from the preview post,
here
):
Low Total Lots: 100
Low Sold: 84
Low Bought In: 16
Buy In %: 16.00%
Total Low Estimate: $630000
Total Low Sold: $659188
.
Mid Total Lots: 28
Mid Sold: 25
Mid Bought In: 3
Buy In %: 10.71%
Total Mid Estimate: $614000
Total Mid Sold: $910250
.
High Total Lots: 2
High Sold: 2
High Bought In: 0
Buy In %: 0.00%
Total High Estimate: $160000
Total High Sold: $269000
The top lot by High estimate was lot 293, Robert Mapplethorpe, Flag, 1987, at $70000-90000; it was also the top outcome of the sale at $158500.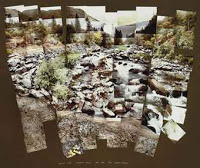 77.48% of the lots that sold had proceeds in or above the estimate range, and there were a total of 14 surprises in this sale (defined as having proceeds of at least double the high estimate):
Lot 201, Ansel Adams, Coastal Road, c1953, at $23750
Lot 203, Robert Adams, Golden, Colorado, c1974, at $18750
Lot 216, Garry Winogrand, Untitled, 1960, at $40000 (image at right, top, via Christie's)
Lot 218, William Garnett, Train Crossing Desert, Kelso, CA, 1974, at $32500
Lot 219, William Garnett, Waterhole on the Santa Fe Trail with Cattle Tracks, New Mexico, 1975, at $11250 (image at right, middle, via Christie's)
Lot 224, Robert Adams, Lakewood, 1973, at $18750
Lot 244, David Hockney, Merced River, Yosemite Valley, September 1982, 1982, at $40000 (image at right, bottom, via Christie's)
Lot 251, Dorothea Lange, Migrant Mother, 1936, at $134500
Lot 253, Russell Lee, Oil field worker drinking water, Kilgore, Texas, April 1939, 1939, at $13750
Lot 261, Ben Shahn, Men with Hats, Listening, 1934, at $15000
Lot 262, Weegee, Coney Island, 1940/1950s, at $32500
Lot 294, Cindy Sherman, Untitled Film Still #55, 1980, at $134500
Lot 317, Marion Post Wolcott, Migrant Vegetable Pickers Waiting in Line to be Paid near Homestead, Florida, 1939, at $12500
Lot 319, Garry Winogrand, World's Fair, New York City, 1964/Later, at $23750
.
Complete lot by lot results can be found
here
.
20 Rockefeller Plaza
New York, NY 10020