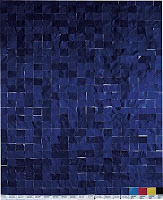 Phillips was resoundingly bested by its two larger rivals in terms of photography results in the Spring Contemporary Art season. Only 3 out of the top 9 photo lots in these sales found buyers and the Total Sale Proceeds missed the Low end of the range by a meaningful margin. With Sotheby's at roughly $10M and Christie's at roughly $12M for photo proceeds, Phillips tally at $1.5M looks pretty paltry indeed.
The summary statistics are below (all results include the buyer's premium):
Total Lots: 50
Pre Sale Low Total Estimate: $2270000
Pre Sale High Total Estimate: $3338000
Total Lots Sold: 39
Total Lots Bought In: 11
Buy In %: 22.00%
Total Sale Proceeds: $1508975
.
Here is the breakdown (using the Low, Mid, and High definitions from the preview post, here):
Low Total Lots: 12
Low Sold: 10
Low Bought In: 2
Buy In %: 16.67%
Total Low Estimate: $86000
Total Low Sold: $100375
.
Mid Total Lots: 26
Mid Sold: 23
Mid Bought In: 3
Buy In %: 11.54%
Total Mid Estimate: $652000
Total Mid Sold: $654100
.
High Total Lots: 12
High Sold: 6
High Bought In: 6
Buy In %: 50.00%
Total High Estimate: $2600000
Total High Sold: $754500
The top photography lot by High estimate was lot 45, Andreas Gursky, Brasalia Plenarsaal II, 1994, at $500000-700000; it did not sell. The top outcome of the sales was lot 43, Cindy Sherman, Untitled #422, 2004, at $350500.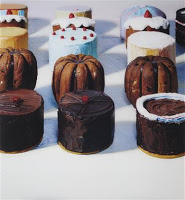 89.74% of the lots that sold had proceeds in or above the estimate range. There were a total of 4 surprises in these sales (defined as having proceeds of at least double the high estimate):
Lot 246, Vik Muniz, After Yves Klein (Pictures of Color), 2001, at $56250 (image at right, top, via Phillips)
Lot 248, Vik Muniz, Tackle (Pictures of Chocolate), 2001, at $84100
Lot 249, Sharon Core, Various Cakes, 2004 at $27500 (image at right, bottom, via Phillips)
Lot 396, Paul McCarthy, Dick & Broom, 1997, at $12500
.
Complete lot by lot results can be found here (Part I) and here (Part II).
Phillips De Pury & Company
450 Park Avenue
New York, NY 10022