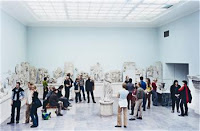 The results for the photography buried in Phillips' Contemporary Art sales in London last week weren't hugely remarkable. The top two high priced lots (a Sherman and a Gursky) failed to sell, there was only 1 positive surprise, and the overall Buy-In Rate across the two auctions topped 30%. I suppose it is no wonder then that the Total Sale Proceeds for photography missed the low end of the estimate range by a wide margin.
The summary statistics are below (all results include the buyer's premium):
Total Lots: 53
Pre Sale Low Total Estimate: £1206000
Pre Sale High Total Estimate: £1736000
Total Lots Sold: 37
Total Lots Bought In: 16
Buy In %: 30.19%
Total Sale Proceeds: £702150
Here is the breakdown (using the Low, Mid, and High definitions from the preview post, here):
Low Total Lots: 5
Low Sold: 5
Low Bought In: 0
Buy In %: 0.00%
Total Low Estimate: £24000
Total Low Sold: £27125
Mid Total Lots: 35
Mid Sold: 24
Mid Bought In: 11
Buy In %: 31.43%
Total Mid Estimate: £437000
Total Mid Sold: £291575
High Total Lots: 13
High Sold: 8
High Bought In: 5
Buy In %: 38.46%
Total High Estimate: £1275000
Total High Sold: £383450
The top lot by High estimate was lot 5, Cindy Sherman, Untitled Film Still #4, 1977, at £250000-350000; it did not sell. The top photography outcome of the two sales was lot 30, Thomas Struth, Pergamon Museum IV, Berlin, 2001, at £109250. (Image at right, top, via Phillips.)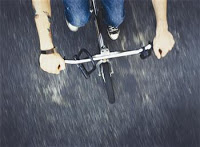 89.19% of the lots that sold had proceeds above or in the estimate range, but there was only one surprise in these sales (defined as having proceeds of at least double the high estimate):
Lot 263, Ryan McGinley, BMX, New York, 2001, at £22500 (image at right, bottom, via Phillips)
Complete lot by lot results can be found here (Evening) and here (Day).
Phillips De Pury & Company
Howick Place
London SW1P 1BB