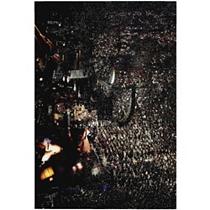 Sotheby's opened the 2010 Contemporary Art auction season with a solid pair of contemporary photography outcomes in London, led by the sale of Andreas Gursky's Madonna I for over £1 million (details below), the top result for an individual photograph in more than a year. (Image at right, via Sotheby's.)
The summary statistics for the photography lots in the two sales are below (all results include the buyer's premium):
Total Lots: 33
Pre Sale Low Total Estimate: £1868000
Pre Sale High Total Estimate: £2680000
Total Lots Sold: 28
Total Lots Bought In: 5
Buy In %: 15.15%
Total Sale Proceeds: £2493650
Here is the detailed breakdown (using the Low, Mid, and High definitions from the preview post, here):
Low Total Lots: 1
Low Sold: 0
Low Bought In: 1
Buy In %: 100.00%
Total Low Estimate: £3000
Total Low Sold: £0
Mid Total Lots: 17
Mid Sold: 15
Mid Bought In: 2
Buy In %: 11.76%
Total Mid Estimate: £247000
Total Mid Sold: £241250
High Total Lots: 15
High Sold: 13
High Bought In: 2
Buy In %: 13.33%
Total High Estimate: £2430000
Total High Sold: £2252400
92.86% of the photo lots that sold had proceeds in or above their estimate. There were no surprises in this sale (defined as having proceeds of at least double the high estimate).
The top photography lot by High estimate was lot 72, Andreas Gursky, Madonna I, 2001, at £900000-1300000. It was also the top photo outcome of the sale at £1077250. The most expensive photograph sold at auction in 2009 was a Gilbert & George multi-panel work for $902500 (here); converting this Gursky sale to dollars (at 1 Pound = 1.56 Dollars), this lot brought in $1680510, easily the largest photography outcome in more than a year.
Complete lot by lot results can be found here (Evening) and here (Day).
Additional reports on the auctions can be found at Art Info (here), Art Observed (here), Art Daily (here), and Bloomberg (here), although none covers the photography on offer in any detail.
Sotheby's
34-35 New Bond Street
London W1A 2AA
ADMINISTRATIVE NOTE: There will be no posts at all next week (the kids are on vacation). We'll be back to normal posting on Monday, February 22nd.