Christie's various owner photography sale takes to heart the learnings of real estate developers who build shopping malls: the key is getting the anchor tenants, and then the rest of the specialty shops will be enhanced by the presence of the big names. This auction is centered on a solid group of iconic images that will pique the interest of a broad spectrum of collectors: a full set of Curtis' The North American Indian, a vintage De Meyer Water Lilies, a vintage Kertész The Stairs of Montmartre, a vintage Alvarez Bravo El Ensueño (the cover lot), a Strand portrait of Rebecca, two solid Franks, and an Eggleston "red ceiling". These lots are spread across the sale, with the rest of the material (a mix of the usual suspects and a few surprises) in between. Overall there are a total of 139 lots on offer, with a total High estimate of $4740000. (Catalog cover at right.)
Here's the breakdown:
Total Low Lots (high estimate up to and including $10000): 46
Total Low Estimate (sum of high estimates of Low lots): $350000
Total Mid Lots (high estimate between $10000 and $50000): 76
Total Mid Estimate: $1640000
Total High Lots (high estimate above $50000): 17
Total High Estimate: $2750000
.
The top lot by High estimate is lot 719, Edward S. Curtis, The North American Indian, complete set of Portfolios 1-20 and Text Volumes 1-20, 1907-1930, at $700000-900000.
Here's a list of the photographers who are represented by more than five lots in the sale (with the number of lots on offer in parentheses):Irving Penn (13)
Ansel Adams (10)
Lee Friedlander (8)
Robert Frank (7)
Malick Sidibé (7)
Hiroshi Sugimoto (5)
Diane Arbus (5)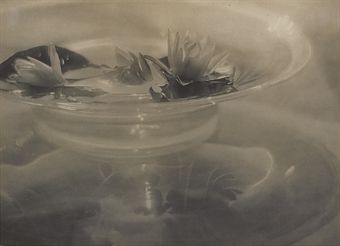 There are certainly plenty of lots to interest us this sale, though many of them are clearly out of reach in terms of our budget. Below is a selection of images that caught our eye, regardless of price or exact fit with our collection:
Lot 708 Walker Evans, Saratoga, 1931
Lot 724 Lee Friedlander, Butte, Montana, 1970/1973
Lot 755 Lee Friedlander, New Orleans, 1969/Later
Lot 774 Malick Sidibé, Les Trois Amis, 1968
Lot 798 Thomas Struth, Washington Street, New York/Tribeca, 1978
Lot 811 Paul Strand, Rebecca Strand, New York, 1922/1950s
Lot 819 Baron Adolph De Meyer, Water Lilies, c1906 (at right, bottom)
Lot 831 Nan Goldin, Red Sky from My Window, NYC, 2000
The complete lot by lot catalog can be found here. The eCatalogue is located here.
Photographs
October 8th
Christie's
20 Rockefeller Plaza
New York, NY 10020