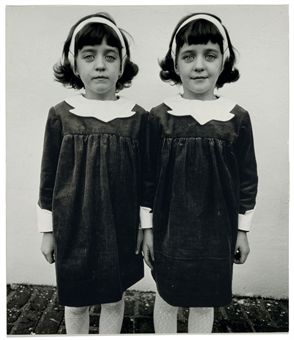 The main event Photographs auctions occur next week in New York, with Christie's up on the 6th and 7th with a sprawling various owner sale spanning two days. Highlights include a group of Yosemite views by Carleton Watkins, another selection of American color photography from the Berman collection, and a deep roster of Irving Penn images. There are a total of 349 lots on offer, with a total High estimate of $6795500.
.
Here's the simple statistical breakdown:
Total Low Lots (high estimate up to and including $10000): 189
Total Low Estimate (sum of high estimates of Low lots): $1193500
Total Mid Lots (high estimate between $10000 and $50000): 137
Total Mid Estimate: $3302000
Total High Lots (high estimate above $50000): 23
Total High Estimate: $2300000
The top lot by High estimate is lot 32, Diane Arbus, Identical Twins, Roselle, New Jersey, 1967, at $250000-350000 (image at right, top, via Christie's).
.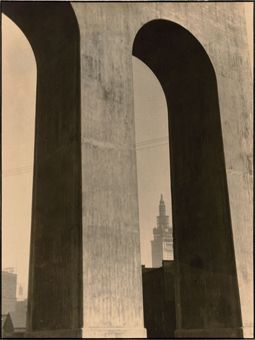 Here's the complete list of photographers represented by five or more lots in the sale (with the number of lots in parentheses):
Irving Penn (23)
Ansel Adams (16)
William Eggleston (15)
Joel Sternfeld (15)
Diane Arbus (14)
Stephen Shore (14)
Robert Frank (13)
Robert Polidori (11)
Carleton Watkins (11)
William Christenberry (9)
Alec Soth (9)
Henri Cartier-Bresson (9)
Robert Mapplethorpe (8)
Man Ray (8)
Harry Callahan (7)
Frederick Evans (6)
Mitch Epstein (5)
Hiroshi Sugimoto (5)
For our own collection, I can imagine bidding on:
Lot 14, Margaret Bourke-White, Terminal Tower, Cleveland, Ohio, 1928 (image at right, bottom, via Christie's)
Lot 108, Lewis Baltz, Houston, Texas, 1973
The complete lot by lot catalog can be found here. The eCatalogue is located here.
Photographs
October 6th and 7th
Christie's
20 Rockefeller Plaza
New York, NY 10020