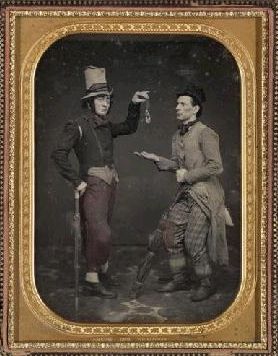 Sotheby's is up first this auction season with its various owner Photographs sale on October 6th. The sale is heavy on vintage Ansel Adams, Edward Curtis, and Robert Frank (quite a few images from London and Paris), with much less standout contemporary/color work. All in, there are 265 lots on offer in this sale, with a total High estimate of $6512500.
Here's the statistical breakdown:
Total Low Lots (high estimate up to and including $10000): 113
Total Low Estimate (sum of high estimates of Low lots): $911500
Total Mid Lots (high estimate between $10000 and $50000): 128
Total Mid Estimate: $3066000
Total High Lots (high estimate above $50000): 23
Total High Estimate: $2535000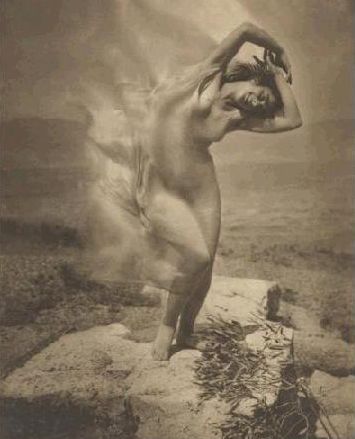 The top photography lot by High estimate is lot 29, Rufus Anson,
Two Actors from the melodrama 'Robert Macaire'
, 1850s, at $250000-350000. (Image at right, top, via
Sotheby's
.) The next highest lot is lot 40, Edward
Steichen
,
'Wind Fire' Therese Duncan, Acropolis
, 1921, at $120000-180000. (Image at right, bottom, via
Sotheby's
.)
Here's the short list of photographers represented by five or more lots in the sale (with the number of lots in parentheses):
Ansel Adams (28)
Edward Curtis (19)
Robert Frank (17)
Robert Mapplethorpe (13)
Berenice Abbott (12)
Edward Weston (10)
Harry Callahan (7)
Henri Cartier-Bresson (7)
Irving Penn (6)
The complete lot by lot catalog can be found here.
October 6th
1334 York Avenue
New York, NY 10021