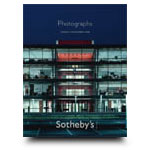 The upcoming Photographs sale at Sotheby's New Bond Street is a perfectly respectable gathering of items, with a representative sample of most of the photographers you would expect to find and a few lesser known artists thrown in for good measure. And yet, for us, reading this catalog felt like watching cable TV – clicking through hundreds of channels, but nothing really grabs your attention. This is surprising, as we think of Sotheby's as being on top in terms of unearthing rare and exciting material.
The sale has a total of 177 lots up for sale, with a total high estimate of 1490000 Pounds. Here's the breakdown:
Total Low Lots (high estimate below 5000 Pounds): 65
Total Low Estimate (sum of high estimates of Low lots): 291000 Pounds
Total Mid Lots (high estimate between 5000 and 25000 Pounds): 109
Total Mid Estimate: 1059000 Pounds
Total High Lots (high estimate above 25000 Pounds): 3
Total High Estimate: 140000 Pounds
This sale has the highest number of Mid range lots in the European sales we have reviewed to date, so clearly there has been some discipline and effort exercised in putting the sale together. Perhaps it is merely the randomness of consigning activity that accounts for the absence of the usual Sotheby's spark. Alternately, this reaction may be a result of "our" kind of work being mostly missing, and that others who are after different things will find it up to the usual standards.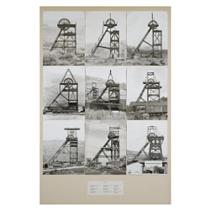 In any event, for our collection, there is really only one item, Lot 121 Bernd & Hilla Becher, Untitled (Pitheads), 1974, (image at right) that would fit into our collection well. Additionally, we very much admire the three Andy Goldsworthy images up for sale (Lots 159, 160, and 161), even if they don't fit into our collection exactly.
If there is a silver lining here, it may be that we can feel some odd relief that there aren't too many great things up for sale that we might miss, at a time when we are being extra cautious with our purchases.
Photographs
November 18th
Sotheby's
33-34 New Bond Street
London W1A 2AA