It's easy to get lulled into thinking that the only photography auctions worth following are those of the top two (or four, or however many) houses that are household names. The fact is, if you are as crazy as we are, there are lots of sales at smaller auction houses all over the world that have interesting photography up for sale (often at lower prices) that are worth checking out.
A terrific example of this is the upcoming sale at Rago (just outside Trenton, NJ). Dan Berley was a long time collector of photography (beginning in the 1960s) who partnered with gallery owner Lee Witkin to publish a number of photography portfolios in the days when photography galleries were few and far between. His collection spans all types and styles of photography, and this sale offers a wide range of excellent prints, particularly the portfolios, which are available from many artists (there are also quite a few complete Camera Work issues). There are a total of 301 lots up for sale, with a total high estimate of $1453600.
Here's the breakdown: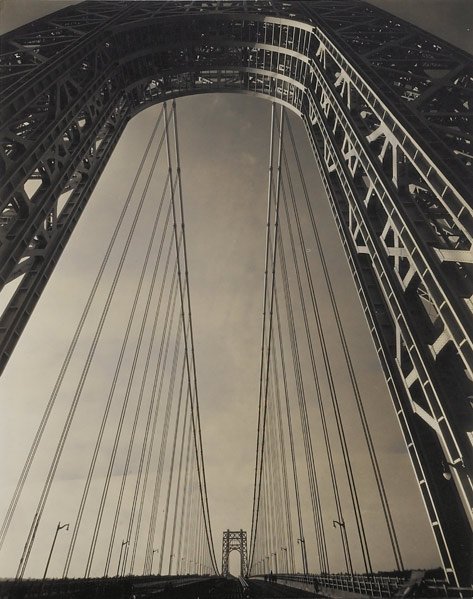 Total Low Lots (high estimate below $10000): 277
Total Low Estimate (sum of high estimates of Low lots): $857600
Total Mid Lots (high estimate between $10000 and $50000): 22
Total Mid Estimate: $476000
Total High Lots (high estimate above $50000): 2
Total High Estimate: $120000
Here are some of the lots we find of interest:
1032 Dr. Dain Tasker, Fuschia – Upright Type, 1930s
1080 Imogen Cunningham, Two Callas, 1929/1970
1084 Imogen Cunningham, Triangles, 1928/Later
1137 Edward Steichen, The George Washington Bridge, 1931 (image at right, top)
1146 Ralston Crawford, Interior View of Station, Newark, 1942 (image at right, bottom)
1254 Aaron Siskind, Chicago, 1952
There is some high quality work in this sale, well worth taking a look, even if you've never bought from Rago.
November 21st
333 North Main Street
Lambertville, NJ 08530