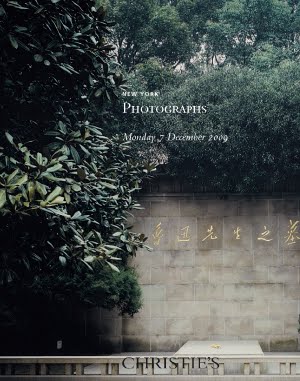 Christie's off season December photographs auction contains a slightly lower priced mix of material than the normal April and October sales, with fewer stand out top end pieces available. But for an in-between sale, it has more lesser known and unusual surprises than one might suspect. Overall there are a total of 190 lots on offer, with a total High estimate of $1394700. (Catalog cover at right, via Christie's.)
Here's the breakdown:
Total Low Lots (high estimate up to and including $10000): 163
Total Low Estimate (sum of high estimates of Low lots): $913700
Total Mid Lots (high estimate between $10000 and $50000): 26
Total Mid Estimate: $411000
Total High Lots (high estimate above $50000): 1
Total High Estimate: $70000
The top lot by High estimate is lot 111, Ansel Adams, Portfolio Four: What Majestic Word, 1963, at $50000-70000.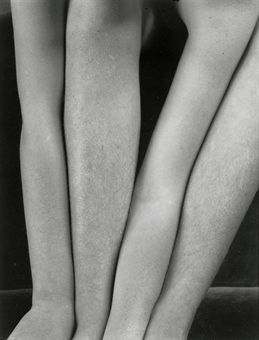 Here's a list of the photographers who are represented by four or more lots in the sale (with the number of lots on offer in parentheses):
Ansel Adams (16)
Joel-Peter Witkin (7)
Edward Curtis (6)
Edward Weston (6)
Robert Frank (5)
Jacques-Henri Lartigue (5)
Man Ray (5)
Berenice Abbott (4)
Bernd and Hilla Becher (4)
Harry Callahan (4)
Bruce Weber (4)
A few of the lots that interested us for our own collection are as follows:
Lot 4 Edward Weston, Charis, 1934 (image at right)
Lot 64 Berenice Abbott, Manhattan Bridge, November 11, 1936
Lot 187 Charles Jones, Iris, c1900
The complete lot by lot catalog can be found here. The eCatalogue is located here.
Photographs
October 8th
Christie's
20 Rockefeller Plaza
New York, NY 10020