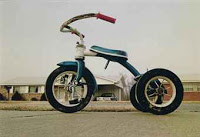 Christie's finishes up its spring Photographs run with a various owner sale on Friday. I can't imagine there are too many vintage Eggleston tricycles still in private hands, so I'm sure the bidding for this icon of color photography will be fierce. I also assume the Frank spiral-bound
Peru
signed to Alexy Brodovitch with a MoMA provenance is a one of a kind treasure and will bring some serious Frank collectors out of the woodwork. With Penn images interspersed throughout the sale, there are a total of 211 photographs on offer, with a total High estimate of $5046000.
Here's the statistical breakdown:
Total Low Lots (high estimate up to and including $10000): 93
Total Low Estimate (sum of high estimates of Low lots): $570000
Total Mid Lots (high estimate between $10000 and $50000): 101
Total Mid Estimate: $2346000
Total High Lots (high estimate above $50000): 17
Total High Estimate: $2130000
Here's the complete list of photographers represented by five or more lots in the sale (with the number of lots in parentheses):
Irving Penn (19)
Bruce Weber (18)
Robert Mapplethorpe (10)
William Eggleston (9)
Ansel Adams (7)
Richard Avedon (6)
Harry Callahan (6)
Henri Cartier-Bresson (6)
Robert Frank (6)
Andre Kertesz (6)
Bernd and Hilla Becher (5)
Sally Mann (5)
Erwin Olaf (5)
Herb Ritts (5)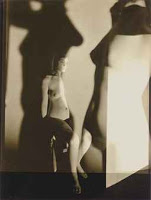 (Lot 452, Robert Frank,
Peru,
1948, at $100000-150000, at right, middle, lot 480, William Eggleston,
Memphis (Tricycle),
1969-70, at $200000-300000, at right, top, and lot 491, Maurice Tabard,
Montage (Nue),
1929, at $15000-25000, at right, bottom, all via Christie's.)
.
April 8th
20 Rockefeller Plaza
New York, NY 10020