Following its two single owner sales, Christie's finishes up its series of Spring auctions with a various owner Photographs sale on April 15th. There are a total of 180 lots on offer in this auction with a total High estimate of $4733500. There is nearly $1.4 million of additional value available in this sale over the same sale a year ago, perhaps a further indication of the "supply" side of the photography market starting to loosen up a bit once again. A small selection of lots at the end of the sale are being sold to benefit Friends in Deed (here). (Catalog cover at right, via Christie's website.)
Here's the statistical breakdown:
Total Low Lots (high estimate up to and including $10000): 89
Total Low Estimate (sum of high estimates of Low lots): $552500
Total Mid Lots (high estimate between $10000 and $50000): 75
Total Mid Estimate: $1601000
Total High Lots (high estimate above $50000): 16
Total High Estimate: $2580000
The top lot by High estimate is lot 325, Irving Penn, Woman in Moroccan Palace (Lisa Fonssagrives-Penn), Marrakech, 1951/1983, at $300000-500000.
Below is the list of photographers with 3 or more lots in the sale (with the number of lots in parentheses):
Robert Mapplethorpe (9)
Robert Polidori (7)
Henri Cartier-Bresson (6)
Edward Curtis (6)
Horst P. Horst (6)
Brassai (5)
Irving Penn (5)
Richard Avedon (4)
William Eggleston (4)
Robert Frank (4)
Adam Fuss (4)
Daido Moriyama (4)
Helmut Newton (4)
Ansel Adams (3)
Herb Ritts (3)
Eugene Smith (3)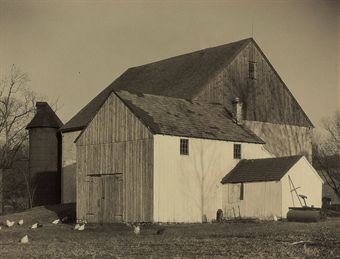 While there are quite a few iconic flowers in this sale (which would fit into our collection quite neatly), I found the vintage Sheeler barn to be the most striking print available. (Lot 380, Charles Sheeler, Bucks County Barn, 1918, at $100000-150000, at right, via Christie's website.)
The complete lot by lot catalog can be found here. The eCatalogue is here.
Photographs
April 15th
Christie's
20 Rockefeller Plaza
New York, NY 10020