Later this week, Bonhams is having a Photographs sale in Dubai. While many Western collectors (including ourselves) might still be somewhat uncertain about bidding/buying in Dubai (and figuring out the constraints of the US sanctions on Iran), I think a flip through the catalog is an interesting window into contemporary Middle Eastern photography; there are plenty of photographers in this sale that we just don't see much of in New York. Overall, there are a total of 85 photographs on offer, with a total High estimate of $757900.
.
Here's the statistical breakdown:
Total Low Lots (high estimate up to and including $10000): 72
Total Low Estimate (sum of high estimates of Low lots): $430900
Total Mid Lots (high estimate between $10000 and $50000): 13
Total Mid Estimate: $327000
Total High Lots (high estimate above $50000): 0
Total High Estimate: NA
.
The top lot by High estimate is tied between two lots: lot 33, Shirin Neshat, Mystified, 1997, (image at right, top, via Bonhams) and lot 70, Halim Al-Karim, Goddess of the Desert, 2010, both at $35000-45000.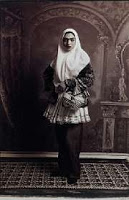 Here's the complete list of photographers represented by two or more lots in the sale (with the number of lots in parentheses):
Norman Parkinson (4)
Sebastiao Salgado (4)
Andre Villers (4)
Jamie Balbridge (3)
Chuck Close (3)
Shadi Ghadirian (3)
Peter Anderson (2)
Lillian Bassman (2)
Majid Koorang Beheshti (2)
Amr Fekry (2)
Philippe Halsman (2)
Horst P. Horst (2)
Bahman Jalali (2)
Rana Javadi (2)
Nadine Kanso (2)
Laila Muraywid (2)
Herbert Ponting (2)
Bijan Sayfouri (2)
Todd Webb (2)
Camille Zakharia (2)
Siamak Zomorrdi-e Motlach (2)
.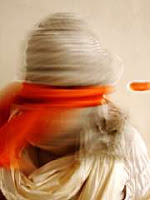 (Lot 37, Shadi Ghadirian, Untitled from the Qajar series, 1998, at $7000-9000, at right, middle, and lot 50, Faisal Samra, Distorted Reality #36, 2007, at $10000-15000, at right, bottom, both via Bonhams.)
The complete lot by lot catalog can be found here.
.
Photographs
April 13th
.
Bonhams
Royal Mirage Hotel
Villa No. 23
Beach Road
Jumeirah 1
Dubai, UAE