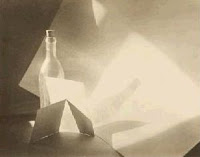 Yann Le Mouel continues the Paris auction season for photographs later this week with its various owner sale. As usual, the material is heavily French/European and almost all at the lower end of the price range. Andre Villers is the total lot leader, helped by a selection of whimsical painted cutouts holding Rolleiflex cameras. Overall, there are a total of 342 lots on offer, with a Total High Estimate of 744200€.
.
Here's the breakdown:
Total Low Lots (high estimate up to and including 7500€): 332
Total Low Estimate (sum of high estimates of Low lots): 592200€
Total Mid Lots (high estimate between 7500€ and 35000€): 10
Total Mid Estimate: 152000€
Total High Lots (high estimate above 35000€): 0
Total High Estimate: NA
The top lot by High estimate is lot 32, Jaromir Funke, Composition a la bouteille, 1925, at 20000-30000€. (Image at right, top, via Yann Le Mouel.)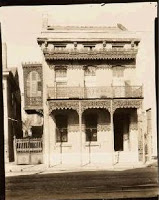 Here is a short list of the photographers who are represented by five or more lots in the sale (with the number of lots in parentheses):
Andre Villers (35)
Robert Doisneau (11)
Brassai 10
Man Ray 10
Edouard Boubat (9)
Andre Kertesz (7)
Henri Cartier-Bresson (5)
Lucien Clergue (5)
Izis (5)
Francois Kollar (5)
Nicolas Yantchevsky (5)
.
(Lot 139, Walker Evans, House with Cast Iron Grill Work, New Orleans, Louisiana, 1936, at 10000-15000€. Image at right, bottom, via Yann Le Mouel.)
The complete lot by lot catalog can be found here.
Photographies Modernes et Contemporaines
May 27th
.
Yann Le Mouel
22, Rue Chauchat
75009 Paris