If we take as given that photography is now a global and multicultural art form, it follows that the auction market for photography will also fragment into smaller, more local varieties that bring forward work that is altogether different than that offered by the major houses in New York and London. Yann Le Mouel has interesting sales in Paris, with a heavy dose of French photography. Bloomsbury's Rome office recently had a large sale of Italian photography. And we are now headed into the German auction season, led of this fall by Villa Grisebach in Berlin at the end of the month.
We find the German auctions to be excellent sources of unexpected, well priced (less bid up) material, and we have, in the past, bought from all of the leading houses that have dedicated photography sales. If you are a collector and previously unaware of Villa Grisebach (or of Lempertz, Van Ham, and Bassenge to be reviewed in the coming days), you really need to pay some attention. All of these sales have broad ranges of vintage and contemporary work (including American artists), with strength in European work, and not surprisingly, German photography.
This sale at Villa Grisebach has a total of 241 lots available, with a total high estimate of 822200 Euros. 92.5% of the lots fall in the Low range, so there is plenty of quality, affordable work on offer. There is a particularly large group of 14 Albert Renger–Patzsch images (mostly botanicals) up for sale. Here's the overall price breakdown:
Total Low Lots (high estimate below 7500 Euros): 223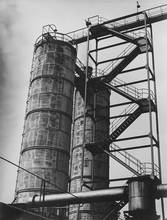 Total Low Estimate (sum of high estimates of Low lots): 545200 Euros
Total Mid Lots (high estimate between 7500 and 35000 Euros): 16
Total Mid Estimate: 167000 Euros
Total High Lots (high estimate above 35000 Euros): 2
Total High Estimate: 110000 Euros
Rather than presenting a laundry list of things we're interested in, we thought we might try highlighting just a few lots and commenting on them a bit further. So here are three lots we find of interest:
Lot 1591 Werner Mantz, Limburg, 1928 (image at right, top) It seems that every time we go to a photography show, the Kicken Berlin gallery (site here) has a terrific Werner Mantz in their booth that we always admire, but never quite get around to buying. Mantz did some amazing, high contrast industrial landscapes in the 1920s and 1930s, which would fit well with our other industrial pictures. This looks to be a good one as well. The back and forth of the staircase is stunning. The image would also resonate well with some Gohlke grain elevators already in our collection (here).
Lot 1665 Umbo, Rohre, 1950s (image at right, middle) We don't have an Umbo in our collection at the moment, and we've been looking for one that would fit well for a while now. We like this one, for its terrific graphic qualities and the unusual back lighting.
Lot 1732 Stephen Shore, Dewdney Avenue, Regina, Saskatchewan, 1974 (image at right, bottom) We've seen this image before in a few places and we continue to think it is the Shore we would potentially add first to our collection, whenever it is that we actually have color as part of the mandate. While it is different than many of Shore's more famous images, it would pair well with a Friedlander we already own (here).
The specialists at Villa Grisebach are responsive and easy to deal with, and you can get an email condition report quickly, assuming you're not going to visit the preview in person. We have found their packing and shipping services to be thorough and professional as well. At a minimum, take a spin through the online catalog (linked below) to see what's available.
Photographie
November 27
Villa Grisebach
Fasanenstrasse 25
D-10719 Berlin