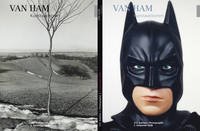 Van Ham's upcoming photography sale has a whopping 422 lots on offer (including 30 lots of photo books), so there is plenty of variety and volume to sift through in Cologne, nearly all of it on the Low end. The total high estimate for the sale is 738440 Euros.
Here's the overall price breakdown:
Total Low Lots (high estimate below 7500 Euros): 409
Total Low Estimate (sum of high estimates of Low lots): 542440 Euros
Total Mid Lots (high estimate between 7500 and 35000 Euros): 12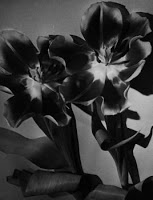 Total Mid Estimate: 146000 Euros
Total High Lots (high estimate above 35000 Euros): 1
Total High Estimate: 50000 Euros
There aren't many superior lots in this sale (in our view), but quite a few lesser known works of interest can be found. For our collection, here are a few that are intriguing:
Lot 1043 Pierre Auradon, Tulips, 1930: We already have one Pierre Auradon in our collection (here), but this is another high quality floral that would fit well in our floral genre. (image at right, top)
Lot 1295 Tata Ronkholz, Fischerplatz 2, 1978: Ronkholz was a Becher student, and did a whole series of Trinkhalle images that document urban development in Dusseldorf. I believe that Van Ham represents the Ronkholz estate. These images would fit well with American topographic photography from the 1970s. (image at right, middle)
As with many of the other German houses, we have had good success with Van Ham's services, including condition reports, bidding, and packing/shipping to the US.
December 5th
Schonhauser Strasse 10-16
50968 Koln