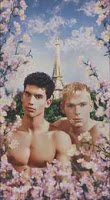 Coming up next week, Christie's has scheduled a single owner, single artist collection sale at its Paris location, bringing to market a selection of unique works by the French pair of Pierre et Gilles. This group of works is entirely made up of male nudes and male portraits, all in the lavish, fairytale, overpainted style which is their hallmark. Recent images by Pierre and Gilles to enter the secondary markets have performed well, with prices ranging between $10000 and nearly $200000; given their scarcity, I imagine these images will find buyers with ease. Overall, there are a total of 23 lots up for sale, with a Total High Estimate of 728000€.
Here's the statistical breakdown:
Total Low Lots (high estimate up to and including 7500€): 0
Total Low Estimate (sum of high estimates of Low lots): NA
Total Mid Lots (high estimate between 7500€ and 35000€): 16
Total Mid Estimate: 373000€
Total High Lots (high estimate above 35000€): 7
Total High Estimate: 355000€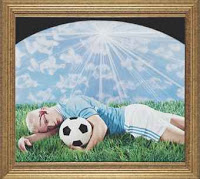 The top lot by High estimate is lot 23, Pierre et Gilles, David et Jonathan – Jean-Yves et Moussa, 2005, at 35000-55000€.
(Lot 10, Pierre et Gilles, Gai Paris – Jean-Paul et Andreas, 1988, at 30000-50000€, image at right, top, and lot 6, Pierre et Gilles, Le footballeur blesse – Frederic Lenfant, 1998, at 20000-30000€, image at right, bottom, both via Christie's.)
The complete lot by lot catalog can be found here. The eCatalogue is located here.
Oeuvres de Pierre et Gilles provenant d'une Collection privee
May 30th
Christie's
9 Avenue Matignon
75008 Paris