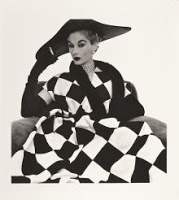 Heritage steps up next week with its various owner sale in New York, headlined by a few more high end lots than usual, but with plenty of later prints and lower priced work to sift through as well. Overall, there are a total of 188 photographs on offer, with a total High estimate of $1482000.
Here's the statistical breakdown:
Total Low Lots (high estimate up to and including $10000): 168
Total Low Estimate (sum of high estimates of Low lots): $631000
.
Total Mid Lots (high estimate between $10000 and $50000): 16
Total Mid Estimate: $406000
Total High Lots (high estimate above $50000): 4
Total High Estimate: $445000
.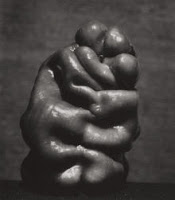 The top lot by High estimate is lot 74083, Irving Penn, Harlequin Dress, Lisa Fonssagrives-Penn, 1950/1979, at $150000-250000 (image at right, top, via Heritage).
Here's the complete list of photographers represented by four or more lots in the sale (with the number of lots in parentheses):
Berenice Abbott (12)
Ansel Adams (11)
Bill Owens (6)
Edward Weston (6)
Annie Leibovitz (5)
Irving Penn (5)
Sebastiao Salgado (5)
Mark Shaw (5)
Michael Kenna (4)
Jim Marshall (4)
Mark Seliger (4)
.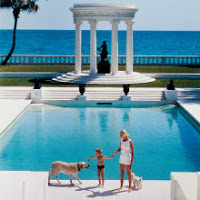 (Lot 74059, Edward Weston, Pepper (No. 14), 1929, at $50000-75000, image at right, middle, and lot 74096, Slim Aarons, Mrs. F.C. Winston Guest and Son, Villa Artemis, Palm Beach, 1955/Later, at $3500-5000, image at right bottom, both via Heritage.)
.
The complete lot by lot catalog can be found here.
New York Signature Vintage & Contemporary Photography Auction
May 2nd
.
Heritage Auctions
The Fletcher-Sinclair Mansion
2 East 79th Street
New York, NY 10075