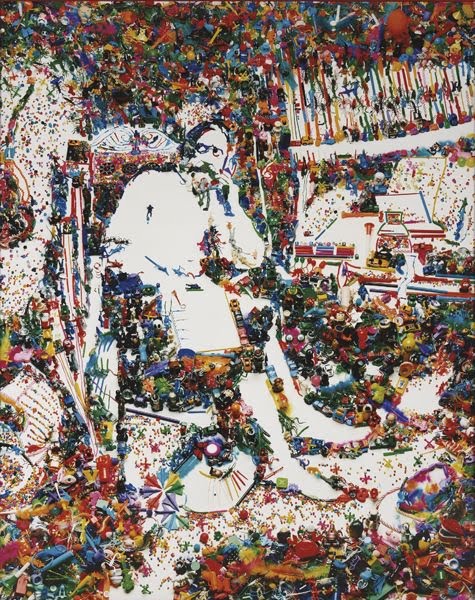 Phillips continues its 2010 series of themed sales next week with a selection of works entitled "Latin America". Vik Muniz is the standard bearer, with 6 of the top 10 lots by High estimate. Out of a total of 313 lots on offer, there are 74 lots of photography mixed in, with a total High estimate for photography of $643500.
Here's the statistical breakdown:
Total Low Lots (high estimate up to and including $10000): 60
Total Low Estimate (sum of high estimates of Low lots): $309500
Total Mid Lots (high estimate between $10000 and $50000): 13
Total Mid Estimate: $284000
Total High Lots (high estimate above $50000): 1
Total High Estimate: $50000
The top lot by High estimate is lot 161, Vik Muniz, Don Quixote in His Study, After William Lake Price, 1890 (from Rebus Series), 2004, at $30000-50000. (Image at right, top, via Phillips.)
The following is the list of the photographers represented by two or more lots in this sale (with the number of lots on offer in parentheses):
Luis González Palma (8)
Manuel Álvarez Bravo (7)
Flor Garduño (7)
Vik Muniz (7)
Sebastião Salgado (6)
Tina Modotti (5)
Nickolas Muray (3)
Mario Algaze (2)
Natalia Arias (2)
Carlos Betancourt (2)
Carlos Garaicoa (2)
Ernst Haas (2)
Graciela Iturbide (2)
Ernesto Pujol (2)
Mario Testino (2)
The complete lot by lot catalog can be found
here
.
September 29th
450 West 15th Street
New York, NY 10011