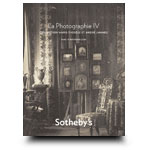 The catalogue for the final part of the Jammes sale arrived a week or so ago, and I must admit, it feels somewhat bittersweet. During our years of collecting, we have admired their efforts from afar and their influence has been strongly felt, even though we have not had any personal contact with the famous pair. They have become the standard bearers for systematic and scholarly collecting, for taking it seriously, for being rigorous and thoughtful, for educating others, and for working patiently and diligently over a lifetime at building a careful and meaningful collection, regardless of the interest of anyone else. Their knowledge has filled in gaps in the historical record, their books are key reference volumes, their exhibitions are historic, and the catalogues from the previous sales are collector's items in their own right. They are the antithesis of the flashy, bling bling collector of the 21st century. So it is with some sorrow that we see the final chapter of their amazing collection being cast to the wind.
Given the unspoken move away from 19th century material in the mainstream photography market (evidenced by the very few 19th century lots among the literally thousands of photographs for sale in this season's auctions), it is refreshing to get a full dose of unexpected 19th century work in a single sale. There are a total of 192 lots in this sale, approximately 30 of which are buy-ins from the previous sales (now with lower estimates). The total high estimate for the sale is 2970800 Euros, and given the success of the previous parts of this sale, it won't be surprising if this sale also performs strongly, even in the face of volatile market conditions.
Here's the breakdown:
Total Low Lots (high estimate below 7500 Euros): 98
Total Low Estimate (sum of high estimates of Low lots): 385800 Euros
Total Mid Lots (high estimate between 7500 and 35000 Euros): 77
Total Mid Estimate: 1160000 Euros
Total High Lots (high estimate above 35000 Euros): 17
Total High Estimate: 1425000 Euros
Given that we have very little 19th century material in our collection, there aren't many lots that fit for us in this sale. This is a result of the parameters of our genres, rather than any comment on the high quality of the work in this sale. A couple of lots that do fit are:
Lot 178 Germaine Krull, Metal (a photo book we have long wanted to have for our library)
Lot 187 Emmanuel Sougez, Etude Industrielle, 1930
Hopefully, many of these lots will end up in museums, or with collectors who share the Jammes' passion for the medium. In any case, keep the catalogue as a reminder of what great collections look like and as an impetus to set your standards high.
La Photographie IV: Collection Marie-Therese et Andre Jammes
November 15
Sotheby's
76, Rue Du Faubourg Saint-Honore
75008 Paris