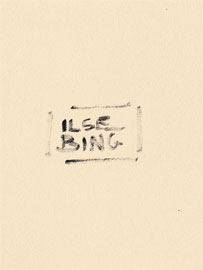 In the past few years, the French auction season has often been highlighted by sales that span the entire estates of relatively well known European photographers. We participated in the Brassaï sale before we began this site, and we covered the Blanc & Demilly sale last fall (here) and the Sasha Stone sale this past summer (here).
This sale focuses on Ilse Bing and draws photographs and ephemera from her entire career. The vast majority of the works on offer are from 1930s Paris and New York, and many of her iconic images are represented. (Hardback catalog cover at right, via Millon. By the way, the catalog itself is an excellent reference book on Bing, with a biographical essay, a detailed bibliography and exhibition list, and copies of all her hand stamps.)
There are a total of 286 lots on offer, with a Total High Estimate of 470200€. Only a handful of lots have a high estimate over 3000€, so there is plenty of low priced material to dig through. In general, I have found the estimates to be ridiculously low compared to the prices we have encountered for her work in galleries or at auction in the past few years; this is of course a result of bringing so much Bing material to market at once and hoping to have it all absorbed. Given what's in the catalog, I'd say that if you ever wanted an Ilse Bing for your collection, now would be the time to go after it.
Here's the breakdown:
Total Low Lots (high estimate up to and including 7500€): 285
Total Low Estimate (sum of high estimates of Low lots): 450200€
Total Mid Lots (high estimate between 7500€ and 35000€): 1
Total Mid Estimate: 20000€
Total High Lots (high estimate above 35000€): 0
Total High Estimate: NA
The top lot by High estimate is lot 56, Ilse Bing, Le Moulin Rouge, Paris, 1931, at 15000-20000€.
We already have several Ilse Bing images in our collection (
here
), and there are variants or duplicate prints of most of our images up for sale. There are of course others in this auction that would fit nicely with our existing holdings. (The easily accessible thumbnails on the website are quite small, so I have not reproduced them here.) A few of interest include:
Lot 12, Gear, Frankfurt, 1930
Lot 91, Le 14 Juillet, Paris, 1933
Lot 109, Amboise, 1935
Lot 135, Nature Morte, Paris, 1931
.
The complete lot by lot catalog can be found
here
.
November 16th
5, Avenue D'Eylau
75116 Paris