Phillips continues its 2010 series of themed sales later this week with a selection of works entitled "Film". The sale includes mostly shots from film sets and celebrity portraits, with a heavy dose of Marilyn Monroe. Out of a total of 190 lots on offer, there are 128 lots of photography mixed in, with a total High estimate for photography of $564400. (Catalog cover at right, via Phillips.)
Here's the statistical breakdown:
Total Low Lots (high estimate up to and including $10000): 123
Total Low Estimate (sum of high estimates of Low lots): $485400
Total Mid Lots (high estimate between $10000 and $50000): 5
Total Mid Estimate: $79000
Total High Lots (high estimate above $50000): 0
Total High Estimate: NA
.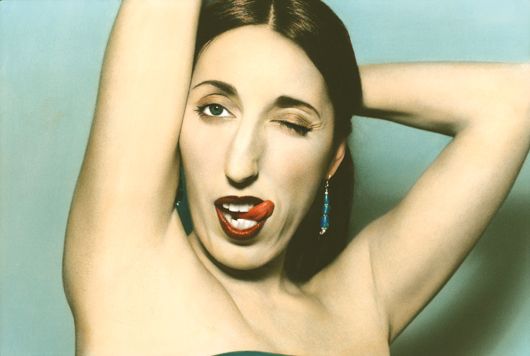 The top lot by High estimate is lot 108,
Youssef
Nabil
,
Rossy De Palma, Madrid,
20o2, at $18000-22000. (Image at right, via Phillips.)
The following is the list of the photographers represented by three or more lots in this sale:
.
Ernst Haas (8)
Dennis Hopper (6)
Lawrence Schiller (6)
Ruth Orkin (5)
Gregory Crewdson (4)
Burt Glinn (4)
Horst P. Horst (4)
Bert Stern (4)
Firooz Zahedi (4)
Claude Gassian (3)
Allan Grant (3)
Yousuf Karsh (3)
Benn Mitchell (3)
The complete lot by lot catalog can be found
here
.