As usual, the Contemporary Art sales at Phillips have a broader mix of more fresh work than the sales at Sotheby's and Christie's. While there are only 4 photographs in Part I (Maier–Aichen, Gursky, Baldessari, and Barney), there are a total of 53 lots of photography on offer across the two days, with a respectable total High estimate of $2396000 on these lots alone. (Part I catalog cover, top, Part II catalog cover, bottom, at right.)
Here's the breakdown:
Total Low lots (high estimate $10000 or lower): 6
Total Low estimate (sum of high estimates of Low lots): $49000
Total Mid lots (high estimate between $10000 and $50000): 36
Total Mid estimate: $917000
Total High lots (high estimate over $50000): 11
Total High estimate: $1430000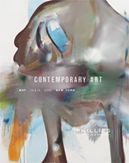 Below is a list of the photographers who are represented by more than one lot in the two sales (with the total number of prints for sale in parentheses):
Matthew Barney (4)
Andy Warhol (4)
Nan Goldin (3)
Thomas Ruff (3)
Nobuyoshi Araki (2)
Sharon Core (2)
Vik Muniz (2)
Gabriel Orozco (2)
Richard Prince (2)
Cindy Sherman (2)
Zhang Huan (2)
For our collection, lot 215, Gordon
Matta
-Clark,
Splitting
, 1975 (at right) would be a strong fit with our city and industrial images. We also continue to look for just the right example of Andy Warhol's stitched photographs, two of which are in this sale (lot 170 and lot 171).
May 14, 2009
450 West 15th Street
New York, NY 10011