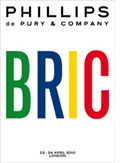 Phillips' parade of themed sales continues in London later this week with an auction entitled BRIC, a group of initials representing the fast growing nations of Brazil, Russia, India, and China. The catalog itself is a brick as well; it weights in at exactly 6 pounds according to our bathroom scale, and includes an astonishing 141 pages of articles and background information before getting to the lots themselves. While all this stuff is interesting to read, my conclusion is that Phillips must think that collectors are unfamiliar with or uneducated about what's on offer here, and that reading a supporting article or two will help folks get more comfortable with buying. Out of a total of 438 lots available in all mediums, 147 are photographs or photo-based art, and the Total High Estimate for the photography lots is £1067100. (Catalog cover at right, via Phillips.)
Here's the breakdown:
Total Low Lots (high estimate up to and including £5000): 95
Total Low Estimate (sum of high estimates of Low lots): £279100
Total Mid Lots (high estimate between £5000 and £25000): 44
Total Mid Estimate: £478000
Total High Lots (high estimate above £25000): 8
Total High Estimate: £310000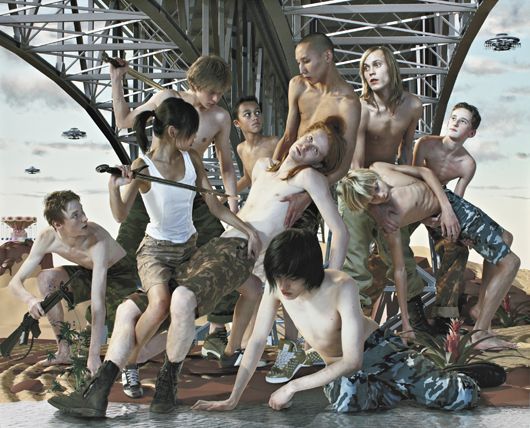 The top lot by High estimate is lot 302, AES+F, The Bridge, 2007, at £40000-60000. (Image at right, via Phillips.)
Here is the list of photographers who are represented by three or more lots in the sale (with the number of lots in parentheses):
Sebastiao Salgado (6)
Alexander Rodchenko (5)
Vik Muniz (4)
Raghu Rai (4)
Huang Yan (3)
Yevgeni Khaldei (3)
Steve McCurry (3)
Pushpamela N and Clare Arni (3)
Caio Reisewitz (3)
Miguel Rio Branco (3)
Vaclovas Straukas (3)
Vkhutemas Workshops (3)
Wang Qingsong (3)
Zhang Peng (3)
The complete lot by lot catalog can be found here.
BRIC
April 23rd and 24th
Phillips De Pury & Company
Howick Place
London SW1P 1BB