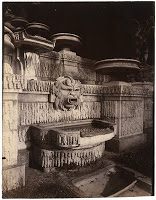 JTF (just the facts): A total of 26 photographs, framed in brown wood and matted, and hung against light blue walls in a single room gallery on the lower level of the museum. All of the prints in the exhibit are albumen silver prints drawn from ICP's permanent collection and were made between 1898 and 1927. Christopher Phillips was the curator of this small exhibit. (Since photography is not allowed in the ICP galleries, there are unfortunately no installation shots for this show. Eugène Atget, Le parc du Saint-Cloud, 1905-1915, at right, via the ICP website.)
Comments/Context: This selection of Atget prints can best be thought of as an adjunct to the larger Twilight Visions show now on view at the ICP; it provides further background and precedent to the work from the 1920s and 1930s in the nearby rooms.
.
Many of the images on view are close-ups of architectural details: ornate and decorative staircase railings, lion-headed doorknockers, and elaborately carved stone figures attached to Parisian bridges and fountains. Another grid of works documents the towering iron gates of public parks, shop fronts, interior courtyards, doors, and houses with thatched roofs – the vanishing details of an older way of life.
.
What's important here is that this small group of pictures provides a clear representation of the "before": the straightforward (and masterful) documentation of the history of the city prior to the changes brought on by modernization. The works in the Twilight Visions show then deliver the "after": a look at how the vision of Paris was then transformed. While this show doesn't merit a special trip on its own, it does a good job of providing additional context for the main attraction.
Collector's POV: Atget's works are routinely available in the secondary markets at this point, with unknown images or later prints by Berenice Abbott selling for as little as $2000, and iconic works finding buyers well into six figures; a rare Atget nude was one of the top 10 photography lots of 2009, coming in at over $630000. High quality vintage images of Paris street scenes are consistently priced in the low to mid five figure range.
Rating:
* (one star) GOOD (rating system described
here
)
Transit Hub:
Through May 9th
1133 Avenue of the Americas
New York, NY 10036