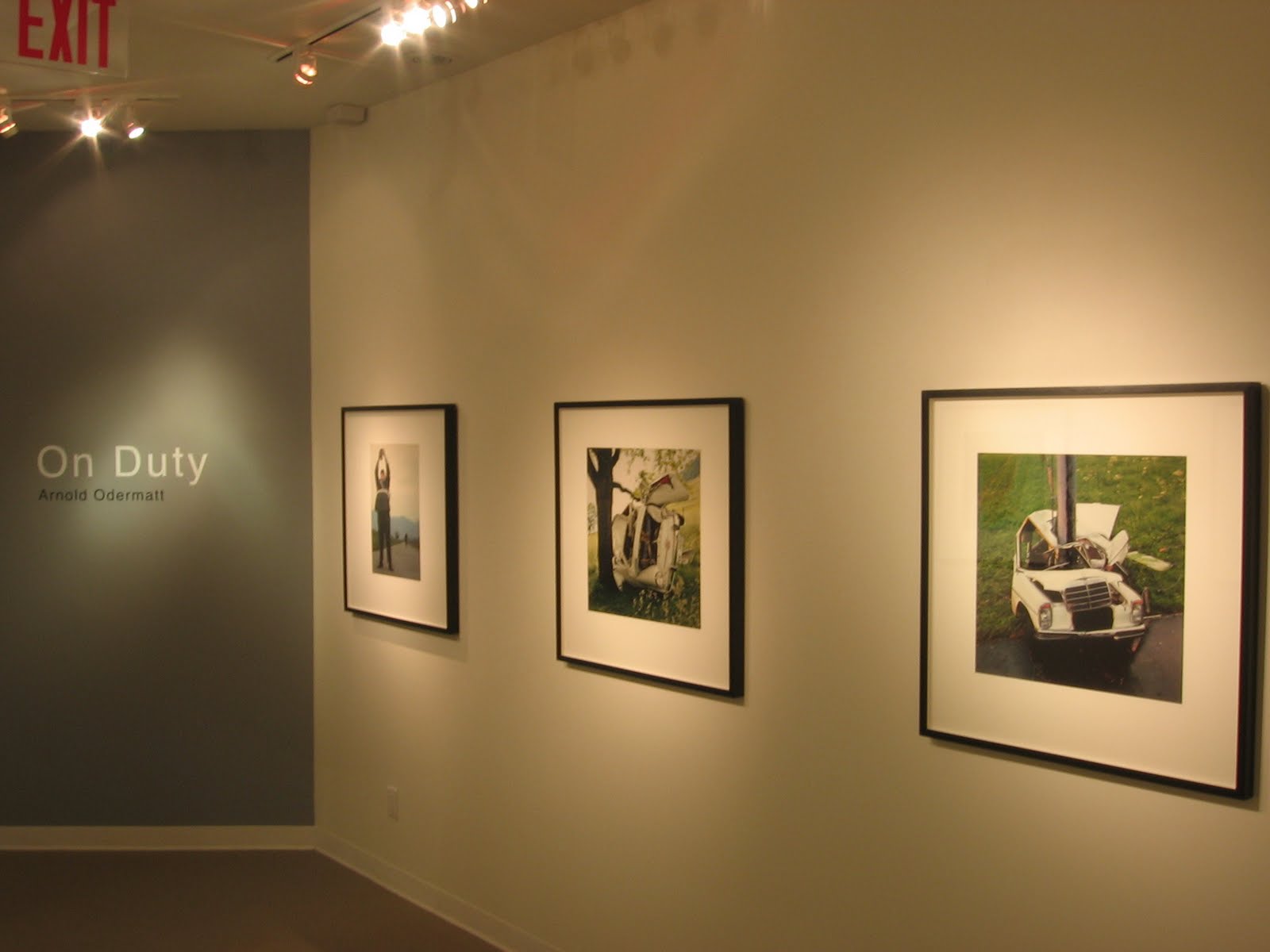 JTF (just the facts):
A total of 18 color photographs, mounted and framed in black without mats, and hung against cream and grey walls in the main gallery spaces. All of the works on display are modern digital type c prints, made from negatives taken between 1964 and 1986. The images are generally 19×19 (two are sized 19×14), and all are printed in editions of 15. A monograph of this body of work was published by
Steidl
in 2006 (
here
). (Installation shots at right.)
Comments/Context: With easy mockery becoming a pervasive lowest common denominator in recent photography, finding subtle undercurrents of genuine, non-ironic humor has proven to be particularly elusive of late. Arnold Odermatt's staged photographs of Swiss policemen in action are the welcome exception to this unfortunate rule. Made with the help of his fellow officers, his images were designed to expose new potential recruits to the positive aspects of police work. They combine a careful documentary aesthetic with an underlying feeling of the absurd, as if the serious policemen pictured were stifling their urges to burst out laughing.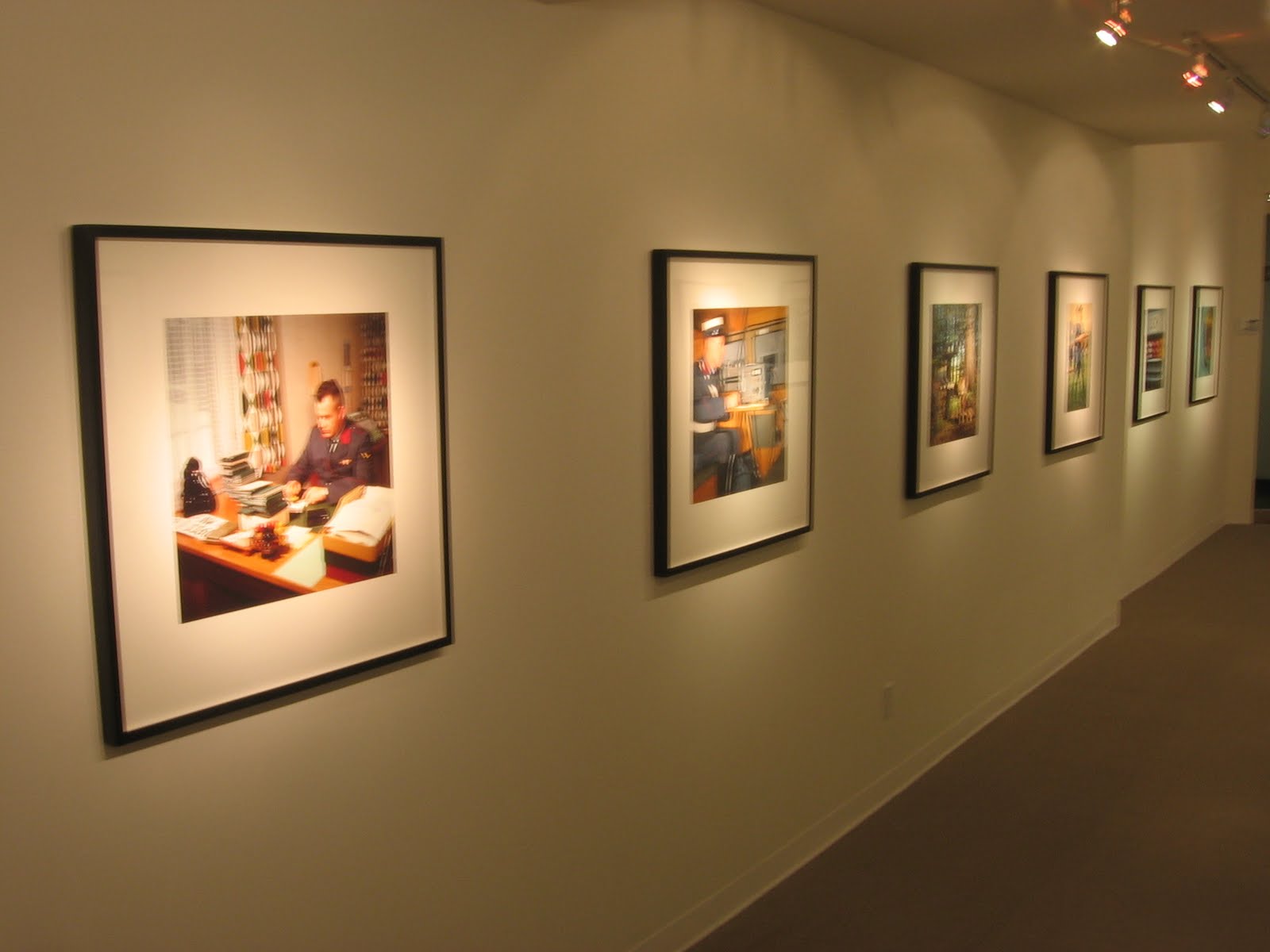 The show gathers together a collection of different police tasks: directing traffic, fingerprinting, stamping passports, checking travel paperwork, setting radar traps, photographing accident scenes, and training police dogs, each depicted in vivid 1960s color. In every scene, the policemen wear their finest uniforms, complete with white leather sashes, red collars, and crisp white hats. Several images capture the men earnestly racing ahead in their sleek police speed boats, like a chase scene from a James Bond movie. The pictures stand right on the edge of deliberate camp, the posing done with a nuanced mix of studious diligence and not-quite-acknowledged fun.
The rest of the exhibit is peppered with images of oddities: the crumpled remains of sculptural car crashes, the globular wavy forms of melted plastic tail lights, and the unexpected landing of a light plane in the middle of the roadway (with a spectacular snowy mountain vista in the background). Together they are overwhelming evidence that Swiss police work is anything but dull and boring.
Overall, this body of work can't help but make you smile. It's advertising of course, but it's done with such affection that it's hard not to be seduced by its warmth.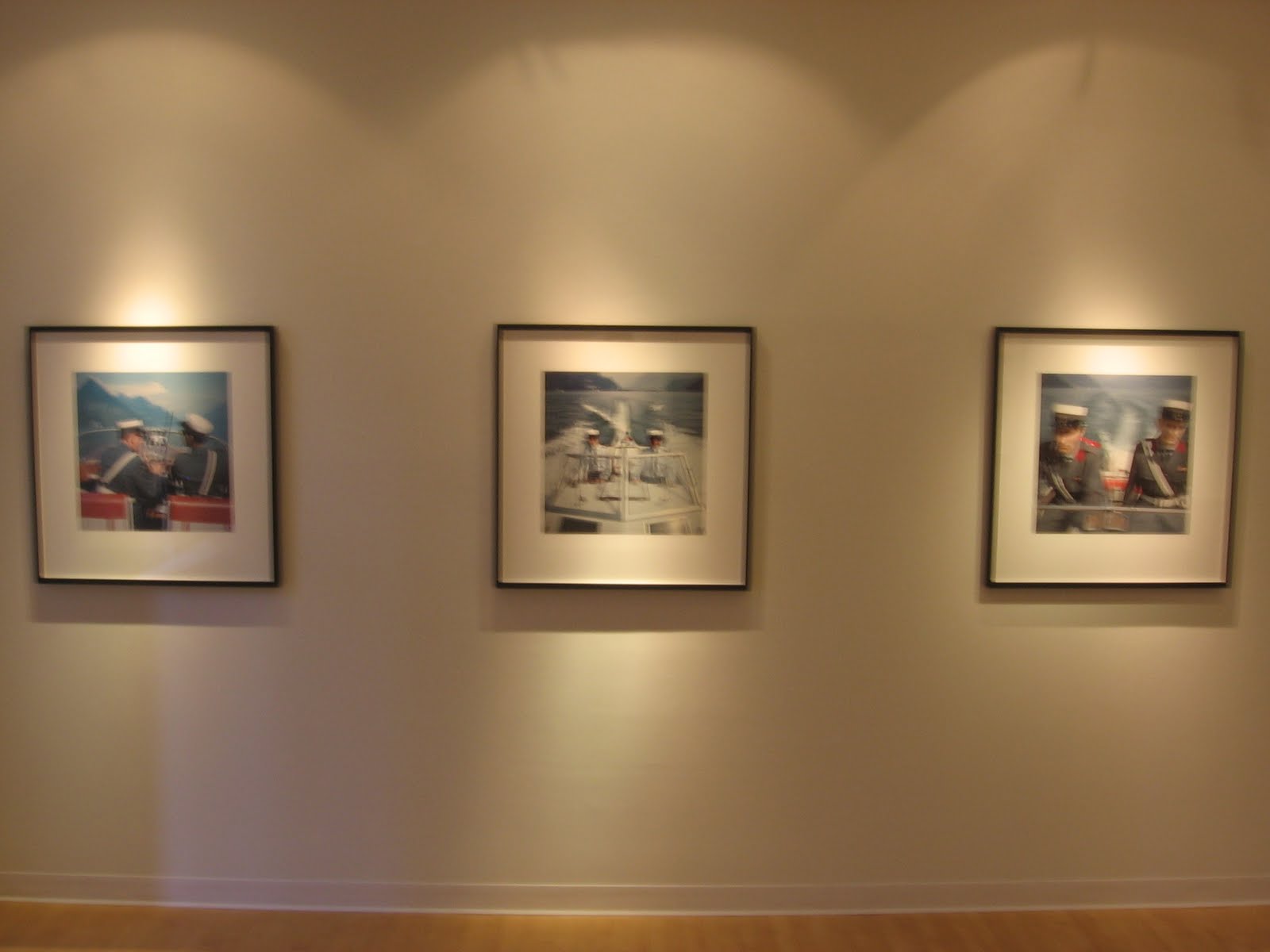 Collector's POV:
All of the prints in this show are priced at 5000€ each.
Odermatt's
work has not been widely available in the secondary markets, although a handful of prints have come up for auction in the past few years; prices for these lots have ranged between $2000 and $4000.
By the way, these are some super color prints (particularly the first car crash as you enter the exhibit and the two melted tail lights across from it), even if they are modern. They have none of the faded, dated look that you might expect from negatives from the 1960s and 1970s. Some of these pictures really explode off the wall with the intensity of their colors, making the images surprisingly fresh and timeless.
Rating:
* (one star) GOOD (rating system described
here
)
Transit Hub:
Koenig Projekte show, 2010 (DLK COLLECTION review here)
Through January 22nd