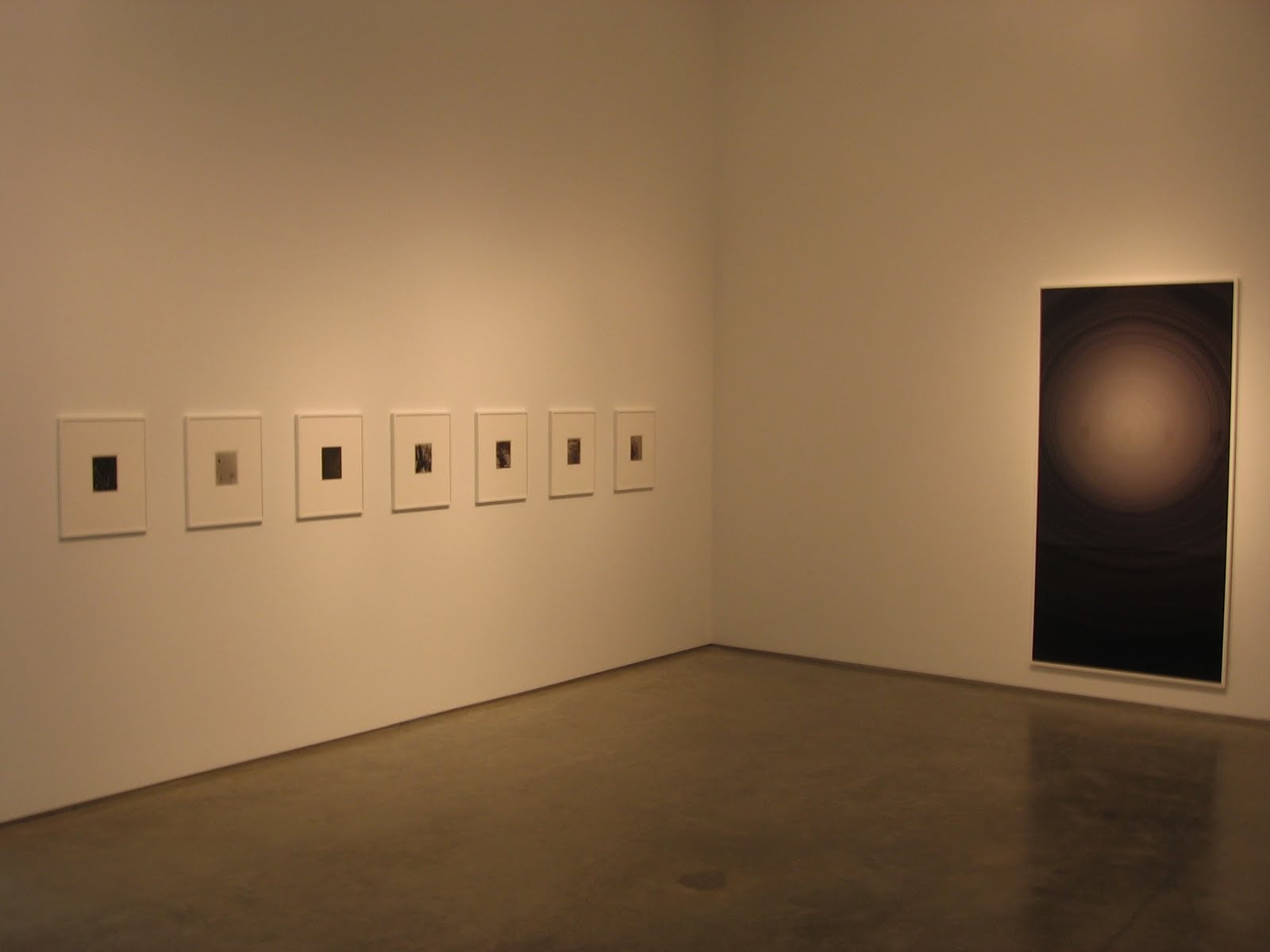 JTF (just the facts): A total of 10 works, most of which include multiple images and/or pieces of sculpture, displayed in the back two rooms of the gallery. 3 of the works are sets of small gelatin silver Solarizations, framed in white and matted, hung in rows. A fourth is comprised of 2 of these solarizations and a small bronze sculpture, placed between the two photographs. There are also 3 large individual c-prints, framed in white and not matted; 2 of these images are from the Opaques series, the other from the Flares series. The other three works include mixtures of tall images from the Flares series with more bronze sculptures and are called Arrangements. All of the works are from 2009 and are unique (not editioned). (Installation shots at right.)
Comments/Context:
Given the recent contemporary abstraction shows at Aperture (
here
) and Michael
Mazzeo
(
here
), and the Marco
Breuer
show at Von Lintel last spring (
here
), it's clear that using light sensitive materials in a process intensive way to explore the boundaries of photographic picture making is an active area of exploration for many artists. In his first solo show in New York, Anthony Pearson brings a refined elegance to his photo experiments, with a style that
hearkens
back to late 1940s/early 1950s Abstract Expressionism.
Several different but related bodies of work are on display in this show, often mixed together to create process juxtapositions and echoes. Intimate solarized gelatin silver photographs of drawings on foil begin the show and are repeated later in alternate combinations; they are scratched and scraped, crosshatched and interlocked in a variety of black and white tonalities, each a small exercise in tight composition. Pearson has then taken these foil drawings and photographed their back sides, enlarging them to make dark, furrowed works that capture the inversion of the original process.
Another process investigation captures light leaking into the artist's camera, printed as panoramic images turned on end; they are like drops of moonlight rippling outward on a tall, thin, dark pond. Groups of these "flares" (reversed up and down to have the white circle in different locations) are then paired with minimal bronze sculptures, molten vertical strips reminiscent of Barnett Newman's zips, only with negative space cut out of the middle. While I've always considered the specific pairing of photography and sculpture a bit overly mannered (and often just plain odd), most of these combinations actually work quite well; the three dimensionality of the minimal black/silver sculpture compliments the process abstractions in the photographs without trying too hard.
Overall, this is a solid first NY show, with a broad array of images that are both understated and effective.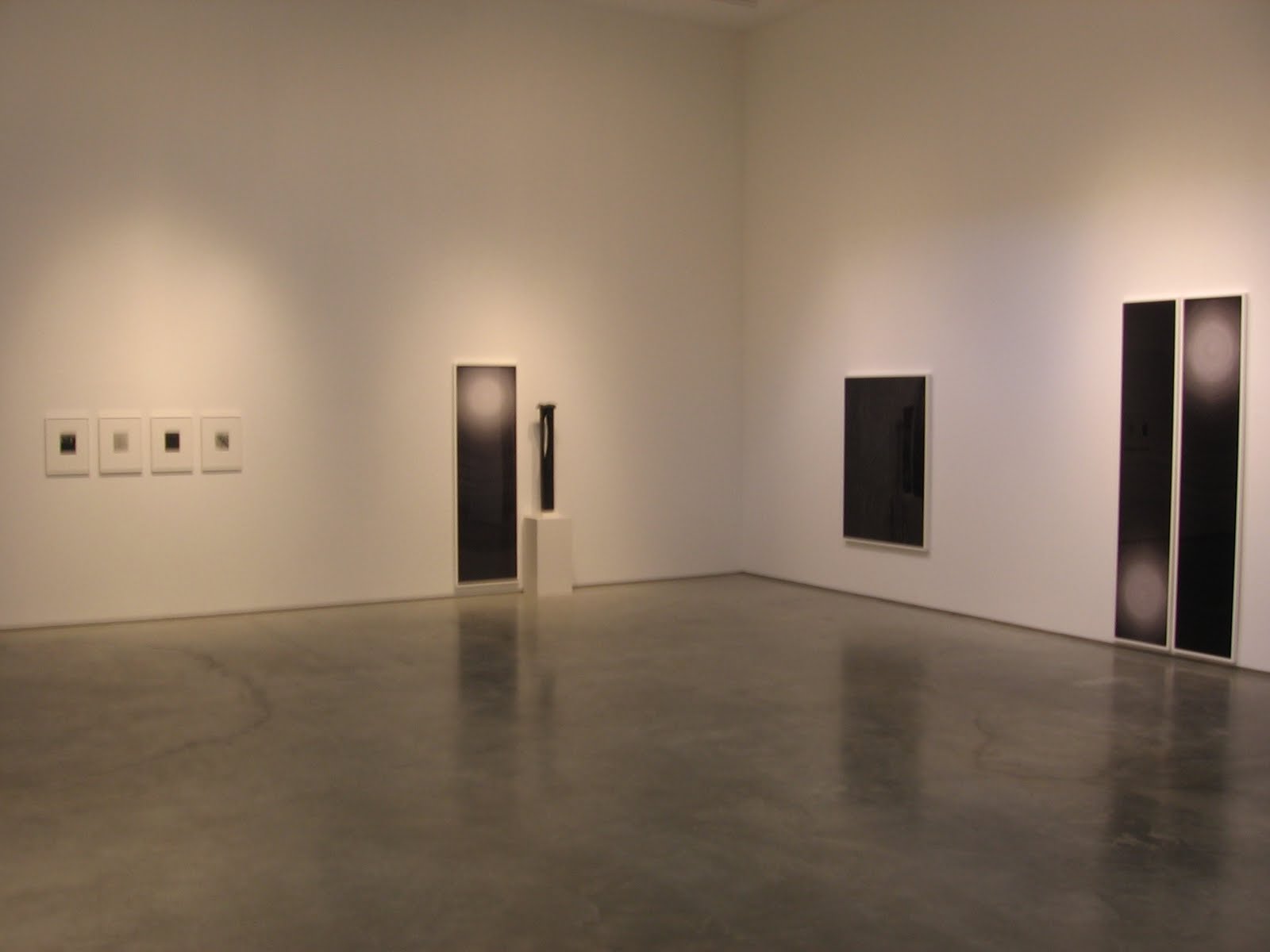 Collector's POV:
Getting a straight answer on prices for this exhibition was frustratingly challenging; there was no price list available and the woman behind the counter was reluctant to tell me anything. In the end, she looked up a few specific prices in the gallery database, but there was much confusion over works that were made up of more than one image (did I want the entire group or one of the images in particular?), so interested collectors should recheck the following numbers, as there was plenty of vagueness in what I was told. The
solarizations
appear to be available as both individual prints and in sets: single prints are priced at $2200, with sets of 4 at $7500 and sets of 9 at $12000; it was altogether unclear whether this is a mix and match kind of thing, or whether there are predefined sets only. Works from the
Flares
series were between $12000 and $14000; whether this includes one or more prints was maddeningly unanswered; I think the prices refer to groups. The largest group of items (2 sculptures and 7 prints) is priced at $48000; I gave up trying to figure out the prices of the other smaller groups that included sculpture. In the future, I'd suggest that a readily available printed price list eliminates these communication breakdowns.
My particular favorites in this show, even though they don't exactly fit into our collection, were the small solarizations. They reminded me of Callahan's early light drawings, Otto Steinert's swirly luminograms, and some of De Kooning's black and white paintings.
Rating:
* (one star) GOOD (rating system described
here
)
Transit Hub:
Through October 10th
509 West 24th Street
New York, NY 10011