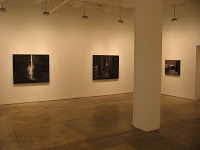 JTF (just the facts): A total of 11 black and white works, framed in black with no mat, and hung in the main gallery space and the smaller second room. All of prints are archival pigment prints, made in 2009. The works come in one of three sizes: 28×35, 46×58 or 58×73; all are printed in editions of 8. There are 3 works in the smallest size, 7 in the middle size, and 1 in the largest size in this show. (Installation shots at right.)
Comments/Context: Angela Strassheim's images of the hidden remnants of long ago crime scenes add a haunting sense of memory to otherwise ordinary interiors. Her crime scenes have none of the fresh gore of a flash lit Weegee photo or the puzzling conceptual randomness of Mandel and Sultan's landmark project. Instead they uncover the violent past lurking within the everyday, invisible to the naked eye, but very much still present.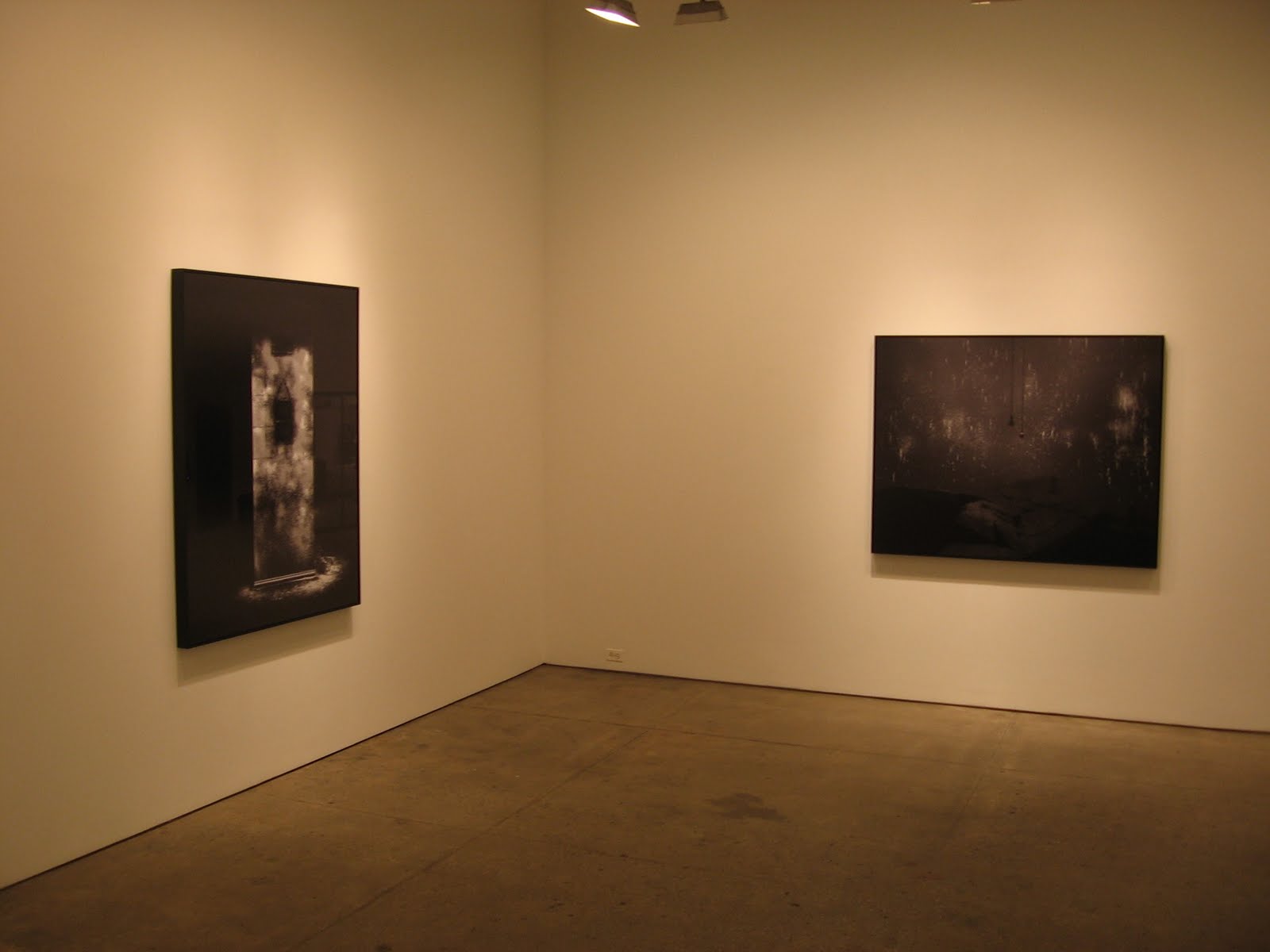 Strassheim
uses a forensic chemical technique to highlight old blood stains that have been cleaned away, seen as a white powdery luminescence against the darkened rooms, vaguely similar to the effect in black light photographs. Her works depict kitchens, bathrooms, and bedrooms covered in glowing splotches, sprays, drips, and mists of blood, some bearing the marks of hands and fingers. The remains of these crimes are everywhere: on the back of a door, covering a dresser, sloshed over a wall molding, and in the corner of a tiled floor. Perhaps the creepiest of these images is of a living room, where two family portraits have been hung unknowingly on top of an entire wall of bloody smears.
.
While these images have a dramatic, almost cinematic feel, I think they successfully get beyond the detective science gimmick to the more interesting questions of history embedded in a place. New tenants are now living right on top of the remains of any number of violent crimes, likely totally unaware of the horrors that lie beneath the surface. The walls have not forgotten however, and still bear the marks of those past events, for those who take the time to look. Strassheim's shadowy rooms filled with phosphorescence bring these untold stories to the surface, creating ironic juxtapositions and unsettling contrasts; in one image, a brightly lit TV, streaming light from the long exposure, sits directly adjacent to yet another bloody stain. Life has gone on, but there are ghosts of the past everywhere, hiding in plain view.
Collector's POV: The prints in this show are priced at $11000, $15000 or $18000 based on size. Strassheim's work has not yet reached the secondary markets, so gallery retail is the only option for interested collectors at this point.
Rating:
* (one star) GOOD (rating system described
here
)
Transit Hub:
Exhibition: Monterey Museum of Art, 2008 (here)
Whitney Biennial, 2006 (here)
Through December 31st
526 West 26th Street
New York, NY 10001