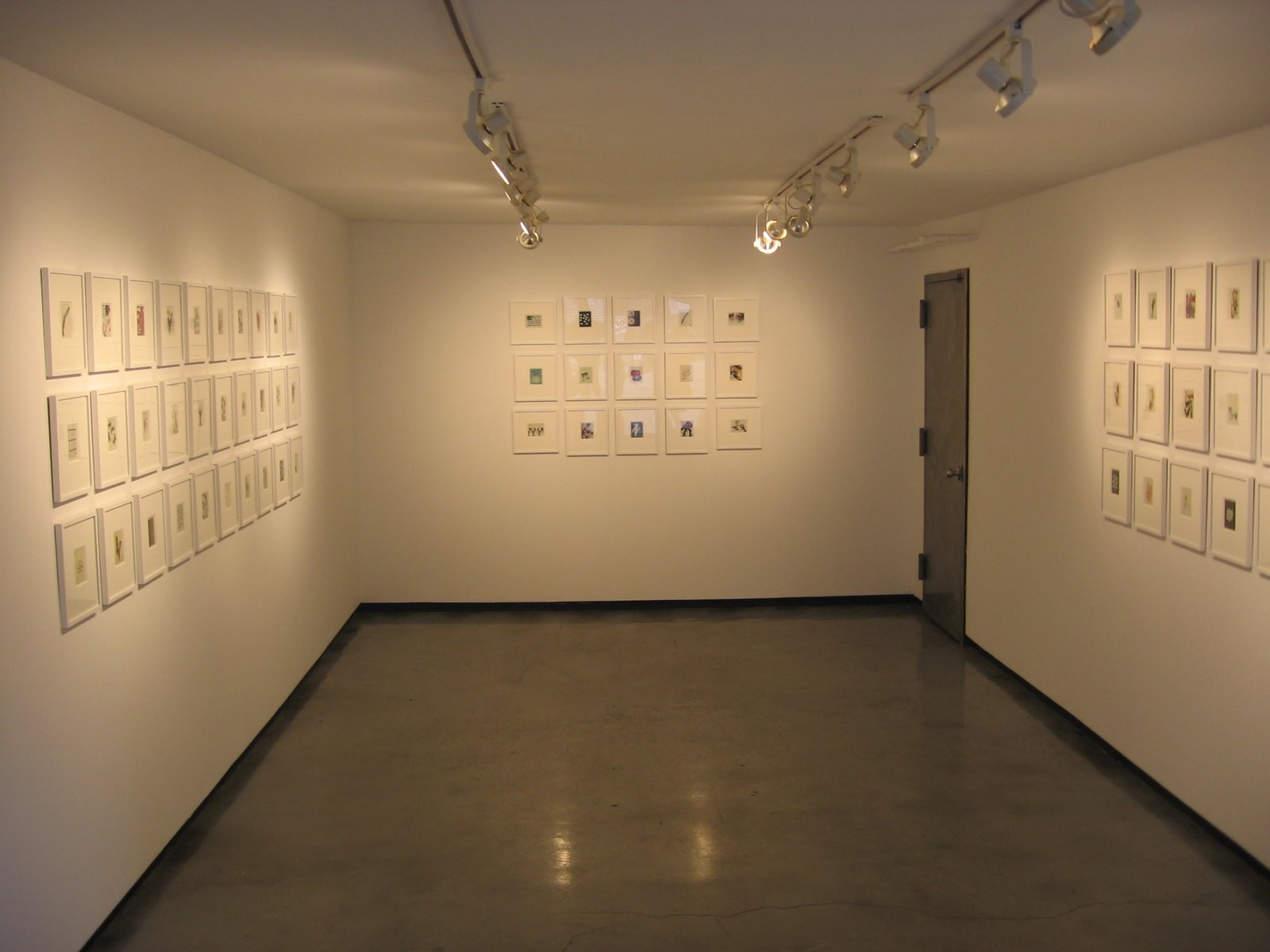 JTF (just the facts): 70 color Polaroids, measuring 4 x 3 1/2 inches each, taken between 1977 and 1983. Arrayed in three grids, displayed in a single room gallery (installation shot at right). Each blind stamped with Warhol copyright.
Comments/Context: So much has been written and said about the art and life of Andy Warhol that you might think the subject was completely tapped out. And yet, the small show of still life Polaroids on view at Paul Kasmin Gallery seems to have unearthed a tiny vein of unexplored territory.
What is thought provoking about this intimate show is that the pictures allow you to watch as Warhol experimented with composition, almost in an academic, systematic way. He would begin with a handful of similar items (knives, shoes, perfume bottles, lobsters, guns, crosses, candy boxes, dental molds, bananas etc.) and start by laying them out against a white background. 4 or 5 iterations later would emerge a striking, unique composition. These were exercises in spatial relationships, taking the simplest of subjects and turning them into symbolic motifs. It is a testament to his artistic vision that he was able to make even the most mundane somehow glamorous (although clearly some of the subjects are more emotionally charged than others). This doesn't appear to have been at all random; these are carefully constructed, arranged, and composed pictures. It just took a few tries for each subject to be refined to its most powerful pattern. The camera was there along the way to capture each intermediate step. There is a real "artist at work" feel to this exhibit as a result, which makes it particularly intriguing and surprising.
Collector's POV: The images in this show are retailing for $11000 each. Most of the Warhol photographs that have come into the secondary market in the past few years are portraits of celebrities or of himself, with a few of the stitched photographs appearing from time to time, so they don't provide a comparable pricing picture to match against these compositions. They are however interesting historical documents and strong artworks in and of themselves.
Although they wouldn't fit into our collection directly, the images we enjoyed the most were the following (numbered according to the wall numbering of the exhibit):
7 Italian Yarn, 1982-1983
9 Telephones 1980
30 Bananas 1977-1978
41 Crosses 1982
49 Shoes 1980
Rating:
** (two stars) VERY GOOD (rating system described
here
)
Through January 10th
511 West 27th Street
New York, NY 10001