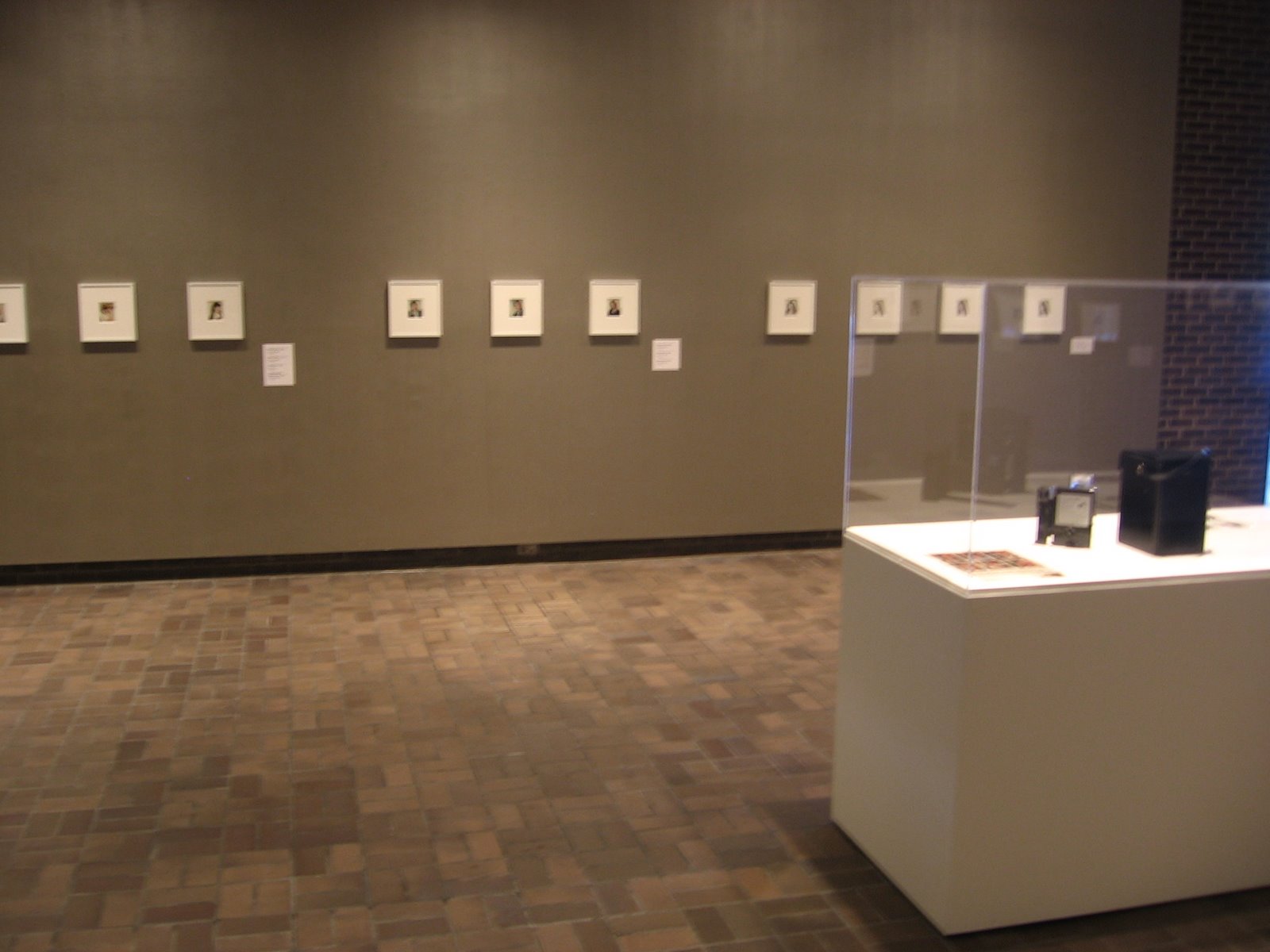 JTF (just the facts): 33 color Polaroids and 21 black and white prints (8×10 or reverse), all matted, with white frames, displayed in two adjacent galleries with a dividing wall. All of the images are from the 1970s and 1980s. There are also two glass cases with representative cameras and magazine ads. (Installation shots at right.)
Comments/Context:
The Warhol Foundation for the Visual Arts (site
here
) recently gifted over 150 Warhol photographs to the
Neuberger
Museum of Art in honor of the Foundation's 20
th
anniversary, and this
exhibition
is the first to explore the work the museum received.
In the first room, color Polaroids from the period 1972 to 1985 are shown. Most of the images are head shot portraits of the kind Warhol used as the basis for his silkscreen paintings. There are quite a few famous people and celebrities represented: Diana Ross, Dolly
Parton
, Dorothy Hamill (with a skate), Tom
Seaver
(with a baseball mitt), Ric
Ocasek
(of the Cars), and Yves Saint Laurent all peer out from the walls. There are also plenty of random, unknown people who Warhol photographed for portrait
commissions
. All of his subjects have been heavily "touched up": dark red lipstick and pasty white makeup make their features more pronounced. Among this group, there are also a few still life images, similar to the ones shown at Paul
Kasmin
last fall (review
here
).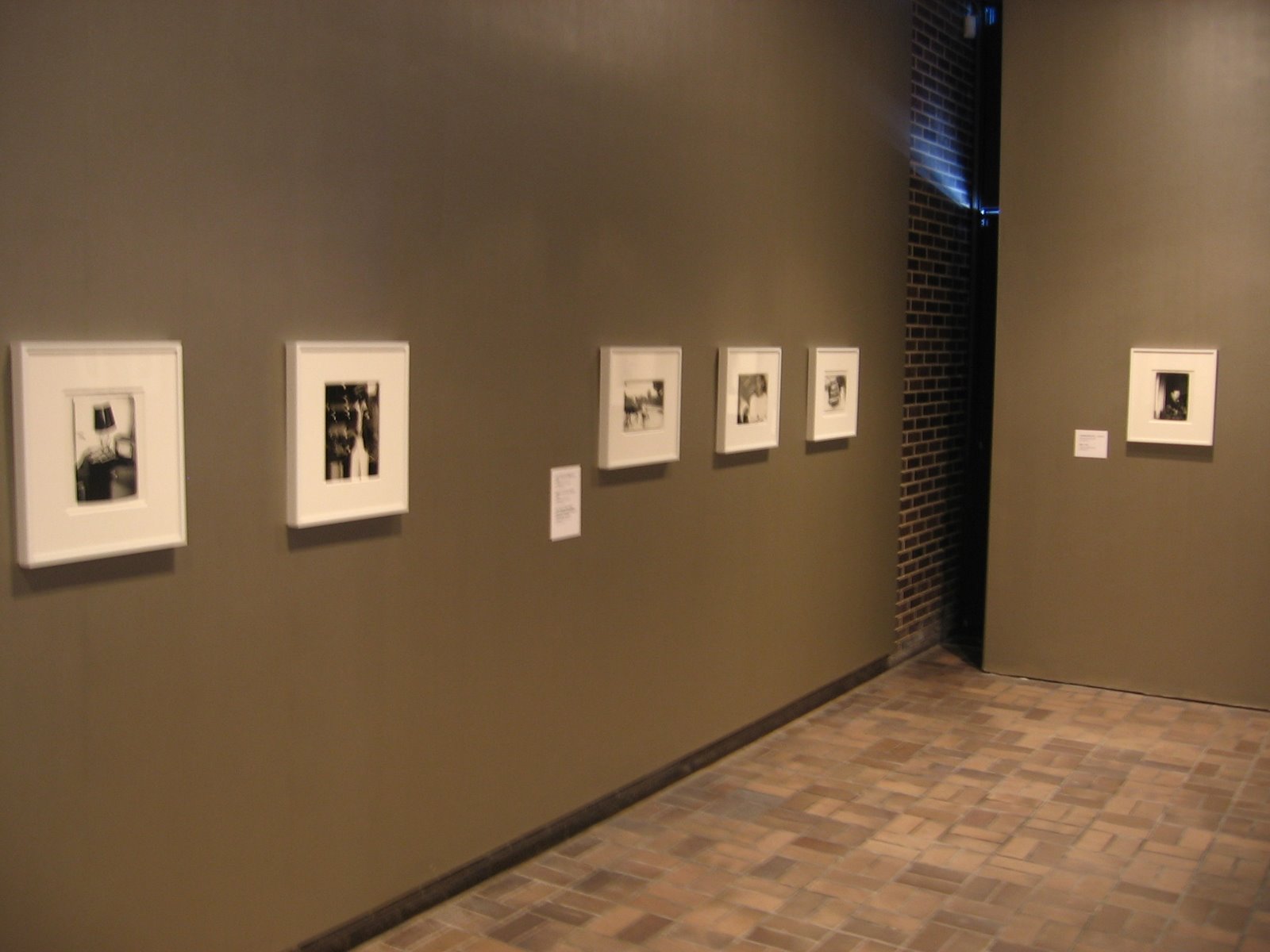 The second room has a selection of black and white prints (made between 1980 and 1983), which absolutely fit the definition of snapshots. Many chronicle Warhol's fast lane celebrity life, full of dinner parties, fashion shows, cocktails and birthdays. Others are more mundane: images of a closet interior or various unidentified people. All are printed in contrasty tones. While these images don't rise to the level of art, they do help fill out a more complete picture of Warhol's later life.
A second Warhol exhibit is also on view at the
Neuberger
in the next gallery, entitled Andy Warhol: Pop Politics (
here
). This is a broader show of paintings, prints, drawings and other mixed media pieces, pulled together by the common theme of politics. There are many glass cases with detailed letters (thank you notes and the like) and mementos from various politicians, displayed next to portraits that Warhol made of these people. A few source photographs are mixed in here (Polaroids like the ones in the other room), depicting Jimmy and Lilian Carter, Edward Kennedy and others.
Collector's POV: To our eyes, the still lifes are still the most notable of these images in terms of artistic quality, although some of the celebrity portraits are certainly entertaining and fun. The black and white images are best considered as background material to Warhol's amazing life.
Rating:
* (one star) GOOD (rating system described
here
)
Through May 17
Purchase College, SUNY
735 Anderson Hill Road
Purchase, NY 10577