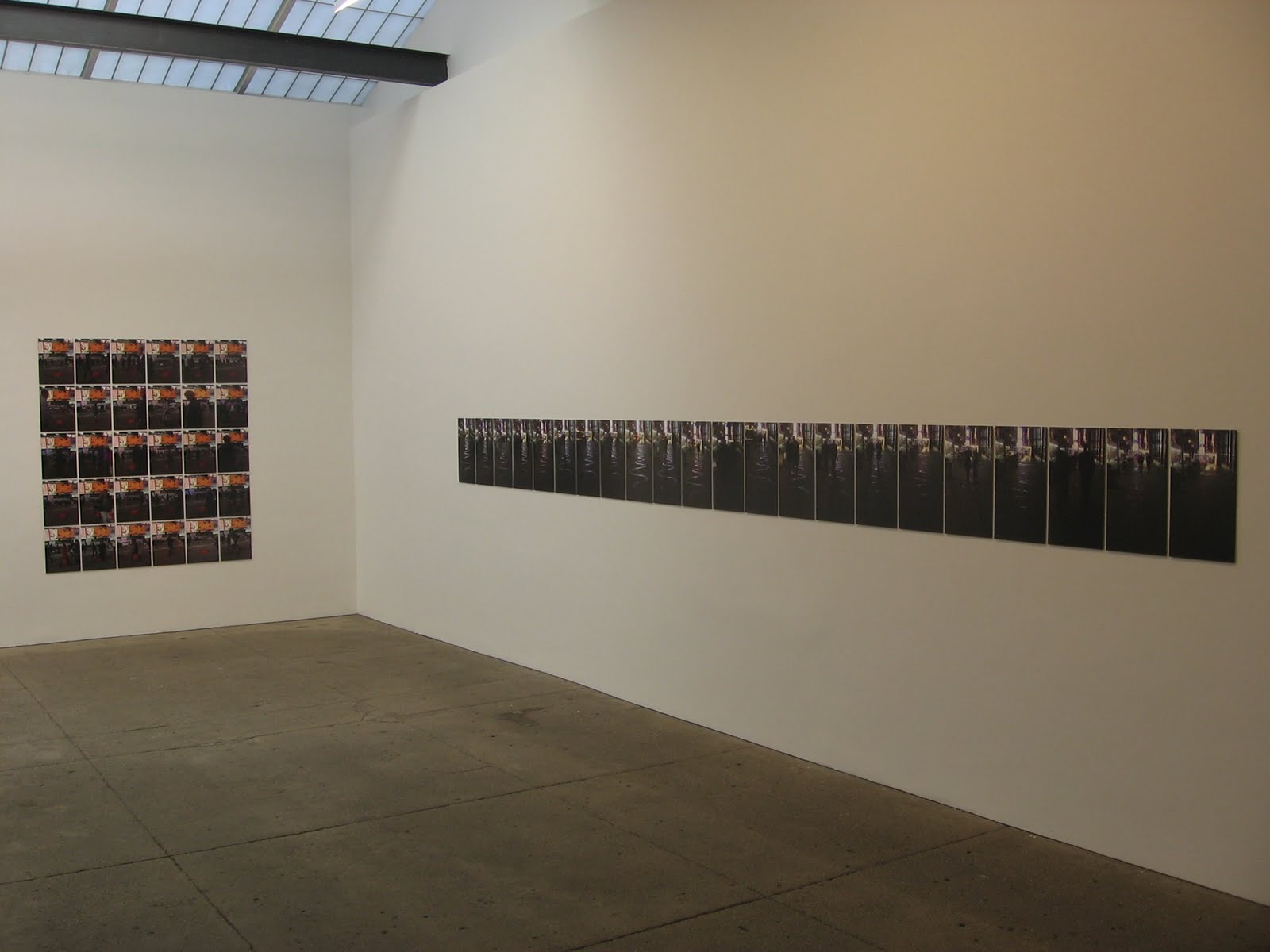 JTF (just the facts): A total of 9 photographic "suites", 1 video triptych, and 1 sculpture/installation made of dirt, all displayed without frames, in the entry, a side viewing room, and the main gallery space. 8 of the photographic suites are made up of color inkjet prints: the individual prints range in size from 14×11 to 19×11 (or reverse) and are hung tightly in groups ranging from 14 to 40 prints. The other photographic suite is made up of black and white inkjet prints: a group of 20 prints, each 7×4, flanked by a pair of larger 30×17 prints. All of the photographic prints are unique. The video installation is made up of 3 HD video channels with sound, displayed on three 70×42 screens hung side by side. The dirt installation blocks an interior doorway in the back of the gallery. All of the works were made in 2010. (Installation shots at right.)
Comments/Context: For the better part of his career, British sculptor Andy Goldsworthy has been making art firmly and deeply rooted in the simplicity of the natural world. Sometimes ephemeral and fleeting, at other times more permanent, his works have consistently explored the fragile limits of found, local materials, always respectfully balancing the existing environment with his own personal point of view. Many of his more temporary sculptures, those that have been washed away by the incoming tide, melted by the sun, or just blown away by the wind, have been carefully documented via photographs, where changing light and passing time have become additional elements in his overall artistic process.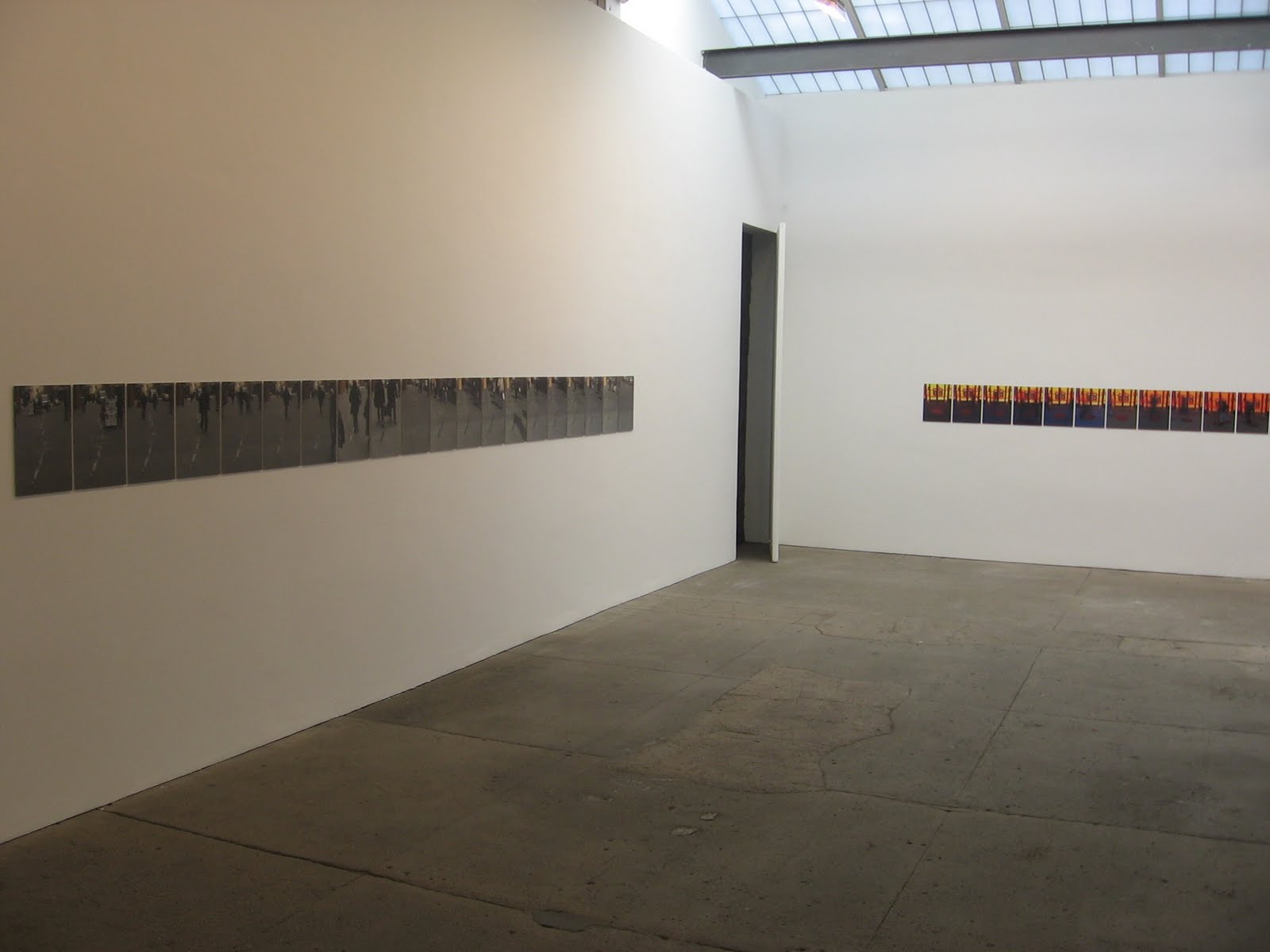 In his new works,
Goldsworthy
has applied this grounded, natural sensibility to the frenetic, man-made world of New York city. With no large rocks, sticks, or leaves to use as his materials, the artist was forced to improvise with what was available in the urban jungle. The result is a series of time-elapsed photographs of streets and sidewalks, decorated with shapes and forms made from gutter water, dirt, and light.
While this description might sound either utterly ridiculous or possibly revolting, the actual effect is surprisingly elegant. In several of the works, Goldsworthy uses his characteristic back and forth snake-like squiggle (alternately rounded and jagged) to traverse a busy street or wander down a long sidewalk. The wet line starts out as deep black or white, and slowly fades as the water evaporates; cars pass, people walk right over it, and the sculpture disappears. In others, Goldsworthy uses the nighttime reflections from an ATM or the gaudy lights of Times Square to illuminate wet circles and improvisational splashes; lurid orange, red, and blue spots stand out on the heavily trafficked sidewalks and then slowly vanish. In the video, the artist lies down in the rain amidst the rushing pedestrians, leaving his outlined form on the cement like a chalk circle for a dead body.
.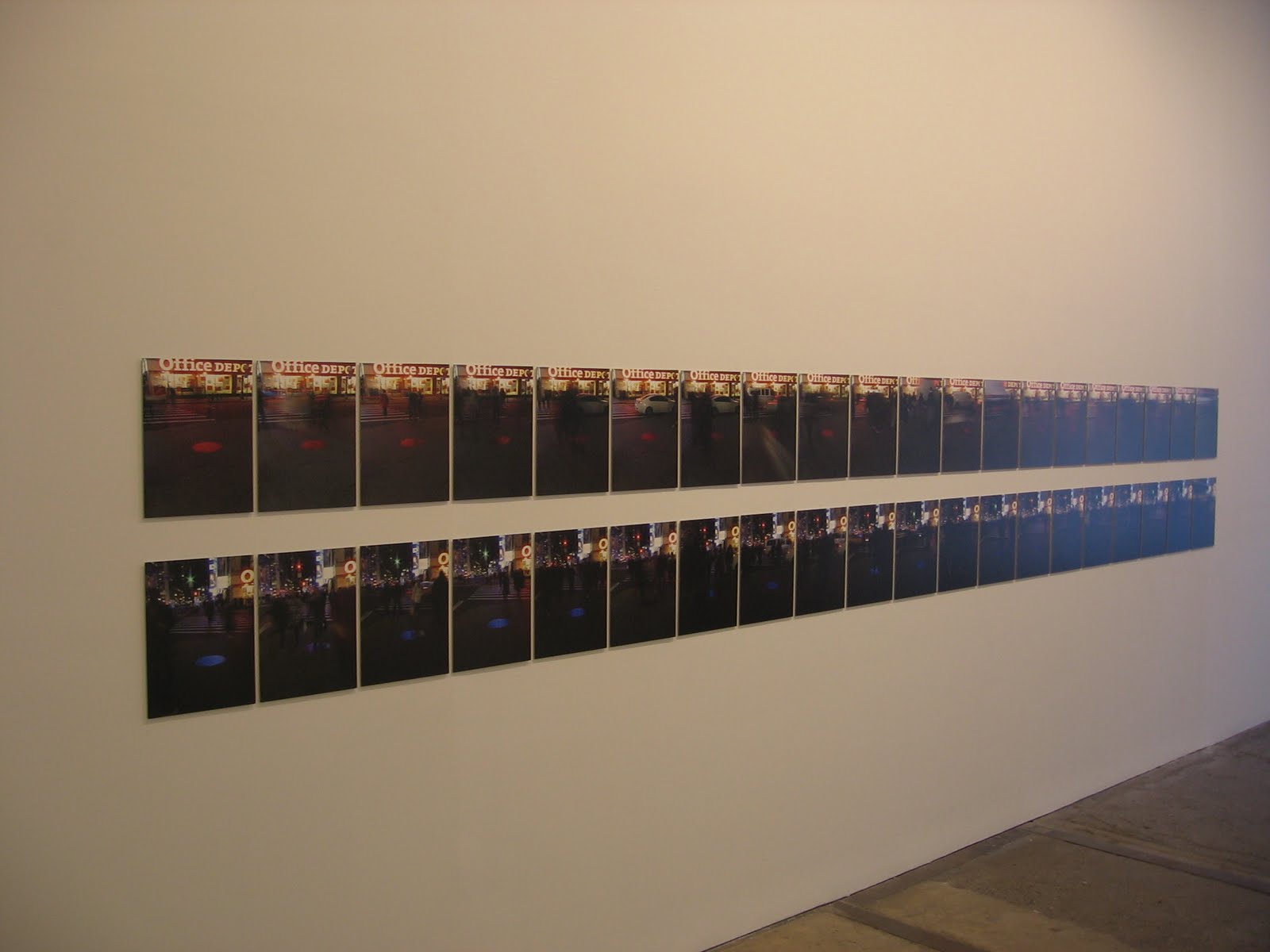 It almost seems like
Goldsworthy
has slowed down time, or altered our perception of it via his use of the city as a sculptural playground. His gestures look innocent and modest, almost otherworldly in the rough and tumble environment, but it is their utter simplicity that makes them effective. Who would have thought that a seemingly random wet circle in Times Square could become art, and thereby transform our view of the jostling world around us? Rather than being overly clever or grasping for attention,
Goldsworthy's
forms have remained humble. As a result, he has uncovered new and original moments of grace in this chaotic city, hiding in plain sight, drawn with an unremarkable fistful of muck from the gutter.
.
Collector's POV: The works in this show are priced as follows. The photographic suites range in price from $50000 to $95000, roughly based on size. The video triptych is $100000 and the dirt installation is $75000. Goldsworthy's photographs do come up for sale at auction from time to time. In recent years, prices have ranged between $5000 and $36000.
When we lived on the West coast, our young kids would routinely clamber around a sculpture of his at Stanford (
here
); now that we live in the East, we make the trip to Storm King (
here
), or just drive down a quiet dirt round not far from our house to see a private commission of his (called
Three Roadside Boulders
I think). While
Goldsworthy's
works don't fit neatly into any of our collecting genres, his photographic pieces still tempt us from time to time, and we remain drawn to some of his smaller, more intimate images.
Rating:
* (one star) GOOD (rating system described
here
)
Transit Hub:
Through June 19th
528 West 26th Street
New York, NY 10001