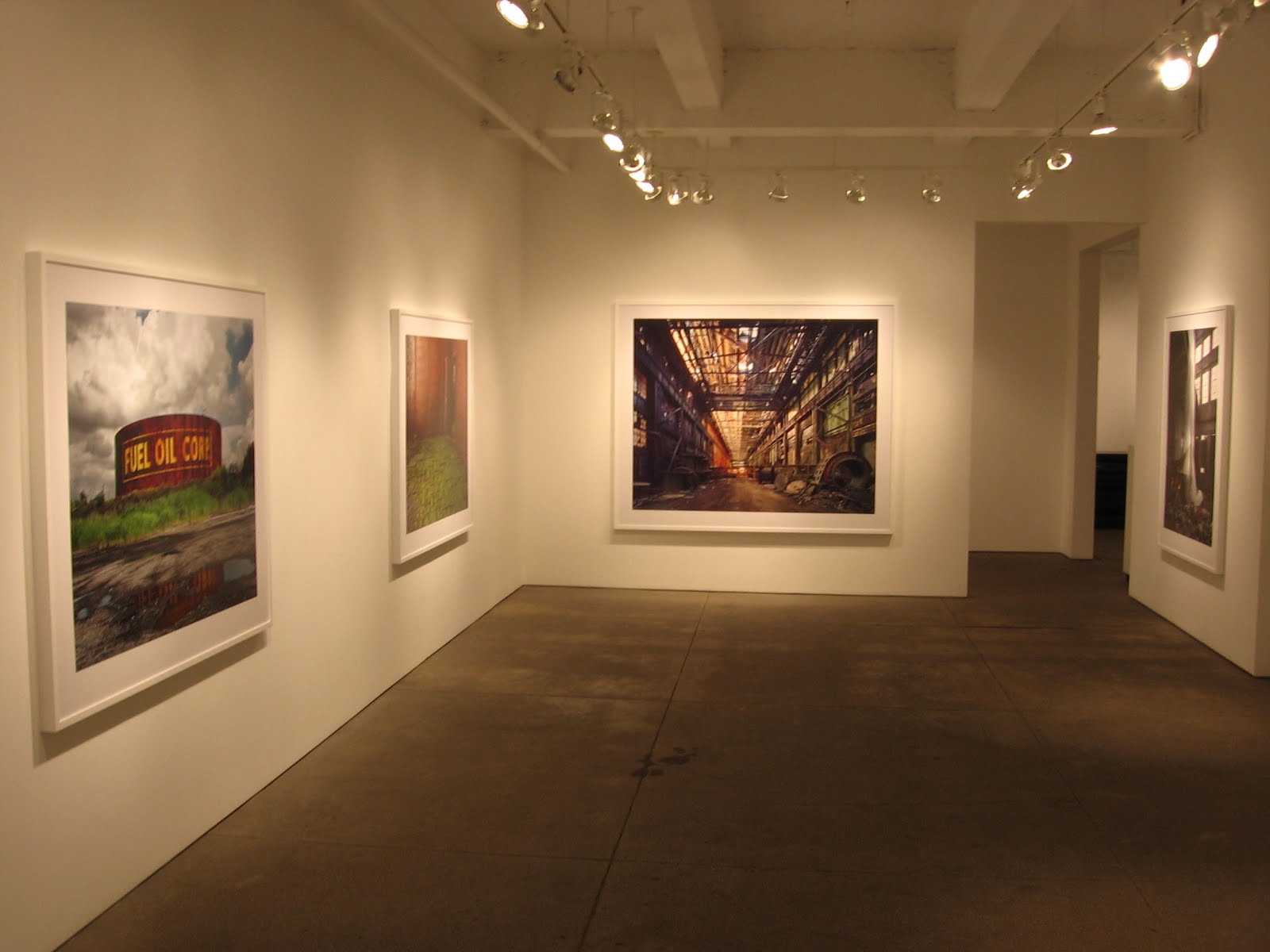 JTF (just the facts): A total of 10 large scale color images, framed in white with no mat, and hung in the main gallery space and back project room. The digital c-prints are made in editions of 5, and are sized either 62×78, 50×60, or 50×40. The show includes 2 in the largest size, 5 in the middle size, and 3 in the smallest size. All of the works were taken in 2008-2009. A monograph of this work entitled Detroit Disassembled will be published by the Akron Art Museum and Damiani in 2010 (here). (Installation shots at right.)
Comments/Context: The rise and fall of Detroit, Michigan, is a familiar American tale. It begins and ends with the car industry: its exhilarating boom town growth and the uniquely American passion for the automobile, and its agonizing slow decline, as the massive manufacturing business was forced to remake itself, streamlining, downsizing, closing factories and moving elsewhere. But the story of Detroit is more complicated than this simple job loss narrative might imply. It includes endemic threads of race mistrust, political corruption, violence, failed schools, hollowed out neighborhoods and broken families; the solutions to the problems of Detroit, irrespective of the car business, are neither simple nor easy.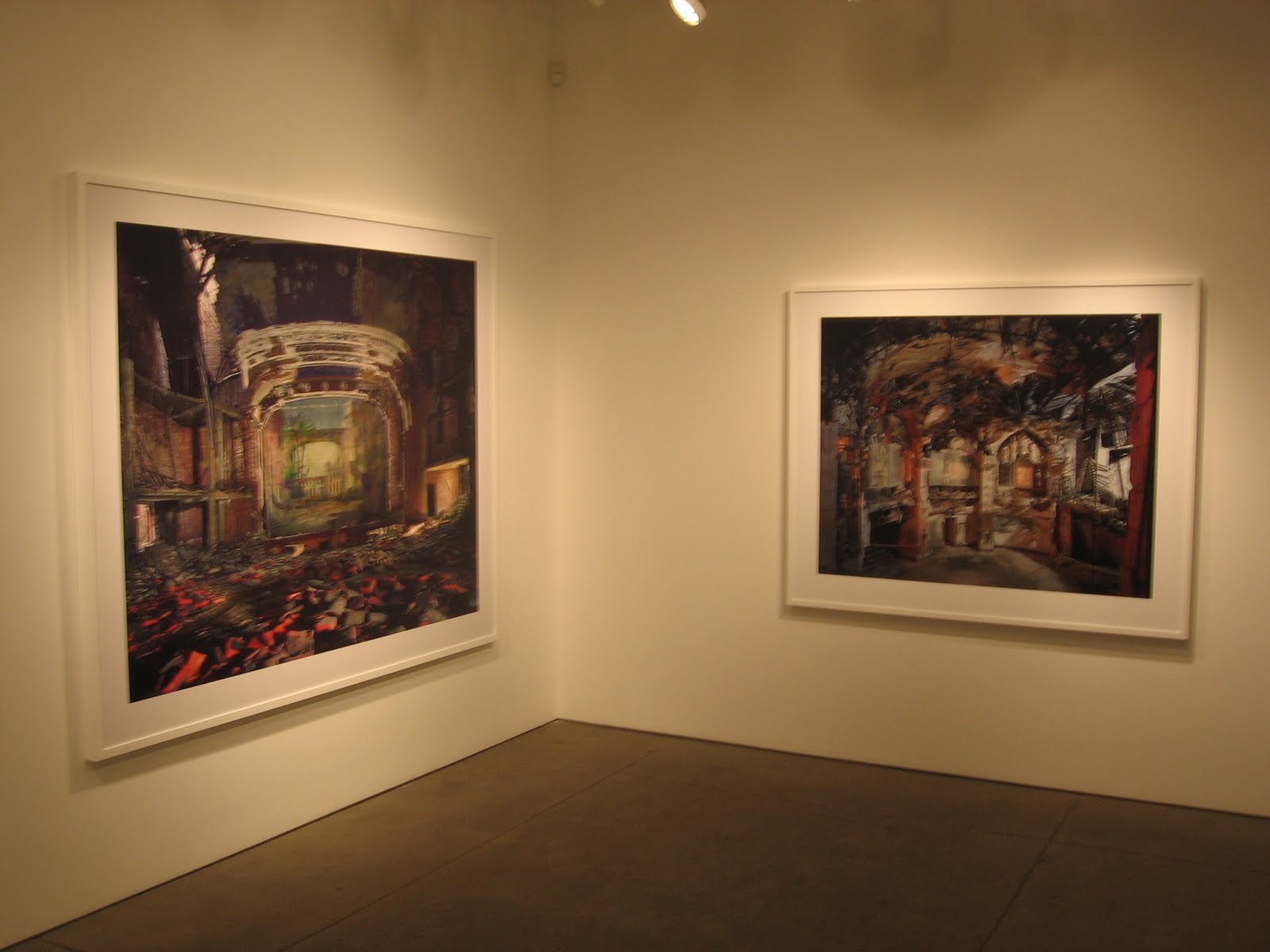 Andrew Moore's large scale images of decaying Detroit combine archaeological documentation with an artistic aesthetic. Abandoned warehouses, crumbling theaters, rusting oil tanks, and empty offices are variously decorated with peeling paint, exposed rebar, debris, rubble, moss, plastic sheeting, and patches of sunlight pouring through gaps in the roof. There is a ghastly feeling of spectacle to it all; the images are simultaneously engrossing and scary, depressing and exuberant, with splashes of overly acidic colors adding a further element of unreality to these jungles of destruction.
Moore's broad interiors, like the Rouge plant or the UA theater, reminded me of Candida Hofer's images of over-the-top formal libraries and public spaces, only fast forwarded to the point where the glory and grandeur are gone and all that remains is broken scaffolding. Other images have echoes of Robert Polidori, Michael Eastman, and any number of other photographers who have taken on decaying buildings or the lush aftermath of devastation as their subject. The image of the melted clock (with its obvious nod to Dali) is a not so subtle allusion to the role of time in these pictures, and a reminder that in many of these empty places, time has effectively stopped.
Overall, these images left me a bit conflicted. On one hand, they are yet another example in the long tradition of photographs of ruins, stretching back all the way to the beginnings of the medium, satisfying our human fascination with history and decline. On the other, I'm not sure these works have really gone beyond the stereotype of Detroit to show us something new, something that we haven't seen a hundred times on the news already. While these pictures are certainly eye catching and perhaps tap into a current mood of despondency, I guess I'm ready to move beyond the definition of Detroit as the null set and to look for something new growing amidst the desolation.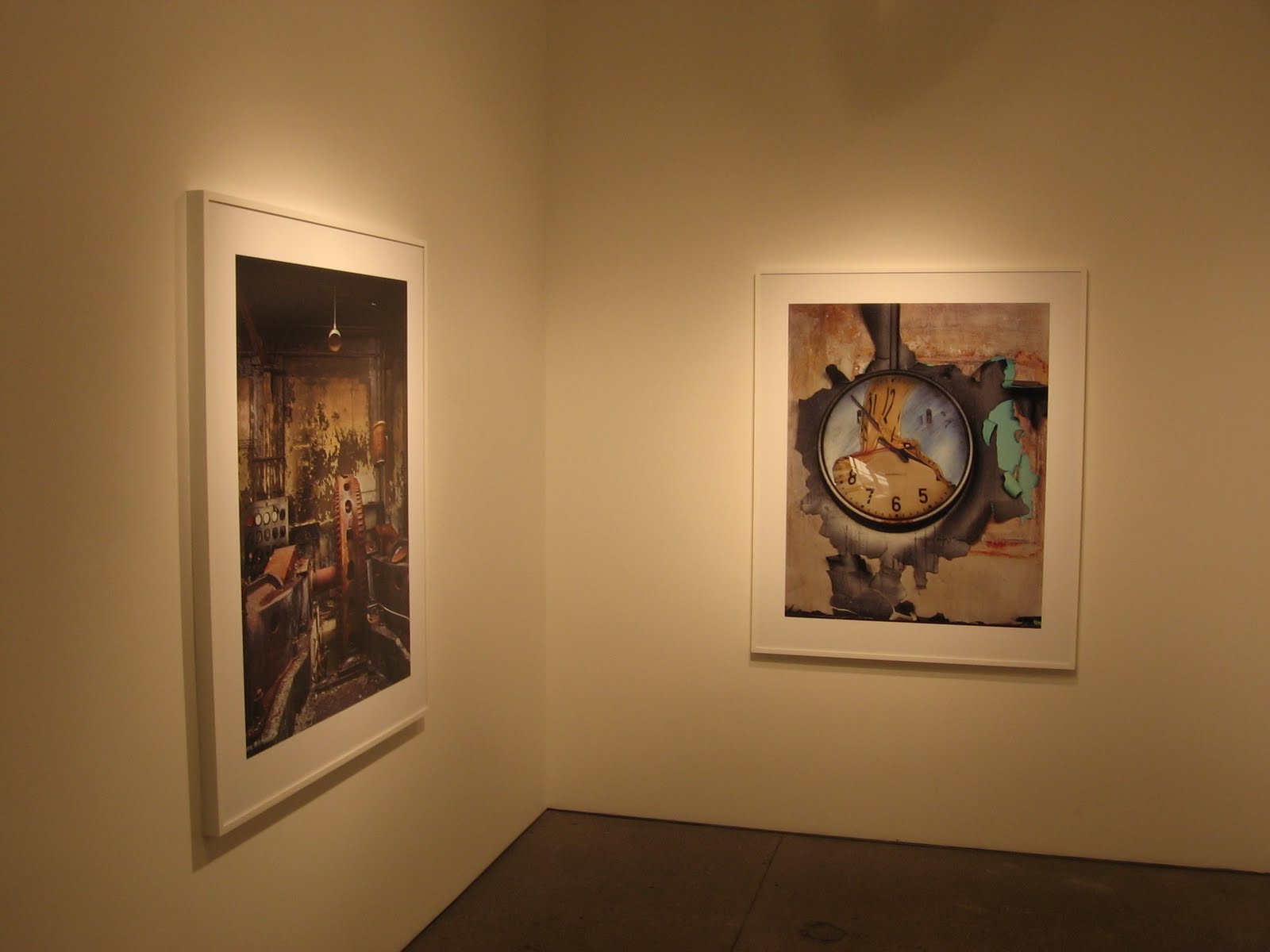 Collector's POV: The prints in this show are priced based on size: the smallest prints are $9200, the medium sized prints are either $11500 or $13500, and the largest prints are either $17000 or $20000 (all prices include the frame). Moore's work has only recently entered the secondary markets – a handful of lots have sold between $5000 and $20000 in the past year or two.
While these images are universally too large for our display spaces, my favorite image in the show was Palace Theater, Gary, Indiana, 2008, with its flaking mural and jumble of red seats.
Rating: * (one star) GOOD (rating system described here)
Transit Hub:
Andrew Moore, Detroit
Through January 9th
Yancey Richardson Gallery
535 West 22nd Street
New York, NY 10001