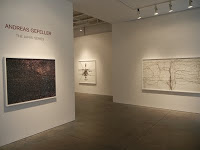 JTF (just the facts): A total of 20 large scale photographic works, alternately framed in white/black with no mats, and hung in the entry and all three rooms of the gallery space. 15 of the works (including 1 diptych) are from The Japan Series, taken in 2010. They are inkjet prints on Fine Art paper by Hahnemuhle and Innova, printed in editions of 8. Physical dimensions range from 39×39 to 51×88. The other 5 works are from Gefeller's earlier Supervisions series, taken between 2002 and 2007. They are Dibond-mounted digital chromogenic prints on Kodak Endura paper, also printed in editions of 8. Physical dimensions range from 39×59 to 49×108. (Installation shots at right.)
Comments/Context: Back in the olden days of photography, when we would refer to the "construction" of an image, what we were talking about was where the photographer placed his or her camera, how he or she used the frame to define the edges and center of the composition, or perhaps how some staging was done to further heighten the overall effect. In our new digital age, "construction" has taken on a variety of new meanings, the most prominent being the use of PhotoShop and other tools to combine multiple source images into a single larger composition. Since we don't have a ready vocabulary for such newfangled craftsmanship, we have reverted to the language of needlework: sew, stitch, knit, quilt, and seam, as applied to the creation of digital photographic composites, as if the photographer was using a computer needle and thread to join together scraps of imagery.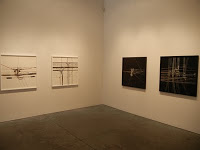 The most recent works by German photographer Andreas Gefeller bear all the hallmarks of master digital tailoring; you have to look pretty closely to see the evidence of his handiwork. Most of the images on view depict the confluence of overhead telephone and electrical wires in the sky above the city, either during the day (white background) or at night (black background). Silhouetted wires have been done many times before, most notably by Harry Callahan, but Gefeller has used his technical skills to assemble heretofore impossible views: wires come together in layers of angles and plaids, but the pole itself has been magically removed, so the lines and junctions float untethered in pure open space. These manmade abstractions have the elegance of monochrome line drawings, but with the puzzling conceptual layer of apparent realism.
Gefeller has also applied this same technique to more natural forms, getting underneath grape arbors and pear espaliers, capturing the spindly lines of branches, trellises and support netting, but removing central trunks and thick stocks. His images transform the organic into something geometric and almost mathematical, as if the growth has been meticulously laid out on graph paper. These works blur the lines between natural and manmade, where visual fact and constructed fiction mix on a variety of mind bending levels, without degenerating into overly easy optical trickery and obvious gimmicks.
All in, regardless of subject matter, Gefeller's newest works have a futuristic, controlled formality, showing us a set of calculated patterns that lie beneath the surface of our normal perception. His sleight of hand is convincing enough to be thought provoking, and the best of the works on view satisfyingly erase the defining lines between real and unreal.
.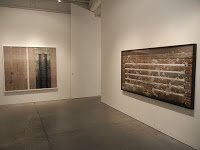 Collector's POV: The prints in this show are priced as follows, and include the wooden frames. Individual images from The Japan Series are priced between $10600 and $15900, based on size; the diptych is $32000. 5% of the profits from these sales will be donated to the American Red Cross in support of Japan relief efforts. Prints from the Supervisions series range between $11800 and $22500, again based on size. Gefeller's work has only recently started to trickle into the secondary markets, so gallery retail is still the best option for interested collectors at this point.
My favorite image in the show was Poles 07, 2010; it's the middle image in the top installation shot. This particular work takes the ideas of this series and intensifies them, with even more wires, electrical transformers, and overhead light fixtures gathered in a dense, unruly tangle; it trades some of the simplicity of the other images for more muscular ordered chaos. (By the way, if you're specifically interested in wires and poles as subject matter, take a look at the relevant work of Osamu Kanemura and Frank Breuer). I also enjoyed Untitled (Runway), Hong Kong, 2004, in the back room; it's on the left in the bottom installation shot. What I like about this image is the disorienting sense of scale of the black landing area; the only clue to its actual size is the small tuft of grass in the bottom left hand corner.
.
Rating: * (one star) GOOD (rating system described here)
Transit Hub:
Andreas Gefeller, The Japan Series
Through May 14th
.
Hasted Kraeutler Gallery
537 West 24th Street
New York, NY 10011