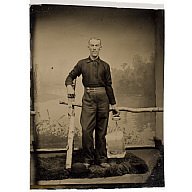 JTF (just the facts): 129 small tintype images, framed separately, and arrayed in groups through one small room (painted yellow) on the main floor of the museum. Divided into four sections: "Democratic Visages", "Workers' Portraits", "Stereotypical Tintypes", and "The Tintype and Leisure". (Iceman, Unidentified Photographer, c1875 at right.)
Comments/Context: We all know that the technology of photography (and the changes and advancements in this science) has had enormous influence on the development of the medium. The tintype is an often forgotten step in this evolutionary history, and this small exhibit at the ICP helps remind us of where this obsolete process fits. In reaction to the high cost, formal Daguerreotype, the tintype was a much simpler, more inexpensive technology that provided a picture making alternative for the masses in the mid to late 19th century.
Until it was cast aside with the invention of Eastman's inexpensive Kodak cameras and roll film in 1888, the tintype was the dominant form of portrait photography for everyday people, a populist form of self expression not unlike the photo booth of the 20th century. The vast majority of the tintypes made were traditional portraits, but what is striking about this show are the variations in how the subjects chose to be seen and recorded for posterity. Beyond the run of the mill formal portrait pose, many wore their work clothes (like blacksmiths or clowns), or held props of one kind or another, or acted out elaborate (and sometimes quite funny) scenes. While they may not stand the test of being "art", these tintypes certainly provide a compelling window into the life and attitudes of a cross section of American society at that time.
Collector's POV: This show feels a little more like a fun history lesson than anything else, but given the re-emergence of expired photographic processes in use by contemporary artists, getting to see a wide range of high quality tintypes up close is worth a visit as an educational exercise. Since tintypes were so ubiquitous and inexpensive in their day, if you want a few for your collection, you are more likely to find them in antiques and collectibles shops (or on Ebay) than in a gallery setting.
Rating:
* (one star) GOOD (rating system described
here
)
Through January 4th
1133 Avenue of the Americas
New York, NY 10036