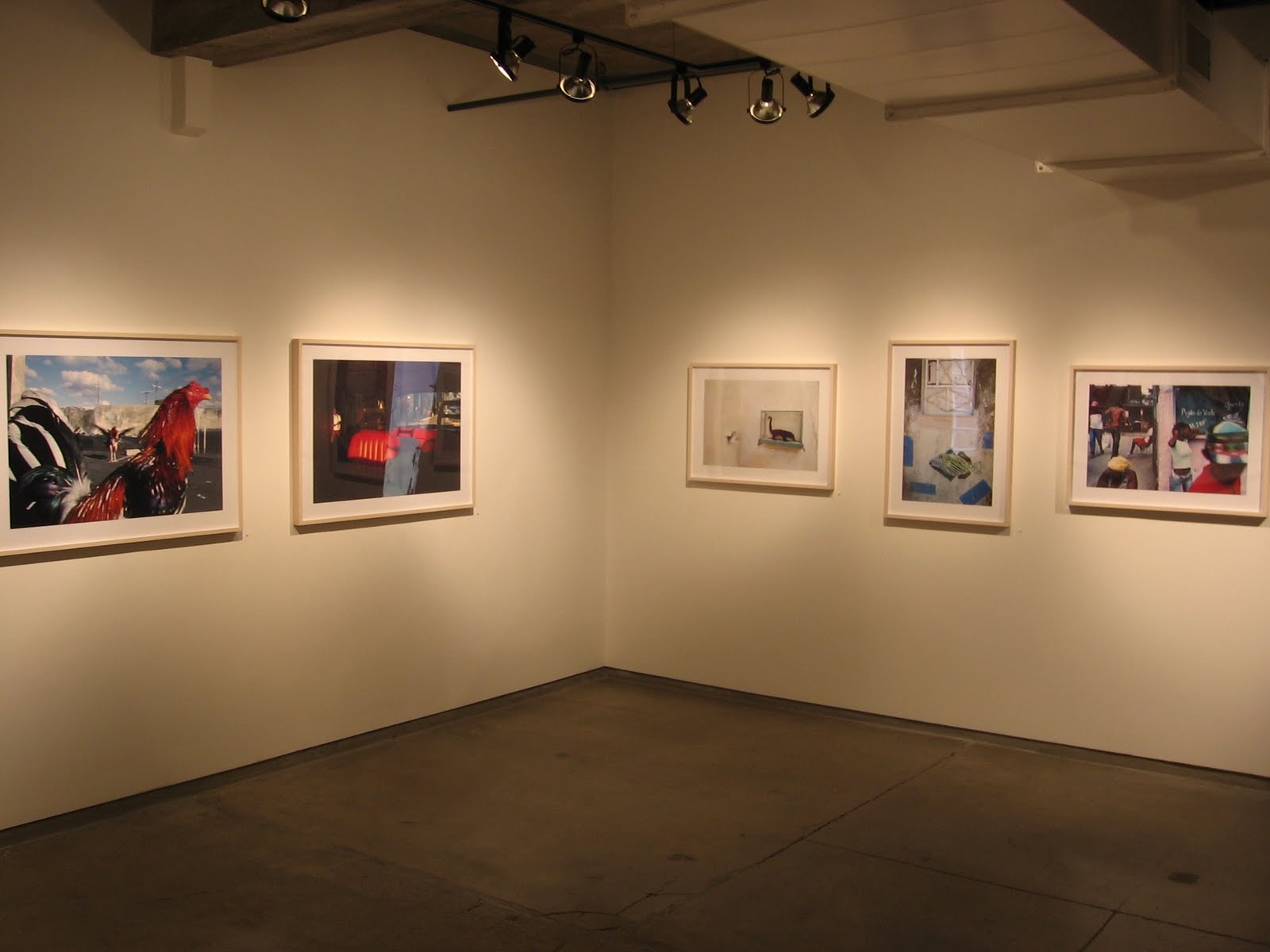 JTF (just the facts): A total of 15 color images, framed in blond wood and not matted, and hung in two adjoining gallery spaces. The show intermixes the work of the husband and wife team of Alex Webb and Rebecca Norris Webb. There are 8 prints by Alex Webb and 7 prints by Rebecca Norris Webb on display. The images are printed in one of two sizes (or reverse): 20×30 or 30×40. For Alex Webb's work, there are 2 prints in the smaller size (in editions of 20) and 6 prints in the larger size (in editions of 12). For Rebecca Norris Webb's work, there are 3 prints in the smaller size (in editions of 10) and 4 prints in the larger size (in editions of 7). All of the images were taken in Cuba between 1993 and 2008. A monograph of this work has recently been published by Radius Books (here) and signed copies are available from the gallery for $50. (Installation shots at right.)
Comments/Context: Cuba has long been a subject of interest for photographers, going back to the street portraits and shop windows of Walker Evans and Henri Cartier-Bresson, the political portraits of Rene Burri, and more recently, the faded architectural grandeur of Robert Polidori and Michael Eastman. Something about the island's combination of vibrancy with decay, charm with melancholy, all drenched in warm Caribbean sunlight has attracted artists and photographers for decades.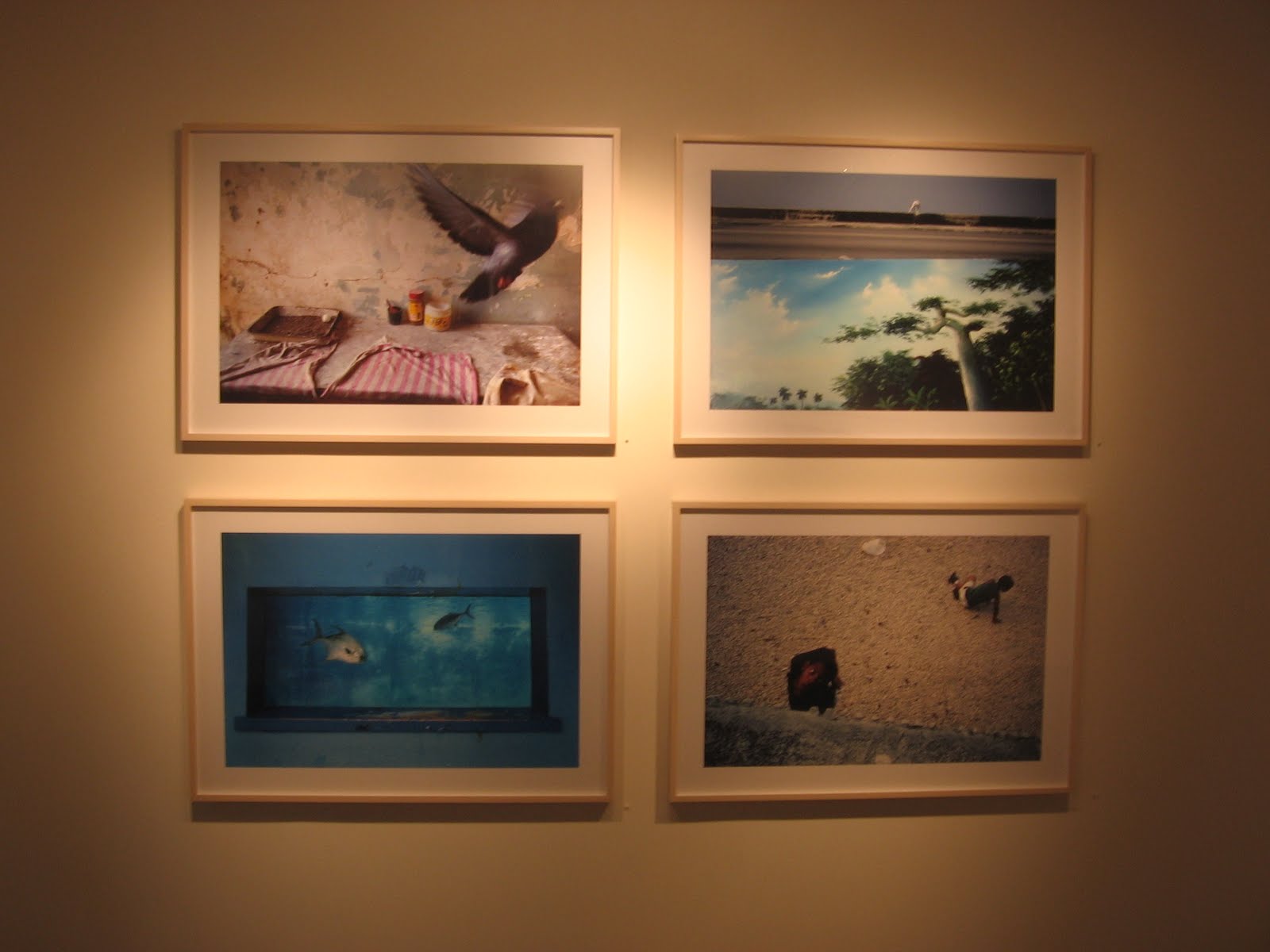 Alex Webb and Rebecca Norris Webb have spent the past decade making trips to Cuba, and their images of the island follow two separate but, in the end, interrelated paths. Alex Webb's images are fragments of Cuban street life: 1950s red car seats simmer in the sun, vacant chess tables are stacked against a dilapidated yellow wall, bored bus riders stare out the window, and hurricane tape criss-crosses plate glass shop windows. His pictures use contrasts of color and perspective to create visual excitement – a eye popping pink sky hovers above a glowing green wall, and boys playing in a gravel courtyard are seen from above, distorting their bodies into indistinct forms.
Rebecca Norris Webb's photographs center on the role of animals in everyday Cuban life: birds flash through rooms of peeling paint, fish loiter in a blue tank, roosters strut around, a stuffed ferret makes an appearance in a glass case, and a multi-colored bird wing is spread out like an elegant fan. In this world, humans and animals live together, coexisting naturally in the same urban space.
Overall, these interleaved bodies of work seem to successfully capture the feel of the culture. But while there are certainly a few eye-catching images here, I'm not sure that they show us a side of Cuba that we haven't already seen before. Even though these works are generally well crafted (albeit printed a bit too large in my opinion), the pictures get a little too caught up in the familiar stereotypes of the island, lessening their impact and eventual memorability.
Collector's POV: The prices for the works in this exhibit are as follows. For Alex Webb's work, the 20×30 prints are $3500 and the 30×40 prints are $5000; for Rebecca Norris Webb, the 20×30 prints are $2500 and the 30×40 prints are $4000. While Alex has been a member of Magnum for many years, neither he nor his wife has much secondary market history. Interested collectors will need to follow up at retail.
Rating: * (one star) GOOD (rating system described here)
Transit Hub:
Alex Webb and Rebecca Norris Webb, Violet Isle: A Portrait of Cuba
Through January 2nd
Ricco Maresca Gallery
529 West 20th Street
New York, NY 10011
ADMINISTRATIVE NOTE: There will be no posts on Monday, December 21st. We'll be back Tuesday.