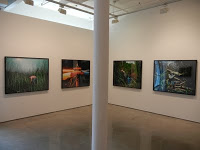 JTF (just the facts): A total of 12 large scale color photographs, framed in black with no matting, and hung in the single room gallery space in front. All of the works are digital c-prints, made between 2007 and 2010. The prints are displayed in three image sizes: 5 prints at roughly 32×40 (editions of 9+3AP or 12+3AP), 6 prints at roughly 44×56 (editions of 7+3AP or 9+3AP) and 1 print at 59×75 (edition of 5+2AP). A monograph of this body of work entitled La Creciente is forthcoming from Nazraeli Press (here). (Installation shots at right.)
Comments/Context: Alejandro Chaskielberg's contemporary images of life along the Parana River Delta in Argentina begin with a context of documentary realism and then stylistically expand into the realm of impressionistic, cinematic staging. His works chronicle a river-centered life of logging and farming, using local inhabitants as actors in nighttime recreations of the everyday activities of the region. Farmers cut rushes along the river banks or transport timber in barges and smaller boats, while weathered elders and children perch on the banks watching the action.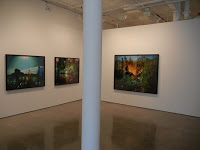 Chaskielberg's use of moonlight, lanterns, and other forms of illumination give his recreations a surreal sense of color, with washes of glow and haze enveloping his subjects in hollow shades of blue and orange. In combination with tilt shift flattening of the depth of field, the scenes mix a sense of hyper reality with unabashed romantic warmth and mystery; the focus often centers on the lonely toil of an individual (or ghost), with the rest of the scene stretched into a blurred, almost painterly backdrop.
I realize that I've been harping on the concept of photographic genre combination quite a bit in recent weeks, but here again, we have a contemporary photographer who is consciously mixing two worlds: taking an anthropological documentary tradition and placing it together with exaggerated staging and performance techniques. The effect is a set of pictures that go beyond reportage and cross into conscious control over our impression of the reality on the ground. Chaskielberg gives life on the river a mystical quality that transcends the mundane chopping and hauling that dominates its days, adding a sense of wonder to the hardships of the jungle existence.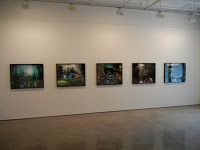 Collector's POV: The works in this show are priced as follows. The 32×40 prints are $4500 each, the 44×56 prints are either $6500 or $9500 each, and the 59×75 print is marked "not available". Chaskielberg's work has not yet entered the secondary markets, so gallery retail is likely the best and only option for interested collectors at this point.
Rating: * (one star) GOOD (rating system described here)
Transit Hub:
Alejandro Chaskielberg, The High Tide
Through July 29th
Yossi Milo Gallery
525 West 25th Street
New York, NY 10001