Our in-depth summary of the photography at AIPAD 2009 begins today. Below you'll find booth by booth coverage of a wide range of different galleries (in no particular order). We'll start with about 20 galleries today, and finish up with another large group on Monday.
I had originally planned to try to give a report on each and every exhibitor, but this turned out to require more time than was available. So while these summaries do not cover every single booth, I think they do capture most of the high points (with sincere apologies to those who were omitted). In most cases, we'll discuss the major artists represented in each booth, often focusing on specific works (with prices). For each booth, we've taken a picture of the most memorable work or works we saw in the display. This may not have been the most expensive or best known image; it was simply the one that we found most enticing. I have also provided links to every gallery, so you can follow up as appropriate.
Let's get started…
Weston Gallery (here): The Weston Gallery from Carmel, CA, has the single best image in the entire fair for me, an exquisite Edward Weston nude of Bertha from 1927 (below), priced at a whopping $425000. The booth also contains a few images we have seen before, either buy-ins from the auction of the Weston collection or at the gallery over the years. These include the Alma Lavenson waterlily, the Margaret Bourke-White trumpets, and a pair of Robert Mapplethorpe black and white flowers. There is also a selection of Ansel Adams prints, and a corner display of 19th century work.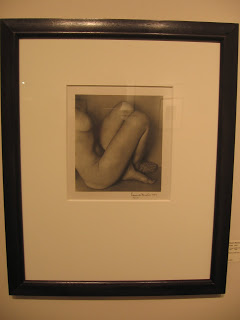 Halsted Gallery
(
here
): Wendy and Tom Halsted have a solid group of pictures on display, including Edward Weston vintage and later prints (Cole prints), Imogen Cunningham vintage and later prints, and a plenty of Ruth Bernhard, Wynn Bullock, and Andre Kertesz images. In addition to the wall display, there are three bins with more prints. While there is an excellent Edward Weston portrait of Karl Struss, our favorite picture in the booth is a Minor White flower, already sold for a reasonable $4800 (below).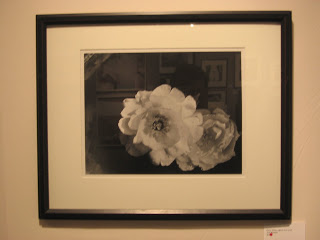 Lee Gallery
(
here
): I spent a good deal of time with our friends at the Lee Gallery, going through all of the work they brought down from Massachusetts. There are many top quality images on display, including 3 Edward Steichen prints from his days as a photojournalist in WWII, a beautiful vintage Weston pepper, and rare works by Charles Negre, Gustave Le Gray, J.B. Greene, and Karl Struss. There are also 4 bins of additional prints to dig through. Michael Lee (shown below) helped me look through some of boxes of work not on the walls, where we found an excellent late 1920's vintage Walker Evans image of New York, and my personal favorite (below), a vintage Edward Weston nude of Charis from 1934 (priced at $20,000). They have many treasures to see, so their booth is well worth a visit.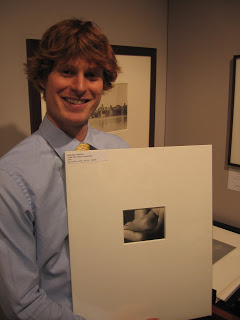 Cohen Amador Gallery
(
here
): I very much enjoyed spending time with Paul Amador in his booth of well selected work. There is one wall of Gabriele Basilico city images (1 large and 4 smaller), another of work by Taiji Matsue (1 large and 2 medium), and then a mixed wall with a superior Osamu Kanemura from
Spider's Strategy
among others. The exterior of his booth has a group of Olaf Otto Becker color icebergs. While the Kanemura would be the best for our collection, the Asako Narahashi (
Jounanjiga
, 2003 #3, below, priced at $5000) was also a standout, especially after Amador explained that this print was clearly printed by the artist herself, given the uneven marks from the negative holder around the edges.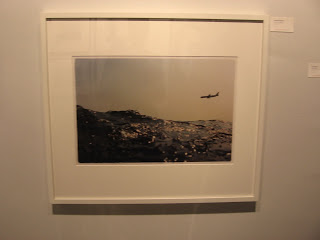 Howard Greenberg Gallery
(
here
): As always, there are amazing images to see at Howard Greenberg's booth, my favorites being the three Frantisek Drtikol nudes hung together (below, priced between $90000 and $100000 each). Other highlights include a wall of 10 Minor White images, a large group of Jerry Thompson portraits, a pair of Arbus prints, 3 Martin Munkacsi images, and the vintage Steichen
Gloria Swanson
that we saw at the Armory tucked in the back.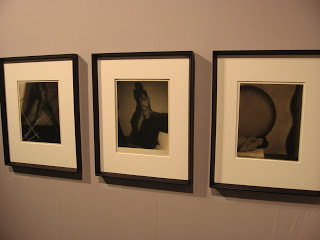 Gitterman Gallery
(
here
): In talking with other dealers during the show, I would often ask what they had seen that they found of interest. I had three separate dealers (unprompted) remind me of what a terrific eye for work Tom Gitterman has. Tom's booth includes an array of Siskind divers, a pair of excellent Callahan prints (dark but clear), and a group of mixed work on one wall, including a city scene by Fred Zinneman, a nude by Franz Roh, and the image below, a Josef Breitenbach nude (priced at $15000). There are also 2 bins of additional images for browsing.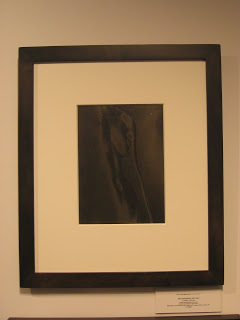 Paul Hertzmann
(
here
): I always enjoy catching up with Paul and Susan, as we don't see them as often as we might like, and they always have superior work of the kind right in our collecting sweet spot. (As an aside, I believe their pricing to be among the most fair in the business.) Susan showed me a gorgeous 8×10 Johan Hagemeyer calla lily from one of the boxes (priced at $24000), and other gems include an Edward Weston nude of Charis at Oceano ($150000), an Osamu Shihara nude from the 1930s, and my favorite in the booth, an unexpected Callahan from 1950 (below). There are also a group of bins with many more works to review, so plan to spend some time browsing here.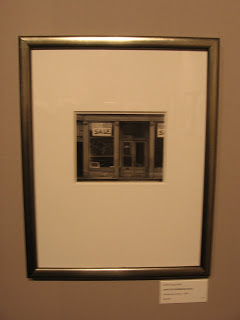 Edwynn Houk Gallery
(
here
): Dominating Edwynn Houk's booth is a huge new Vik Muniz of Princess Diana (below), made out of puzzle pieces. I hadn't ever seen a Muniz made out of puzzle pieces, so I didn't immediately recognize it as his work (there is also a second smaller Muniz tucked around the corner). The rest of the booth is a selection of work by gallery artists: Lynn Davis, Lalla Essaydi, Robert Polidori, Sally Mann, Disfarmer, Joel Meyerowitz, and three Brandt nudes from the estate, among others.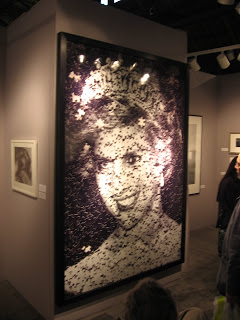 Danziger Projects
(
here
): James Danziger has also gone for the mixed bag approach, with a busy booth full of work by his gallery artists. There is an excellent Tanyth Berkeley full body portrait of Grace out front, and three superb Seydou Keita portraits inside. There is the requisite Obama image (now famous due to Danziger's sharp detective work), as well as a soft Julia Margaret Cameron portrait hung high on a shelf (and easy to miss). For our collection, we very much enjoyed the Chuck Close hydrangea image (below); unfortunately it is being sold as part of a set of three images (a calla and a sunflower are the other two, priced at $25000 for all three) and not available on its own.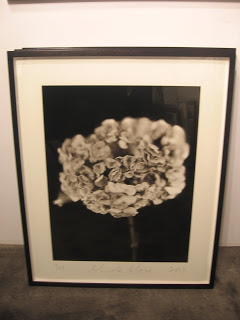 Silverstein Photography
(here)
: Bruce Silverstein's booth is an echo of his recent booth at the Armory, with a representative sample of gallery artists and work drawn from recent shows. Frank Paulin, Shinichi Maruyama, Todd Hido, and Maria Antoinetta Mameli all get wall space, and our favorite is the selection of Aaron Siskind building facades (below). In the back room, there are a mix of images, including a Brandt nude and an eye catching Marvin Newman print of a manhole cover.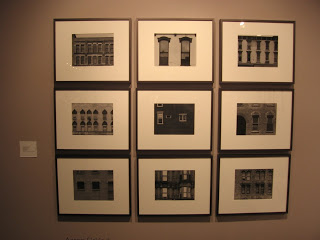 HackelBury Fine Art (here)
: The large aloe image below is by South African artist Stephen Inggs (priced at £2950), and it was our favorite in the HackelBury booth. There are also two excellent images by Doug and Mike Starn (one of trees, the other a snowflake) on the outside walls of the booth, some images by Calmen & Bech of waterlilies, and a extra big Sidibé
Nuit de Noel
back in the hidden alcove.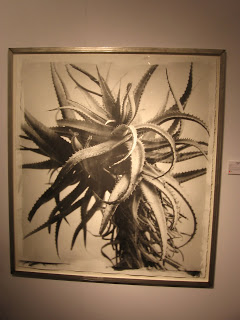 Barry Singer Gallery
(
here
): There's a lot going on the Singer booth, and Gretchen Singer helped me to go through it all. There is a terrific Bourke-White industrial image which we have admired for a while now, an unusual Callahan facade, a shadowy Lou Stoumen nude, and a group of strong E.O. Hoppe industrial landscapes, not to mention plenty of W. Eugene Smith works, and 4 bins to dig through. Most notable (among many) goes to the Arthur Siegel abstract photogram hanging on the outside wall (priced at $10000).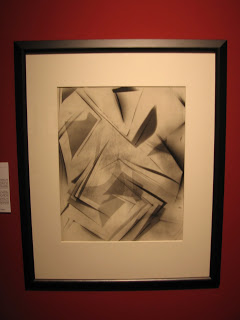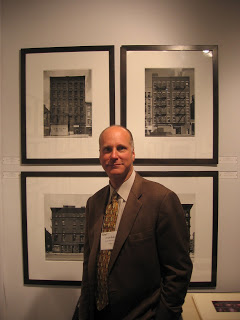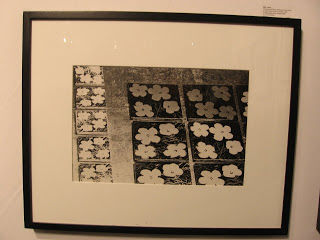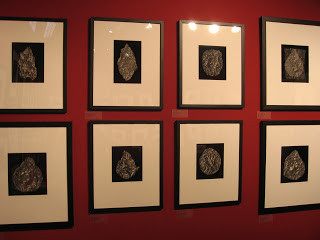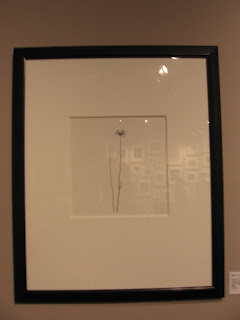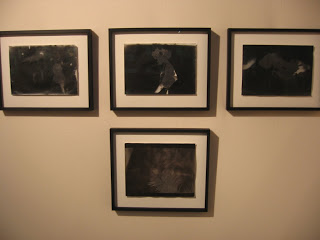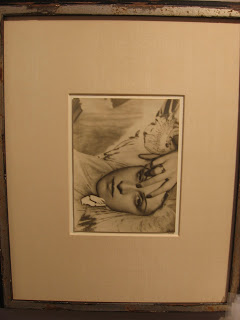 Scott Nichols Gallery
(
here
): Scott Nichols has a crowded booth with lots of pictures on the walls and 4 bins of additional images to review. There are several good nudes (Penn, Bernhard, Cunningham), as well as a Salgado
Churchgate Station
and a solid Wright Morris barn. The highlight is a William Garnett image of a train crossing the desert from 1975 ($18000). Make sure to find this picture tucked down on the bottom row, as it is a captivating image up close.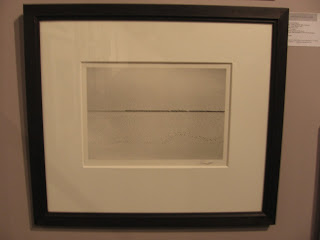 Czech Center of Photography
(
here
): The Czech Center always has a wide variety of work in its fair booths. There are of course Josef Sudek, Frantisek Drtikol, Karel Ludwig, and Miroslav Hak, but also many, many others who you likely don't recognize but merit attention. I particularly enjoyed this simple photogram from 1918 by Jan Bohm, found on the outside wall ($2800).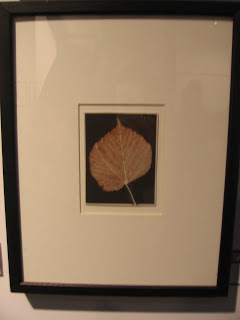 This concludes Part I of the AIPAD 2009 summary. I'll be at the show this afternoon gathering the details for Part II on Monday.
UPDATE: Part II is now available, and can be found here.