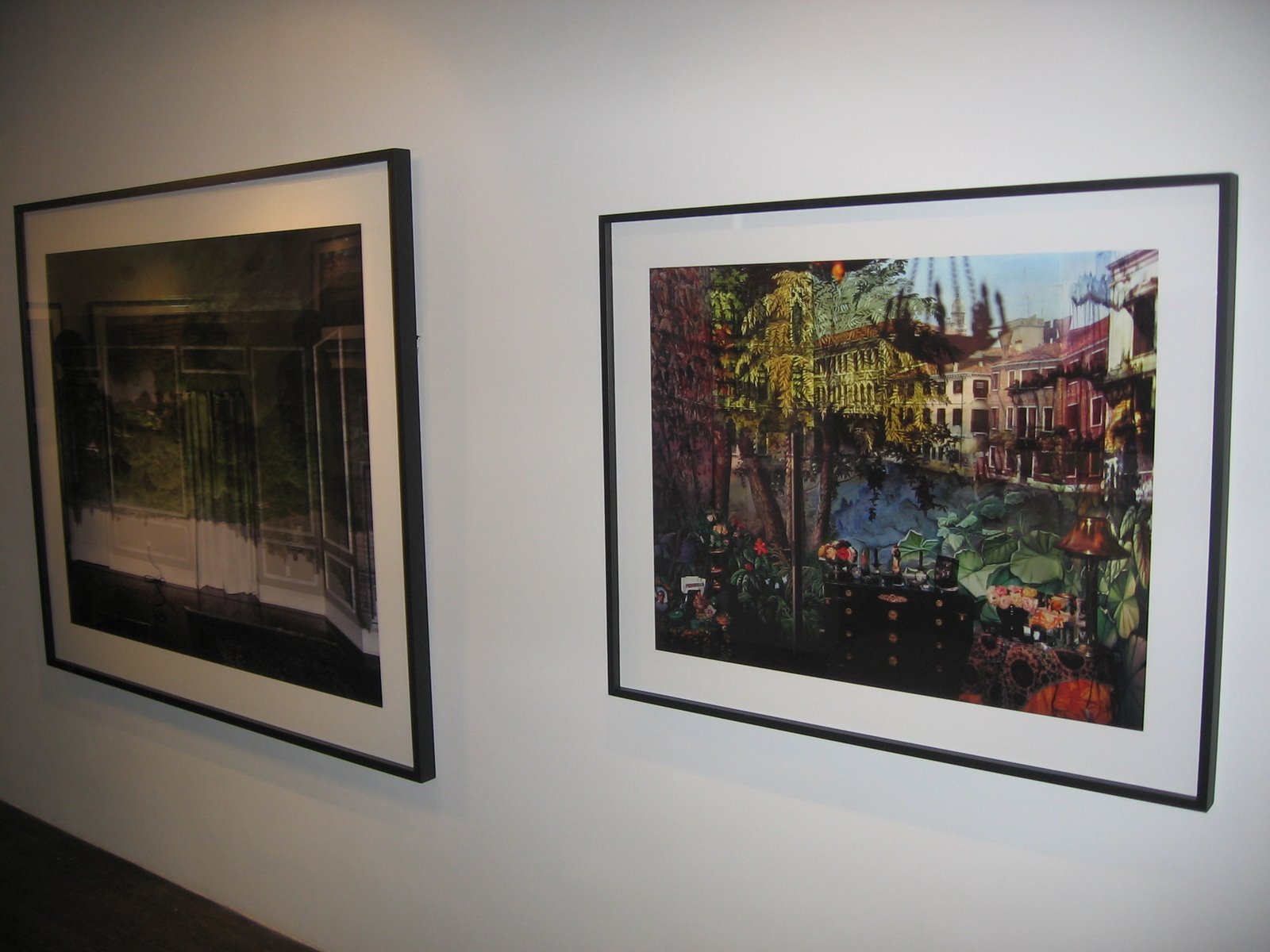 JTF (just the facts): 12 pigment prints and 5 gelatin silver prints, arrayed in the entry and the main gallery spaces. (See installation shot at right.) All of the images images are from 2007-2008, although some are continuations of series begun earlier.
Comments/Context: Most collectors are probably familiar with Morell's images of books and maps, and certainly of his black and white camera obscura images of rooms with outdoor scenes projected upside down on the walls. This show brings all of his various projects up to date, and boldly introduces the concept of color to this work. There are images of gold bars/money, a pair of works juxtaposing paintings and sculpture, and a group of chiche verre silver prints of continents. But the real standouts here are the new color camera obscura images.
.
Morell's interiors have always felt quite conceptual (for me), while leaving behind the overt trickiness of much of that type of work, and at the same time surprisingly beautiful. The images are full of contrasts, most obviously orientation (upside down and right side up) and position (inside and outside). They are also quite clearly staged, with chairs, doors, beds and other furniture placed just so to compose the picture. The addition of color in these new works amplifies the whole endeavor, making the contrasts more powerful and the images more startling. I think the image from Venice of the hotel room with the jungle wallpaper overlaid with the canal is amazing, and the layering of color is what makes it all the more chaotic and crazy (see the image in the installation shot on the right; proper thumbnails from all the images are on the website, linked below). Images of the Pantheon (right side up), the Colosseum (right side up), and Central Park (up side down) are also quite successful.
Collector's POV: Morell's work doesn't fit into our collection, but I came away very impressed with these new color camera obscura works. (The rest of the show was a bit less inspiring in contrast.) The color prints come in three sizes (20×24, 30×40, and 50×60 in varying edition sizes) and three prices ($9000, $15000, and $20000). Overall, the show is well worth a visit.
Rating:
* (1 star) GOOD (rating system defined
here
)
Through December 6th
41 East 57th Street
13th Floor
New York, NY 10022