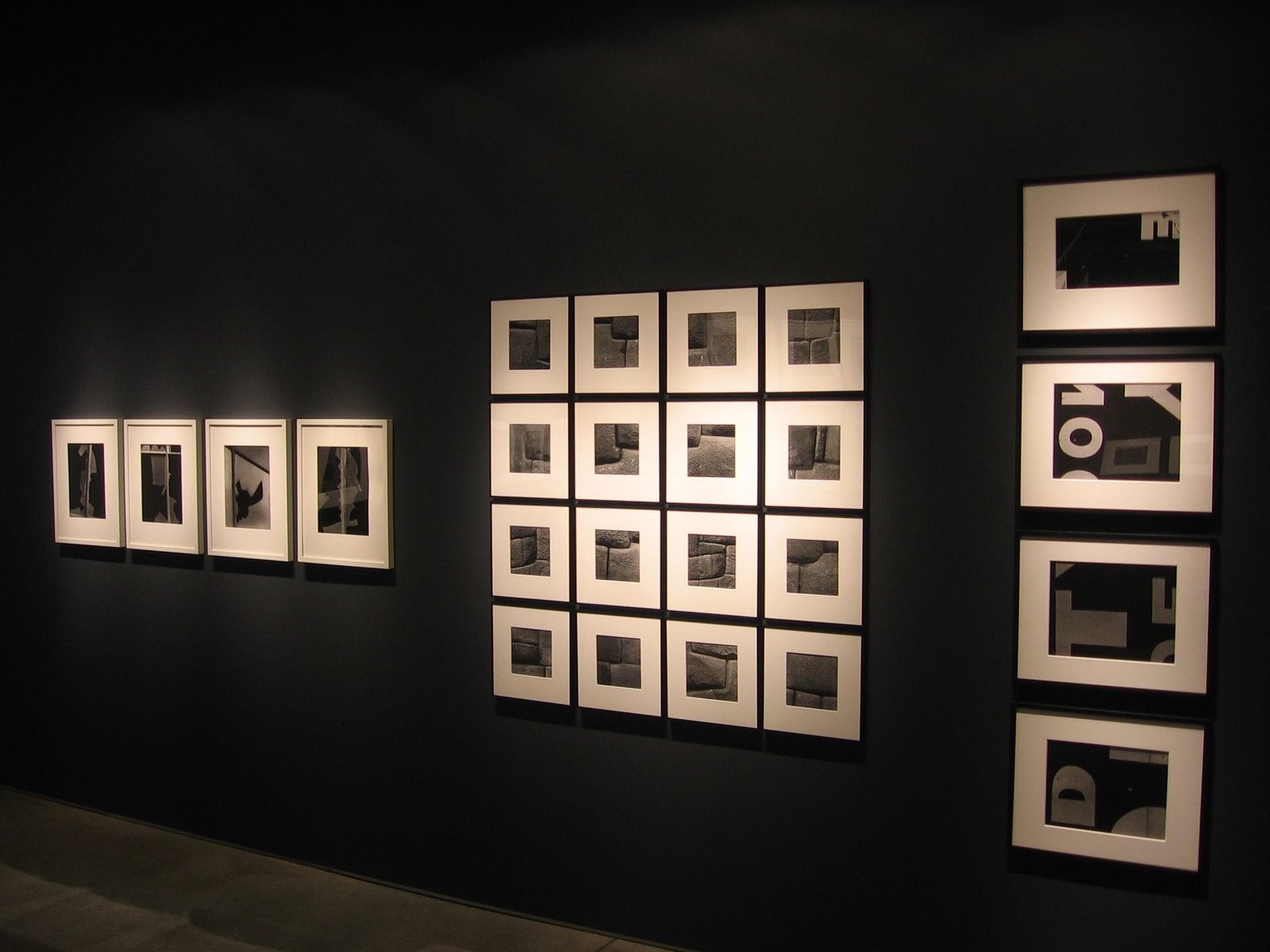 JTF (just the facts): 101 black and white gelatin silver prints (mostly vintage), displayed in the back two rooms of the gallery. The main room has a dark wall, while the smaller room in the far rear is white. The images span much of Siskind's career, from 1940s work in Gloucester to 1980s images of tar dripped roads. (Mediocre installation shots at right.)
Comments/Context: Taking on the estate of a recognized master who had previously been represented by one or more other galleries has its own special challenges. By and large, these kinds of estates have been "picked clean" by the preceding representatives, the best of the early and influential work skimmed off and sold years or decades earlier, often leaving behind a grab bag of later and less well known work that doesn't seem to have an audience among collectors and museums, unless someone is looking to build a comprehensive sample of the artist's career.
Bruce Silverstein seems to be willing to dig through these estates in search of diamonds in the rough. Starting with the Kertesz estate, and now with the Siskind estate, his job has been to sift through what remains and try to make sense of it all. Most importantly, he has brought a fresh pair of eyes to work that has been overlooked and under appreciated.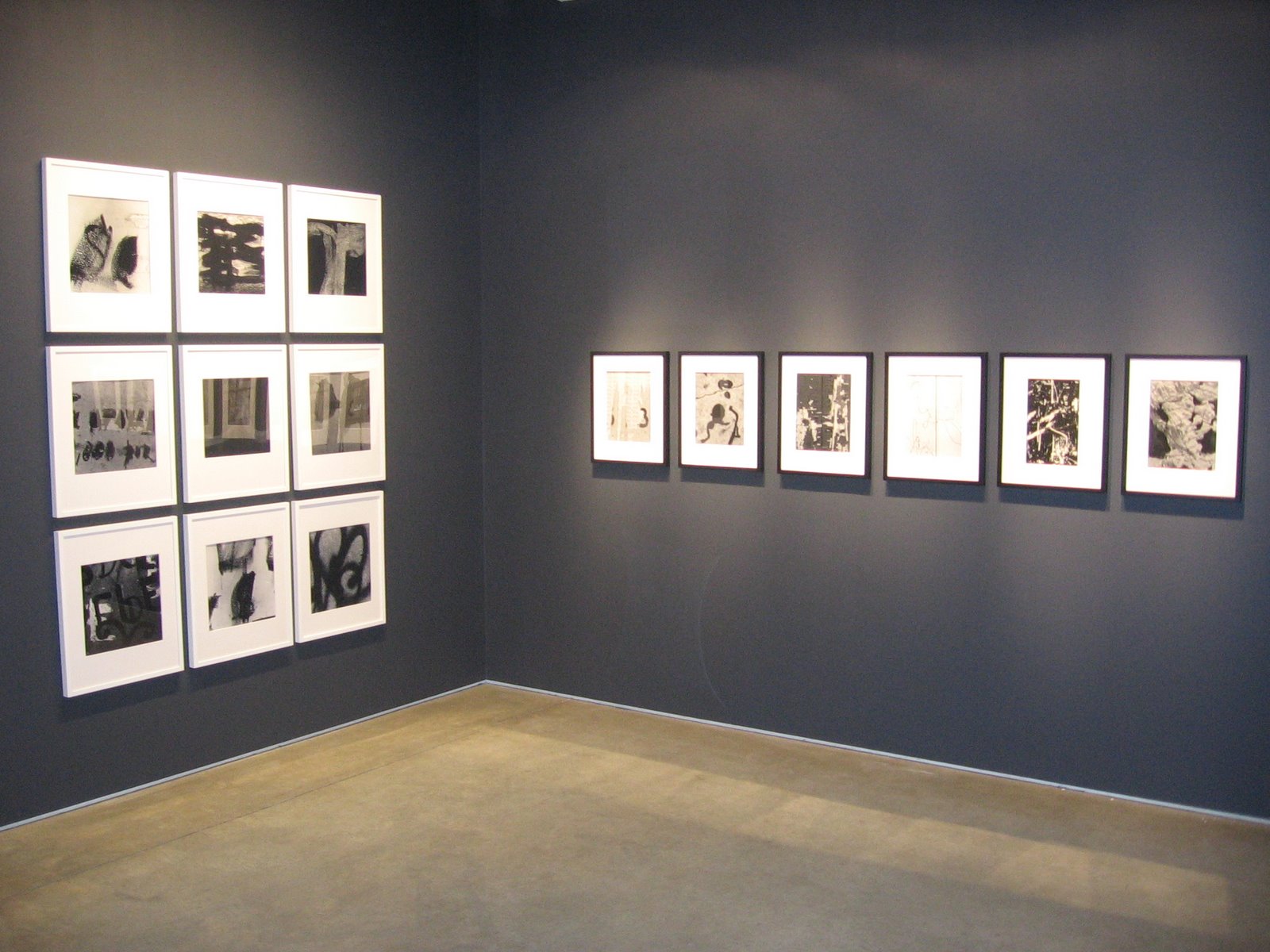 This show is built around the insight that
Siskind's
work is best understood when seen the way
Siskind
took the pictures: in series. Long before the
Bechers
developed their typologies, the ID in Chicago was teaching students to shoot in multiples, to make projects of a single subject matter observed in detail. This exhibit is then groups of pictures rather than a gathering of single images. There is a cluster of reeds, some broken windows, a group of wall stones. There are pieces of driftwood and swirling strands of seaweed. There are building facades, close ups of paint on walls, and divers soaring through the air. All are displayed in groups of 4, 6, 9, 12 or even 16 pictures; there are few single pictures hung in isolation.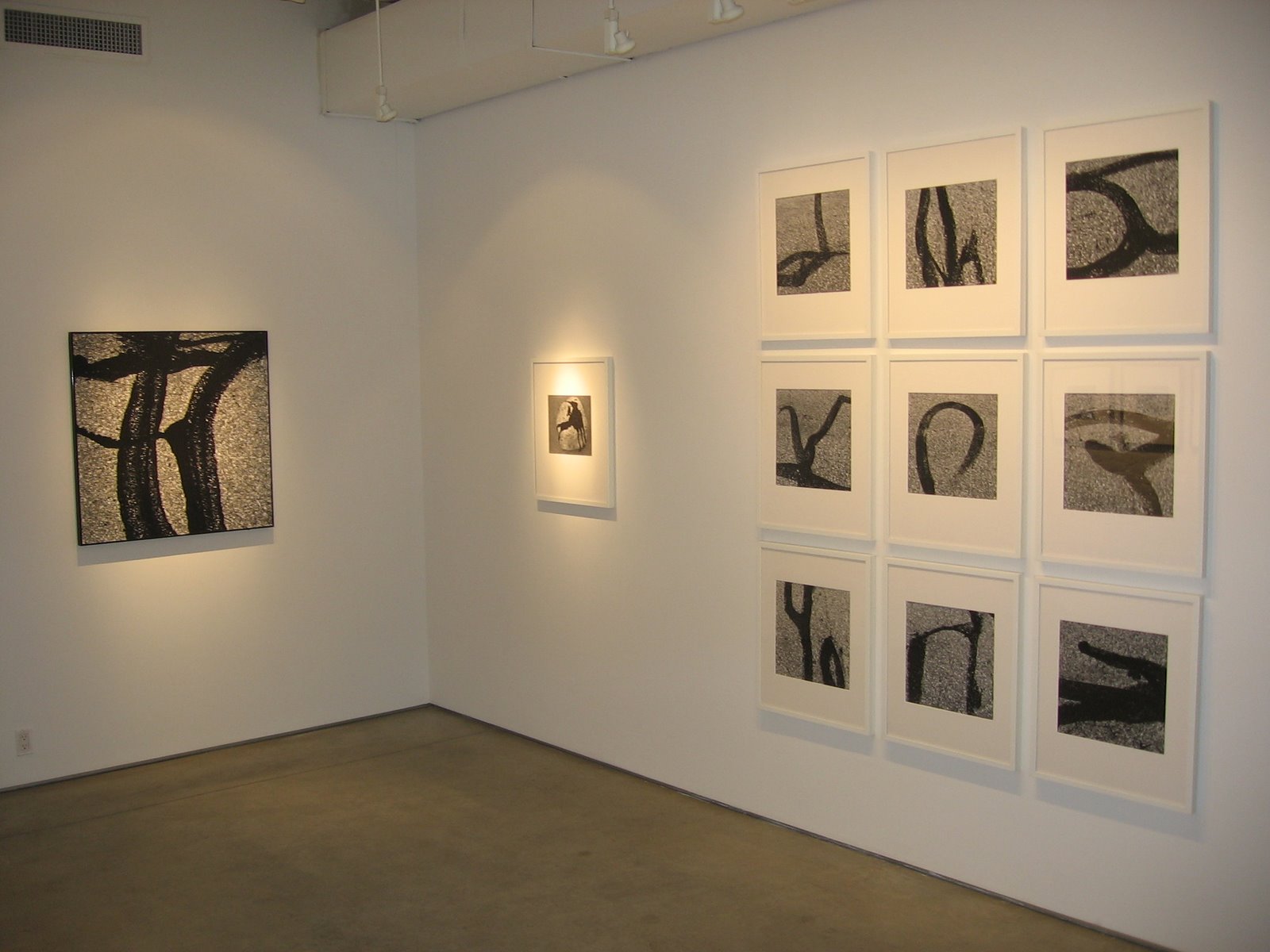 What is striking about this exhibit is that it shows, regardless of the subject matter, and over nearly 50 years of taking pictures,
Siskind
was ultimately interested in lines, patterns, color contrasts, and the beauty of simple forms. Over and over again, the groups of images show him meticulously exploring a subject, in search of interesting
compositional
relationships between the lines.
Siskind
seems to have been intrigued by both the sharp and geometric, as well as the rounded and swirling. While some of his work does have a formal rigidity to it (the building facades with grids of windows for example), most of the works have a more fluid, gestural quality, more in tune with the prevailing ideas in the world of Abstract Expressionism. As he got older, these gestures seemed to get looser, with the paint splatters and tar ribbons of the 1970s and 1980s becoming larger and more like calligraphy.
What I like best about this superb exhibit is that it puts all of these different projects into a larger context. Seen as single images, isolated from the rest of his work, some of these pictures don't hold up particularly well. But seen in groups, riffing on the same ideas as their neighbors, the pictures have a much stronger resonance. I think the show does an excellent job of showing that Siskind continued to make thought provoking pictures in his own unique style his entire career, not just in his 1950's heyday. Siskind's artistic approach across his lifetime was remarkably consistent, and the later works merit more attention and praise than they have heretofore received. This show does a good job of forcing us as viewers to think about the quality of his entire output, rather than just his greatest hits. Every single group in the gallery is worth some patient looking. In our view, this is a show worth going out of your way to see.
The Aaron
Siskind
foundation website is
here
.
Collector's POV:
There are plenty of superlative prints in this show that would fit perfectly into our collection. Prices range from $3500 on the low end to $30000 on the high end for single images, with some prints sold only in groups with larger total prices.
Siskind
made a large number of later prints in his life, and as a result, the market for his work has gotten muddied and confused. Vintage prints of his most famous images are hard to come by, but vintage images of variants in any one series are often much more reasonable (and available). We already own several
Siskinds
(
here
), but we still found many things to tempt us.
Rating:
*** (three stars) EXCELLENT (rating system described
here
)
Through February 21st
535 West 24th Street
New York, NY 10001