Over the holidays, I was lucky enough to receive a handful of photobooks, both old and new, as gifts. Rather than embark on full reviews for them all, I've added a few thoughts and reactions to each below: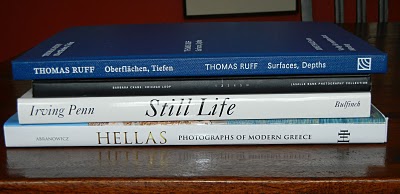 Thomas Ruff, Surfaces, Depths, Kunstahalle Wien, 2009.
.
I first saw this book on a display shelf at David Zwirner, during Ruff's show there last spring (review here). What is striking about this book is that although it is bound like a regular retrospective catalogue, inside it is printed on newsprint, giving the pages a more fragile feel. This presentation totally recontextualizes many of his older projects, especially those that appropriate black and white imagery. The book is the first place I have found that publishes his new Cassini and Zycles works, and it also includes stereo photographs, interiors, newspaper images, and "portraits" of Herzog & De Meuron buildings that I had never seen before. All in, an unexpectedly terrific addition to the discussion of Ruff's work.
.
Barbara Crane: Chicago Loop, LaSalle Bank, N.A., 2001. (here)
.
Kim Bourus of Higher Pictures (which represents Crane) showed me this book a year or so ago, and I have been wanting a copy for our library ever since. It gathers together a group of black and white images that Crane made of the Chicago Loop between 1976 and 1978, and the works could hardly be a better fit for our particular collecting affinities. Each is a textural mix of geometric layers, where grids of windows and edges of skyscrapers are deftly juxtaposed and flattened into intricate patterns and abstractions. It's a spectacular exercise in compositional control.
.
Irving Penn, Still Life, Bullfinch Press, 2001.
.
I'm not exactly sure why we've never acquired a copy of this Penn standard, but I was nevertheless glad to see it emerge from under the tree on Christmas morning. I was most excited to see some of the less familiar images that are mixed in among the greatest hits, and for the first time, I started to understand Penn's still life work within a stronger sense of chronology, starting in the late 1940s and moving back and forth between commercial and more personal work through the decades.
.
William Abranowicz, Hellas, Hudson Hills Press, 2010.
.
Abranowicz' new images of modern Greece are filled with warmth and affection. Elderly men and women tend goats and sheep or idle in the streets and cafes, while still lifes of fish and tomatoes pop with mouth-watering exuberance. The enveloping blue of the Mediterranean is rarely far from view, and cloudless skies range from washed out pastel to almost purple. What keeps these pictures from becoming a travel brochure is their subtle mixing of the modern and ancient: religious icons, church spires and island landscapes are juxtaposed with kisses on the beach in Mykonos, tourist postcards, and active nightlife. The story keeps shifting, with moments of subtle realism poking through the veil of obvious expectations.