Paris Photo 2013 is fabulous. Fabulous may seem fatuous, but it describes the proceedings, which have been more fully outlined elsewhere on this site.
Here are some observations from another perspective.
First of all, there is the fair itself. It is literally unbelievable. There are thousands of photographs of different vintages and tastes, presented handsomely by a range of exhibitors and book sellers, from major houses like Gagosian, David Zwirner, et al to the solo operator, private dealers (Lumière des Roses). It is increasingly international, with dealers from Doha to Denmark.
More than anything, it is overwhelming. In what other room do you find August Sander's classic Konditomeister (Feroz, co-owned by Julian Sander grandson of) and Juergen Teller's very, very naked Vivienne Westwood (Suzanne Tarasieve)?
This is the ultimate for a collector. It is Paris and everyone in photography seems to be present.
The ancillary events attendant to the fair are worth reacting to, starting with the Anders Petersen – Photographs retrospective at the Bibliothèque Nationale de France (here). This is a large, dense installation of life affirming, joyous, and personal work, not nearly as depressing, dark, and squalid as anticipated. The wall text is illuminating:
"I like people. There are common themes between my first pictures and what I am doing now. (…) It doesn't work that much with anecdotes and atmospheres. It works more with light and shadows. I'm interested in a distinct, sharp attack. That is not explaining anything, that has no answers, but has many questions. And the more questions and longings I can find in one cut, the better."
There were other events around town on view with special times for Paris Photo VIPs. These included Sergio Larrain at Foundation Cartier-Bresson (here), a more modest version of Agnes Sire's show in Arles last summer, as well as Raymond Depardon, Un Moment Si Doux, color work, at the Grand Palais (here), Sebastião Salgado, Genesis at La Maison Européenne de la Photographie (here), and Erwin Blumenfeld (1897-1969) – Photographies, Dessins et Photomontages at the Jeu De Paume (here).
On Saturday, the Fondation Cartier pour l'art contemporain (here) opened América Latina 1960-2013, co-produced with the Museo Amparo in Puebla, Mexico. This is a big (70 artists, 11 countries), varied, and good looking exhibition with a "new" perspective on Latin American photography from 1960 to today, focusing on the relationship between text and the photographic image.
Other outside events include La Maison Rouge's Theatre du Monde (Theatre of the World) installation of works from collector David Walsh's Museum of Old and New Art (MONA) in Tasmania, curated by Jean-Hubert Martin, with additional works from the TMAG (Tasmanian Museum and Art Gallery), all infused with an eclectic madness, disarmingly described as "heteroclitic" (here). In an interview for the show Walsh offers:
While individual objects: works or conceptualizations can be visually wonderful we are failing to add to the body of accrued knowledge while we engage with a philosophy that denies that what we see (experience) is real. So, as another of the many virtues of Theatre of the World, I see an exhibition that asks the viewer to "look and learn" rather than wade through a molasses of mediocre pseudo-academic self-indulgence as a way finder in the search for a useful personal philosophy. When we are trying to understand the world as individuals we should make tentative, unlikely guesses and change our mind on slight evidence or whim.
Inspired.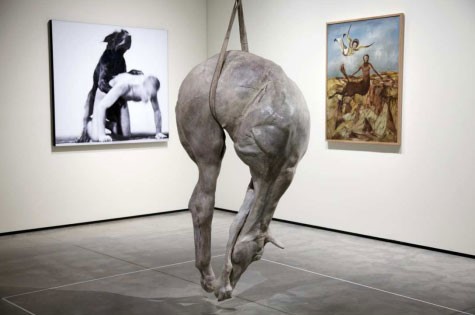 Returning to Paris Photo each day, one becomes increasingly aware that you have not seen everything and what you have seen is fading from memory. That said, there is great color work from the usual suspects: Joel Meyerowitz and Edward Burtynsky (both at Howard Greenberg), Stephen Shore (303), William Eggleston, Candida Höfer, and Robert Polidori. Include in this Roe Ethridge and Thomas Ruff.
But artists bringing a strong analytical component to their vision worth noting are Jessica Eaton (M+B), Ori Gersht (Mummery + Schnelle), Ebbe Strub Wittrup (Martin Asbaek), Niko Luoma (Taik Persons), and especially Adrian Sauer (Klemm's). At the other end of the spectrum, technique wise, there were considerations of vintage hand colored Mexican and Indian works.
All in all, Paris Photo is mad, impossible, thrilling, and endlessly worthwhile.