For collectors like us, a visit to the annual AIPAD Photography Show in New York is like being a kid in a candy store; it combines countless moments of wonder with a mind-numbing case of weary visual overload. The show remains the single best annual gathering of photography in the United States, and this year's 82 exhibitors crisscrossed from 19th century to contemporary work, with a heavy dose of vintage black and white material in between.
Unlike previous years when I have had more time to linger, I only had one afternoon to enjoy the booths this year; no opening night gala, no intimate dinners or cocktail receptions, no leisurely repeat visits on succeeding days. So my experience of the 2011 version of AIPAD was more focused and less methodical than other incarnations; a targeted visit to those booths whose gallery owners I wanted to see or who had work I was particularly interested in, and a cursory swing through the rest. As the years pass, I am more and more struck by the sense of community to be found in these halls: collectors large and small, working photographers, museum curators, gallery owners/dealers, all slowly becoming a dense network of international friends to catch up with, all sharing a common passion for those pictures that make our eyes light up, wherever and whatever they may be. This blog has woven me into the fabric of this community more deeply than I had imagined, and I thoroughly enjoyed having a few quick moments with good friends from afar and putting faces with many personalities I had only known via email. I only wish I had had more time to sift through each and every bin.
This 2011 AIPAD Review will be split into 2 parts, with our customary booth reports, lists of the photographers on view (the number of pictures by each in parentheses) and some additional commentary or a specific image as further illustration. Given my limited time, I only tallied details on 33 booths; those that have been omitted were not necessarily any less compelling, I just didn't have the time to dive deeper and explore the fringes with more care. I'm sure there were great works hidden on interior walls, behind panels or in boxes that I missed in my haste. Overall, my selections inherently have some bias toward vintage black and white photography, given the dominance of vintage work on view. Anecdotally, the vintage dealers I talked to seemed to be having a more successful fair than their contemporary counterparts, but this was early in the run of the show, so who knows how it actually played out when the masses arrived over the weekend.
The galleries presented are in no particular order, and as always, apologies for the marginal images, as they are often marred by reflections or glare:
Bryce Wolkowitz Gallery
(
here
): Ola Kolehmainen (2), Monika Bravo (3), Bruce Davidson (2), Jim Campbell (1), Pertti Kekarainen (4), Shirley Shor (1), Niko Luoma (1). The Wolkowitz booth was the usual mix of Finns and new media photography. There was a terrific gridded Kolehmainen on the outside wall at the entrance of the show, but I was most surprised by the large scale Luoma. While I have seen these geometric line works before in a variety of colors and patterns, two details were new to me in this image: the monochrome black and white and the monumental size. Given it's density, it's a picture you can get lost in; it was priced at $16000.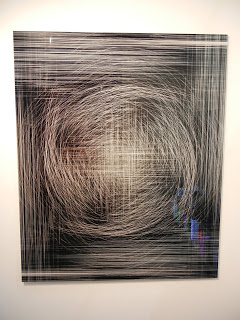 Weston Gallery
(
here
): Danielle Nelson-Mourning (2), Robert Mapplethorpe (2), Oliver Gagliani (1), Imogen Cunningham (1), Pirkle Jones (1), Edward Weston (5), Wynn Bullock (3), Harry Callahan (2), Ansel Adams (4), George Ballagny (1), Charles Marville (1), Eugene Cuvelier (1), Francis Frith (1), Dr. John Murray (1), JB Greene (1), Edouard Baldus (1), John Thomson (1), plus two bins.
Weinstein Gallery (here): Alec Soth (16). The Weinstein booth was a single artist display of Soth's new Broken Manual work. Having not seen this body of work in person before, I was most impressed by the continuity of mood across the diverse set of images; it mixes melancholy, fear, anger, distrust, and isolation into a heady brew. I also hadn't realized that the images were printed in specific and different sizes, i.e. some are small and some are large, and they are not all available in all sizes; Soth has chosen how he wants each image to be sized, thereby creating a certain rhythm to the changes in scale when the works are hung together. The interleaving of color and black and white images also breaks up the natural flow, forcing the viewer to look more closely. The overall effect is controlled and powerful; it's certainly among his best work. My favorite image was actually a black and white work on one of the exterior walls, a picture of a solitary light bulb strung up in the forest (priced at $15500); the glare was so awful off the face of the frame that I couldn't get even a marginal picture. So instead, here's another subtle gut puncher – the white cave with empty hangers (priced at $20700).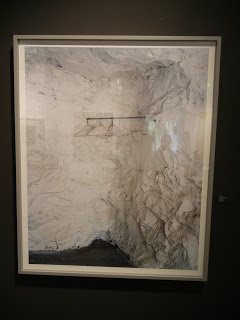 Robert Koch Gallery
(
here
): David Parker (1), Masao Yamamoto (3), Andre Kertesz (1), Helen Levitt (1), Imre Kinski (1), Eliott Erwitt (2), Hugh Brown (2), Jeff Brouws (4), Michael Wolf (5), Frantisek Drtikol (1), Joseph Ehm (2), Jusef Sudek (4), Karoly Danassy (1), plus two bins.
Paul M. Hertzmann
Inc.
(
here
): Richard Misrach (2), Andre Kertesz (2), Donald Ross (1), Minor White (2), Pim Van Os (1), Brett Weston (1), Alfred Stieglitz (1), Dorothea Lange (1), Edward Weston (2), Eugene Atget (1), Laszlo Moholy-Nagy (1), Roger Parry (1), Berenice Abbott (1), Antonio Garduno (1), Consuelo Kanaga (1), Arthur Siegel (1), Osamu Shiihara (2), GP Fieret (1), plus four bins. I liked the avant-garde jitteriness of this Shiihara multiple exposure nude from the 1930s; it was priced at $9500.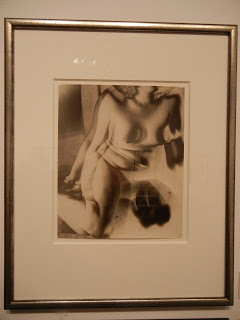 Joseph Bellows Gallery
(
here
): Wayne Lazorik (2), Leroy Robbins (6), Bill Arnold (2), Todd Walker (2), Randal Levenson (3), Thomas Barrow (2), Bevan Davies (4), Terry Wild (1), Charles Johnstone (6), plus two bins.
Robert Klein Gallery (here): Irving Penn (4), Gregory Vershbow (2), Cig Harvey (1), Mario Gaicomelli (3), Alex Webb (2), Ilse Bing (1), Henri Cartier-Bresson (3), Walker Evans (3), Minor White (1), Carleton Watkins (1), Baron Adolph de Meyer (1), Edward Weston (1), Lewis Hine (1), Ansel Adams (3), Aaron Siskind (2), Helen Levitt (1), Arno Rafael Minkkinen (1), Francesca Woodman (4), Paulette Tavormina (3). This Siskind is the kind of image that fits right in the heart of our own collection: a city architectural scene, with strong abstract contrasts of line and form. Priced at $40000.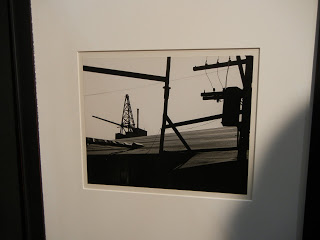 Yancey Richardson Gallery (here): Alex Prager (1), Olivo Barbieri (2), Victoria Sambunaris (1), Masao Yamamoto (4), Mark Steinmetz (1), Sebastiao Salgado (1), Esko Mannikko (2), Andrew Moore (2), Laura Letinsky (2), Rachel Perry Welty (4).
Gitterman Gallery (here): Frantisek Drtikol (1), Andre Kertesz (2), Clarence White (3), Jessie Tarbox Beals (1), Seneca Ray Stoddard (1), Eugene Atget (1), Aaron Siskind (5), Harry Callahan (4), Minor White (1), Ken Josephson (2), Gita Lenz (3), Ralph Eugene Meatyard (3), Charles Traub (2), Dr. Dain Tasker (1), plus two bins. This was a Callahan multiple I hadn't seen before; elegant wavy grasses as squiggly lines across the surface of water. Priced at $35000.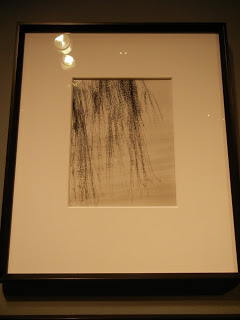 Richard Moore Photographs
(
here
): Percy Loomis Sperr (17), Weegee (1), Peter Sekaer (4), Walker Evans (1), Dorothea Lange (1), Ralph Steiner (2), Bill Owens (1), Karl Struss (1), Margarethe Mather (1), plus three bins.
Edwynn Houk Gallery (here): Sebastiaan Bremer (2), Vik Muniz (1), Man Ray (1), Bettina Rheims (2), Robert Polidori (1), Alfred Stieglitz (1), Edward Steichen (1), Paul Strand (1), Hannes Schmid (1), Brassai (1), Andre Kertesz (1), Edward Weston (1), Dorothea Lange (3), Bruce Davidson (1), Walker Evans (1), Sally Mann (1), Joel Meyerowitz (1), Stephen Shore (4). The Houk booth had an embarassment of spectacular photographic masterworks along its interior walls. Bypassing a few notable icons, I was most drawn to this stunning Lange of the SF waterfront strike of 1934. It's an amazingly nuanced print of a visceral image; priced at $165000.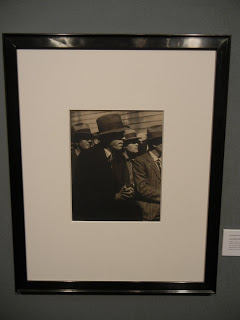 Lee Gallery
(
here
): Gustave Le Gray (1), Gertrude Kasebier (2), Alfred Stieglitz (1), Heinrich Kühn (11), F. Holland Day (1), plus four bins. This Kühn dahlia is one I hadn't ever seen before; I actually liked it better than the more famous rubber plant nearby. The texture and patina of the layered leaves is soft and tactile. Priced at $25000.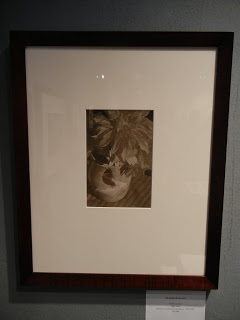 Deborah Bell Photographs
(
here
): Andy Warhol (6), Marcel Broodthaers (1), Vito Acconci (1), Dennis Oppenheim (1), Marcia Resnick (7), Diane Arbus (1), Louis Fauer (2), Garry Winogrand (1), GP Fieret (4), George Gardner (2), August Sander (2), Susan Paulsen (2).
Amador Gallery (here): Bernd and Hilla Becher (3), Gabriele Basilico (3), Ryuji Miyamoto (1), Arnold Odermatt (8), Robert Voit (8). Basilico's 1980s images of Dunkirque are among my favorites from his whole career, so I was happy to see one on display in the Amador booth. I'm a sucker for silhouetted industrial forms, and this series is filled with contrasty cranes and traffic lights, abstracted into interlaced geometric lines. Priced at $4500.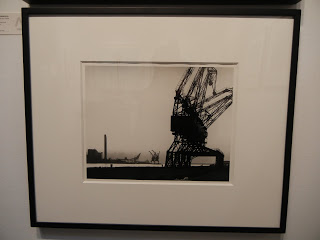 Halsted Gallery (here): Irving Penn (2), Paul Anderson (1), Don Hong Oai (1), Kim Kauffman (1), Andre Kertesz (3), Edward Weston (2), Berenice Abbott (3), Arnold Newman (4), Brett Weston (3), Michael Kenna (2), Aaron Siskind (1), George Tice (2), Walker Evans (1), Henri Cartier-Bresson (1), Leonard Freed (1), Ruth Orkin (1), Nicholas Nixon (1), August Sander (1), Karl Struss (1), JH Lartigue (1).
Catherine Edelman Gallery (here): Lucie & Simon (1), Myra Greene (15), Elizabeth Ernst (4), Julie Blackmon (3), Robert & Shana ParkeHarrison (8), Gregory Scott (1), Lori Nix (1), Lauren Simonutti (8). I've slowly been getting my head around Lori Nix' meticulous tabletop dioramas (and their place in the history of staged model building – Simmons, Casebere, Demand etc.), so I spent some time looking at this real but unreal laundromat more closely. The attention to detail is staggering, especially in the subtleties of aging and the nuances of light; priced at $4000.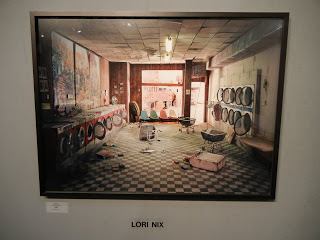 Part 2 of our AIPAD Review is here.