Part 1 of this multi-part AIPAD post can be found here.
Robert Mann Gallery
(
here
): Holly Andres (3), Michael Kenna (4), Robbert Flick (2), Joe Deal (5), Gail Albert Halaban (2), Mary Mattingly (1), Jeff Brouws (1), Wijnanda Deroo (1), Susan Rankatis (2), Aaron Siskind (2), Henry Wessel (1), Robert Frank (4), Ansel Adams (1), Alfred Stieglitz (2), Paul Strand (1), Paul Haviland (1), Elijah Gowin (1 set of 8). USC professor Robbert Flick was another discovery for me at the show. All of the individual images in the grid below were taken in the same concrete parking structure, with a mix of natural and fluorescent light slashing across the dark floors and walls. (Robbert Flick,
SV# 034/81 – Inglewood Parking Structure #2
, 1981, at $10000.)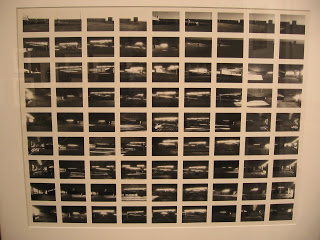 Scheinbaum & Russek
(
here
): Luis Gonzalez Palma (5), Manuel Alvarez Bravo (5), Beaumont Newhall (1), Henri Cartier-Bresson (2), Andre Kertesz (2), Flor Ganduno (1), Manuel Carillo (1), Brett Weston (1), Paul Caponigro (2), Walter Chappell (1), Edward Weston (1), Harry Callahan (3), Minor White (3), Aaron Siskind (2), Lynn Geesaman (2), Eliot Porter (6), plus 2 bins. I thoroughly enjoyed seeing the Walter Chappell nude below, not only because it is a spectaular image that would fit well into our collection, but also because we took it out of the frame to see the notes on the back, which explain that the print was reversed for the cover of Aperture #79, at the request of Minor White. (Walter Chappell,
Nude Armpit, Wingdale, NY
, 1962/1969, ay $8500.)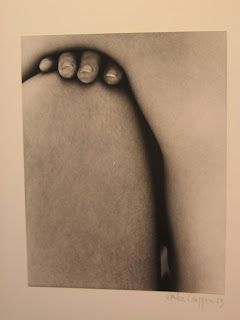 Yossi Milo Gallery
(
here
): Myoung Ho Lee (1), Loretta Lux (5), Youssef Nabil (4), Kohei Yoshiyuki (9), Sze Tsung Leong (11), Robert Bergman (2).
Robert Koch Gallery
(
here
): Larry Schwarm (2), Ilse Bing (2), Eadward Muybridge (1), Francis Frith (1), Michael Wolf (3), Brian Ulrich (1), Amy Stein (1), Jeff Brouws (4), Josef Koudelka (2), Bill Owens (1), plus 1 bin. The Koudelka image below was not at all what I envision when I think of his work, but I very much liked the simplicity of the forms in this wide print. (Josef Koudelka,
Dunkerque-Port
, 1986/1991, at $18000.)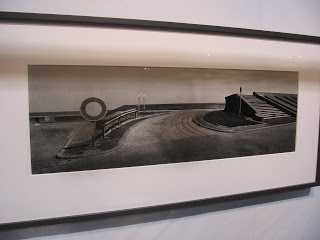 Joseph Bellows Gallery
(
here
): Bevan Davies (4), Terry Wild (2), Steven Salmieri (2), Randall Levenson (3), Wayne Lazorik (2), Enrico Natali (4), Nacio Jan Brown (2), Joanne Leonard (2), Jack Teemer (2), Joni Sternbach (6), Bill Arnold (1), Jay Boersma (4), Michael Light (4 large format books), plus 4 bins. This booth had plenty of unexpected and tempting work in it. I enjoyed both Joni Sternbach's atmospheric tintype surfers, as well as Michael Light's massive aerial scenes of Los Angeles highways and refineries. My favorite image in the booth was this small Terry Wild image below; I liked the stark contrast of adjacent black and white walls. (Terry Wild,
Los Angeles, CA
, 1969, at $5000.)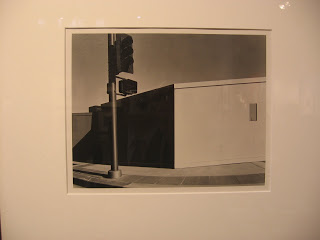 Project 5 (here): Jill Greenberg (6), Thomas Allen (8), Guido Castagnoli (7), Stuart O'Sullivan (1), Olaf Otto Becker (1). Project 5 brings together the work from five different New York galleries: ClampArt, Foley Gallery, Sasha Wolf Gallery, Daniel Cooney Fine Art, and Amador Gallery. The first portfolio from the group contains five prints: one each from a single artist from each gallery stable. I liked the contagious energy in this small booth, driven by three of the gallery directors collaborating to answer questions.
Catherine Edelman Gallery
(
here
): Julie Blackmon (5), Gregory Scott (3), Lauren Simonutti (21), Joel-Peter Witkin (2), Keith Carter (1), Holly Roberts (2). I have recently been exploring some of the undefined edges of contemporary photography, where cameras are no longer used and traditional definitions of photography are hopelessly quaint. Gregory Scott's lightbox works in this booth have HD video embedded inside; stand and watch one for a while and a small portion of it will change and then stop again, turning the idea of a still frame on its head. It's not video art, nor is it exactly photography; it's something else, a 21st century mashup, with a hint of where we may see the medium go in the future. (Gregory Scott,
Color Grid
, 2009, at $22000.)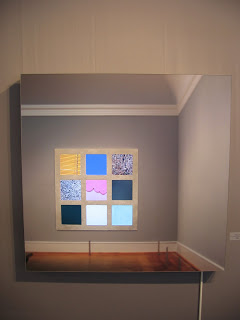 Gitterman Gallery (here): Alfred Stieglitz (2), Louis Faurer (1), Josef Breitenbach (1), Eugene Smith (1), Minor White (1), Edward Weston (1), Ferenc Berko (5), Kenneth Josephson (7), Roger Mayne (1), Allen Frame (4), Lewis Baltz (2), plus 2 bins. As always, there were good things to see in Tom Gitterman's booth. I enjoyed the two Baltz images, as well as the selection of Josephson prints (we'll visit the larger show on view at the gallery soon). Below is a Ferenc Berko from the late 1940s, a spare composition of thin lines and simple abstracted black shapes, almost like a Calder. (Ferenc Berko, Store Display, Chicago, 1947-48, at $5500.)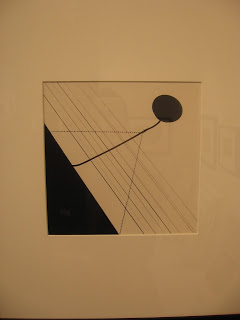 Bonni Benrubi Gallery (here): Massimo Vitali (1), Georges Dambier (2), Matthew Pillsbury (4), Andreas Feininger (3), Gillian Laub (3), Abelardo Morell (4), Josef Hoflehner (1), Laura McPhee (1 diptych), Jehad Nga (2).
Halsted Gallery (here): Irving Penn (1), Emmet Gowin (1), Harry Callahan (2), Walker Evans (4), Andre Kertesz (5), Ruth Orkin (3), George Tice (1), Larry Glazer (1), Berenice Abbott (2), Frederick Evans (2), Michael Kenna (2), Ansel Adams (2), Arnold Newman (1), O. Winston Link (1), Edward Weston (4), Imogen Cunningham (1), Bill Brandt (1), Morris Engel (1), William Christenberry (1), plus 3 bins. The Halsteds have been running their photo gallery for 40 years now, and there was a fun book on the table in the booth showing old pictures of various family members paired with famous photographers, interspersed with letters and other correspondence. In the booth, I liked the vintage Max Yavo from San Francisco best, with its overlapping layers of houses. (Max Yavno, Army Street, 1940s, at $4500.)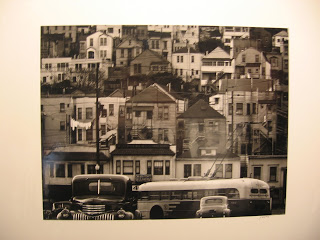 Higher Pictures (here): Barbara Crane (9), Issei Suda (3), LaToya Ruby Frazier (4), Alfred Gescheidt (10), Scott Peterman (3), Sam Falls (4), Jill Freedman (7). While I have written about Barbara Crane's repeats previously, I continue to find them original and exciting. (Barbara Crane, Dan Ryan Expressway, Chicago, 1975, at $7000.)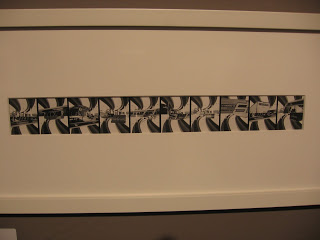 Beijing Jade Jar Fine Art (no website that I could find): Zhou Ning (3), Hu Wugong (3), Wang Shilong (3), Wang Yishu (2), Fu Yu (2), Yiming Jiang (9), Lu Houmin (6), Yu Deshui (6), Liu Tiesheng (1), Jin Hongwei (13). It was great to see a mix of vintage and contemporary Chinese photography in this booth; we need to see much more of this kind of work here in the United States to begin to make sense of the evolution of Chinese photography.
.
Continue to Part 3 here.